Mediterranean Grilled Vegetable Salad
What's that saying… "If you build it, they will come"? Well, I think it's that way with vegetables. I'm pretty sure most of us don't eat enough because of the prep work and cooking involved. Sure, there's always raw carrots, and peppers, and cucumbers, but don't they just get old after a while? But if you could have delicious cooked and seasoned vegetables all ready to go, you'd eat them, right?
In the winter, I try to roast a big pan of vegetables, so I'll have them for a few nights. I love the Brussels sprouts and squash combo for fall, and the lemon and garlic roasted vegetables for late winter. But in the late spring through summer, the oven is off, and the grill is on, so that means grilled vegetables, which are so easy. My favorite is always asparagus, but when I have a good variety of vegetables available, I think it's worth it to cut them all up, brush them with a little olive oil and Italian seasoning, and grill away for the week. A delicious way to eat a few extra servings of vegetables.
This Mediterranean Grilled Vegetable combo is a family favorite for a quick and heart healthy meal. I love to toss the grilled vegetables with some chickpeas, olives and cooked farro or wheat berries, serve it over baby greens, and call that dinner.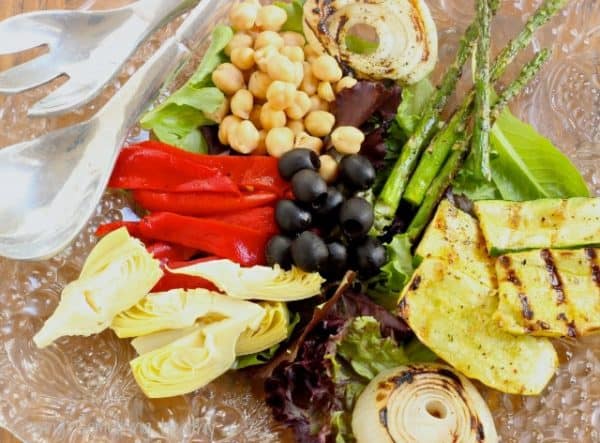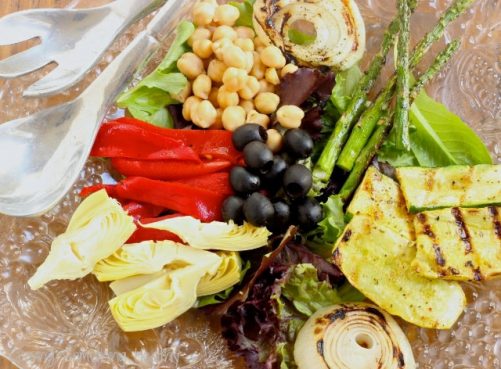 This is also perfect to serve at a party, or for company - kind of like a big beautiful antipasto platter. Feel free to use any kind of vegetables you like! Eggplant would be so wonderful, but I forgot to buy it 🙁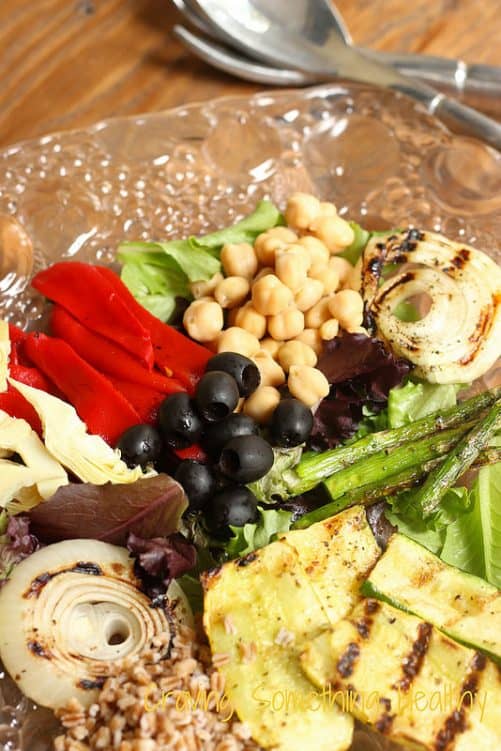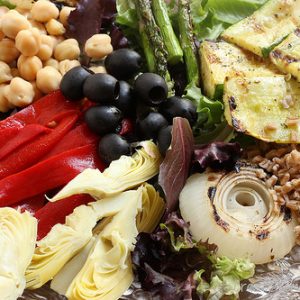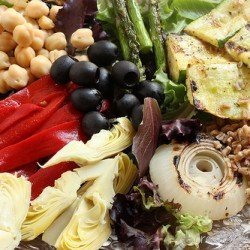 Mediterranean Grilled Vegetable Salad
Print
Pin
Servings:
8
-10 side servings or 4 meal servings
Ingredients
1

medium eggplant

ends trimmed, peeled on 2 sides, and sliced lengthwise

1

pound

thin asparagus

tough ends snapped off

1

medium zucchini

ends trimmed, sliced lengthwise

1

medium summer squash

ends trimmed, sliced lengthwise

1

large red pepper

sliced in half, core removed

1

large sweet onion

sliced into thick rounds

1

can artichoke hearts

sliced in half

1

can chickpeas

½

cup

black olives

baby greens

cooked farro or wheat berries

optional

2-3

tablespoons

olive oil

kosher salt

pepper, 1 tablespoon Italian seasoning mix
Instructions
Heat grill to hot.

Place eggplant, asparagus, zucchini, summer squash, red pepper, onion slices and artichoke hearts in a large mixing bowl, drizzle with olive oil, and add Italian seasoning and salt and pepper to taste. Toss gently, being careful to not break apart onion rings, or other vegetables.

Place vegetables on grill, and grill until slightly charred, about 3-4 minutes. Gently flip all vegetables and cook on the other side until lightly charred with grill marks.

Remove vegetables and return to their bowl. Let cool.

Remove outer skin from red peppers, and cut all vegetables into desired size, or leave whole.

Arrange greens on a large serving platter, and top with vegetables, as well as chickpeas, olives and grains if desired.

Drizzle with additional olive oil, and adjust any seasonings as desired.

Leftover vegetables and grains (but not greens) can be stored for up to 3 days in a covered container in the refrigerator.
What's your favorite way to eat vegetables once the weather warms up?
Eat well!