So what's with all of the green smoothies?  I've been seeing recipes for this new Super Food all over the place, and after a quick Google search, it seems that there isn't an ailment in the dictionary they can't cure – (see acne, bloating, constipation…) and the health benefits, Oh My! (also see detox, energy,  fiber…).
I thought I might jump on the bandwagon, so I dusted off my blender, which I haven't used since the last time I experimented with moss colonization (yes, it does work, and I did sterilize the blender afterwards…) in my garden.  I loaded it up with various fruits, a little yogurt, and I thought I'd try Swiss chard because I'd read that some people find it a bit sweet tasting (I don't), and cucumber.  I'm so sorry, dear reader, but all I can say is YUCK.  I couldn't get past the smell of wet grass, and there was no way I was drinking that entire pitcher.
I've noticed that the recipes that seem drink-able, also have mostly fruit, or fruit juice, or something with a very strong flavor like nuts or peanut butter to mask the (grassy) taste.  The problem there, is that your healthy snack or breakfast ends up with hundreds of calories and is gone in a few gulps.    Personally, I prefer my fruits fruity, and my veggies savory (unless it's Squash and Green Apple Soup), and I like to chew my meals.
So here's my attempt at a green smoothie.  Still a healthy snack, even sans vegetables.  I think I'll drink it with a side of kale chips.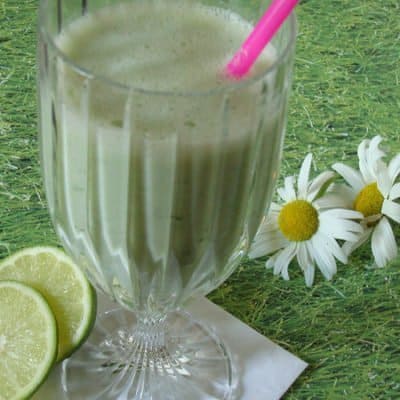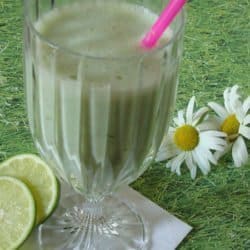 Ingredients
1

cup

ripe honeydew melon chunks

small pieces

juice of 1 medium lime

1

small sprig of mint

about 4 leaves

1/2

cup

vanilla Greek yogurt
Instructions
Mix first 3 ingredients in a blender, until smooth.

Add yogurt and blend well until combined.

If your ingredients aren't cold, add 1 or 2 ice cubes and blend again.
Nutrition
Eat Well!
If you have a (good tasting) green veggie smoothie, please share it!  Maybe I can change my mind 🙂
SaveSave