Mini Turkey Meatballs with Curried Cranberry Sauce
These lightened up mini meatballs with a zesty curried cranberry dipping sauce are a perfect make-ahead appetizer for the holidays.
Happy holidays my friend!  I hope you all had a wonderful Thanksgiving and/or Friendsgiving, and are pleasantly full from turkey, stuffing, and quality time with family and friends.  I also hope you're not all turkeyed and cranberried out, because I've got a perfect appetizer for you to make for your next holiday gathering.  And you know there will be gatherings galore in the next few weeks.
A few weeks ago, I received a box of ingredients from the Cranberry Institute and Cranberry Marketing Committee, and an invitation to create a recipe using the ingredients to celebrate #CranberryFriendsGiving.  Kind of like a top chef challenge with cranberries as the secret ingredient.  This what was in my box: old fashioned oats; pistachios; turmeric; and whole cranberry sauce. I was totally thinking dessert-y with the cranberries, pistachios and oats.  But that turmeric really had me stumped.  Turmeric is that hot spice of the moment with the bright yellow color and the  flavor that screams mustard and pickles.  Not really dessert material.
But how about a Indian-inspired twist on those sweet mini-meatballs with the grape jelly dipping sauce?  Yes, please!  I'm totally in love with this quick appetizer recipe, especially because you can make it ahead of time and just reheat it in a casserole dish or crockpot before your guests arrive.
The cranberry dipping sauce is pretty darn delicious, if I do say so myself.  The turmeric is quite at home with some curry powder, and just a hint of ginger.
I'm so making this again for my #FriendsChristmas party!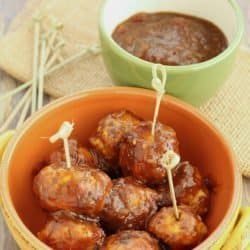 Ingredients
Meatballs
1

pound

ground turkey breast

1/4

cup

chopped salted pistachios

3/4

cup

old fashioned oats

1

egg

1/2

medium onion

minced

2

cloves

garlic

minced

1/2

teaspoon

kosher salt

1/4

teaspoon

curry powder

1/2

teaspoon

turmeric powder

1/8

teaspoon

ground pepper
Cranberry Dipping Sauce
1

tablespoon

olive oil

1

small onion

minced

2

cloves

garlic

minced

1-14

ounce

can whole berry cranberry sauce

2

tablespoons

apple cider vinegar

2

tablespoons

maple syrup

1

teaspoon

dijon mustard

1/2

teaspoon

curry powder

1/2

teaspoon

turmeric

1/2

teaspoon

fresh minced ginger

1/2

teaspoon

kosher salt
Instructions
Preheat oven to 350 degrees. Lightly spray a baking sheet with nonstick spray.
For the meatballs:
Place all ingredients for the meatballs in a large mixing bowl and combine with a spatula or your hands.

Form the mixture into 1-inch round meatballs, and place on a prepared baking sheet

Bake the meatballs for about 12-15 minutes.
For the sauce:
Heat the oil in a saute pan on medium high heat. Add the onion and saute until lightly golden. Add the garlic and stir until fragrant, about 30 seconds.

Add the cranberry sauce, vinegar, maple syrup and dijon mustard, and stir to combine.

Add the curry powder, turmeric, ginger and salt. Reduce the heat to low and simmer for about 10 minutes.

Remove from the heat, and puree the sauce with an immersion blender or in a regular blender, until smooth.

Reserve about half the sauce for dipping, and place the cooked meatballs in the other half of the sauce. Stir the meatballs so they are well coated with the sauce.

Serve immediately, or refrigerate the meatballs and separate dipping sauce for up to 2 days, and reheat before serving.
Is this going to be a busy party season for you?  What are you making or bringing?
Eat well!
Many thanks to the Cranberry Institute and Cranberry Marketing committee for sponsoring this post.