Italian Farrotto with Sun-Dried Tomatoes
This delicious farrotto recipe is flavored with onions, garlic, sun-dried tomatoes, and a few handfuls of your favorite fresh greens. It's a simple, meatless dinner that's also healthy, hearty, and satisfying. And the best part about this recipe is that everything cooks in one pan.
Italian farrotto (also known as farro risotto) is so easy to prepare. Compared to traditional risotto, it easily saves an hour of stirring at the stove.
What is Farrotto?
Farrotto is an Italian hybrid dish — essentially, it's a risotto-like dish made with farro instead of arborio rice.
Arborio rice is a short-grain rice from Italy. As it cooks, it releases lots of starch, giving true risotto its rich, creamy consistency.
Farro isn't rice at all. It's a wheat type native to the Mediterranean region and loved throughout Italy. Farro is an ancient grain (similar to quinoa, millet, or teff) that's been around for thousands of years. It looks somewhat like barley.
While it's still high in carbs, it has far more protein and fiber than arborio rice. It also has a lower glycemic index, which means it may not raise your blood sugar as much.
When cooked, farro grains retain their bite. They also have a nice, nutty flavor and chewy texture. Unlike traditional risotto, which cooks up creamy and almost oatmeal-like, farrotto grains have a chewy bite and are more separated.
Farrotto is also easy to cook because you don't have to stir it frequently and ladle in your stock little by little.
As much as I adore traditional risotto, I love farrotto because it's heartier and more filling. And risotto is one of those "once in a while" dishes, whereas farrotto is a healthy option any night of the week.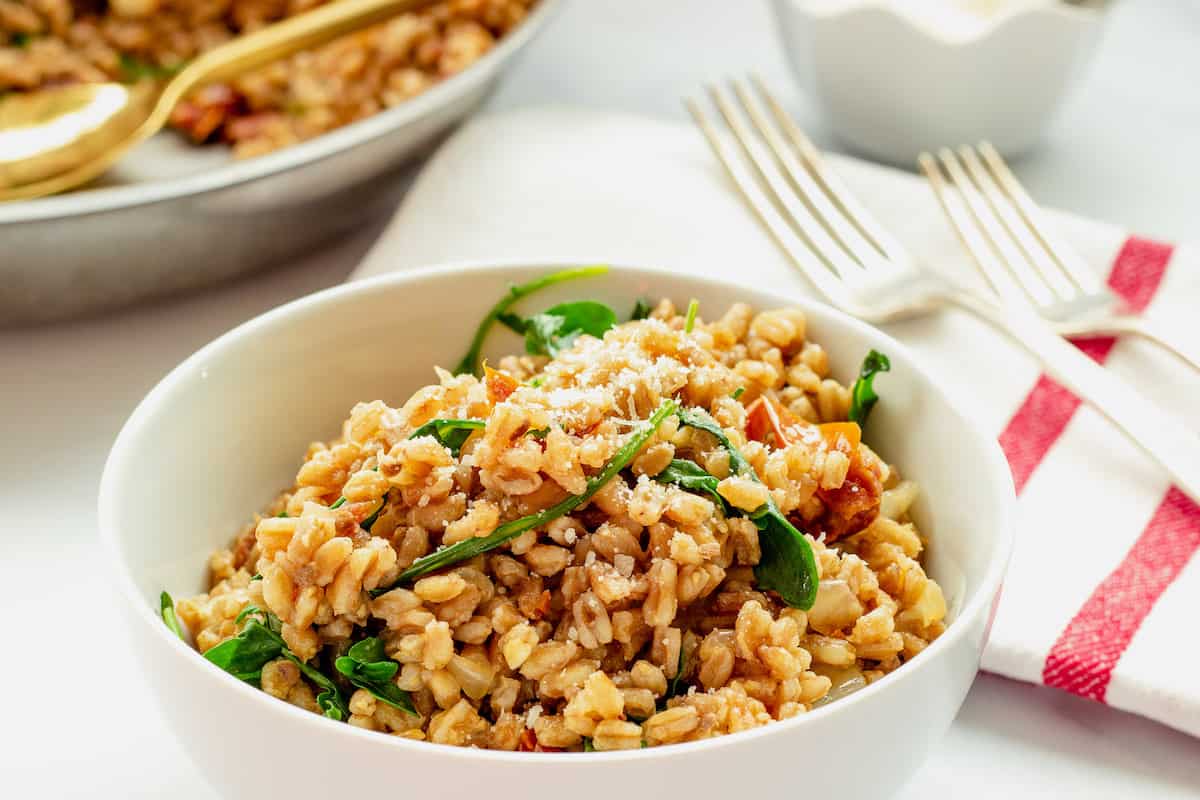 Ingredients for This Farrotto Recipe
I love this recipe because it comes together quickly and with minimal ingredients, most of which are pantry staples. Here's what I use: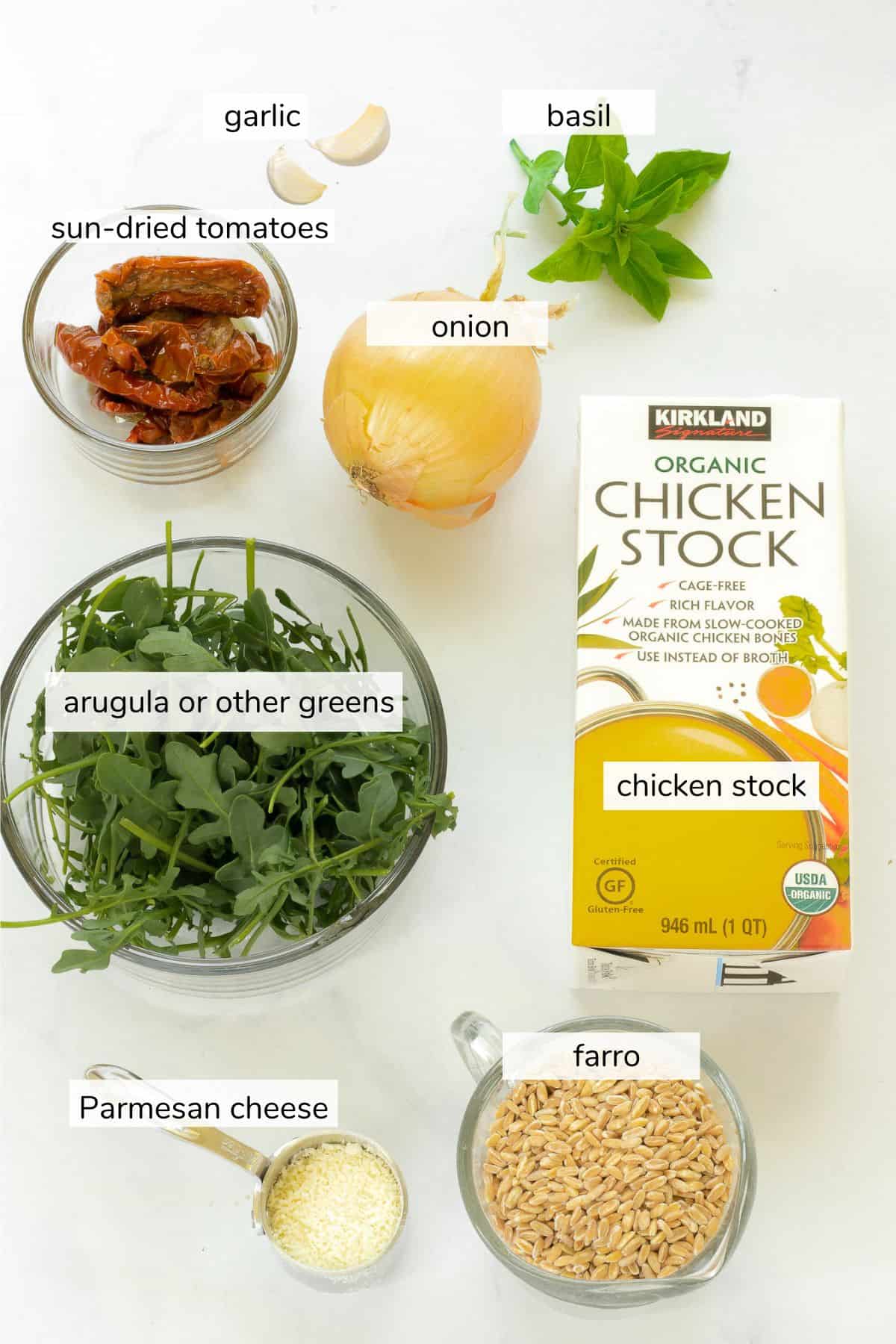 For the farro: Look for farro in the rice and grains section of the supermarket. You can also order it on Amazon. Most of the farro I see is "pearled," but you might also find it "unpearled."
Pearled farro cooks much faster — in about 30 minutes. Unpearled farro is harder and will take at least an hour to cook. I recommend soaking unpearled farro for at least an hour before starting this recipe. Soaking will help soften it, so it cooks faster and becomes more tender.
For the tomatoes: You can use plain sun-dried tomatoes or those marinated in garlic, basil, or other Italian herbs. You'll need to slice or chop them, so grab a jar of julienne-cut or chopped sun-dried tomatoes if you find those. They'll save you some work. Look for them in the Italian foods section at the supermarket.
For the greens: I love the peppery bite of arugula in this dish, but these other greens would work just as well:
Wine: It's optional, but if I have an open bottle, I like to add ¼ cup or so to the farro when I first start cooking it. While not essential, it adds a nice flavor to the dish. I recommend a dry white wine for this recipe.
To make it vegan: Just swap vegetable broth for the chicken stock, and skip the Parmesan cheese.
Tips and Tricks For Creamy, Flavorful Farrotto
Soak whole (unpearled) farro
As I mentioned earlier, if you're using whole or unpearled farro, make sure you soak it for at least an hour, or up to overnight before starting this dish. You can skip that step if you're using pearled farro. Soaking whole farro helps to reduce the cooking time.
If you like a softer, creamier farrotto, you can also soak pearled farro. It helps break down the grains, which will be a little softer with less bite.
Saute and toast your ingredients
Make sure you saute the onion, garlic, and sun-dried tomatoes until they're soft and fragrant, and the onions are lightly golden. Then add your farro and let it toast for a minute.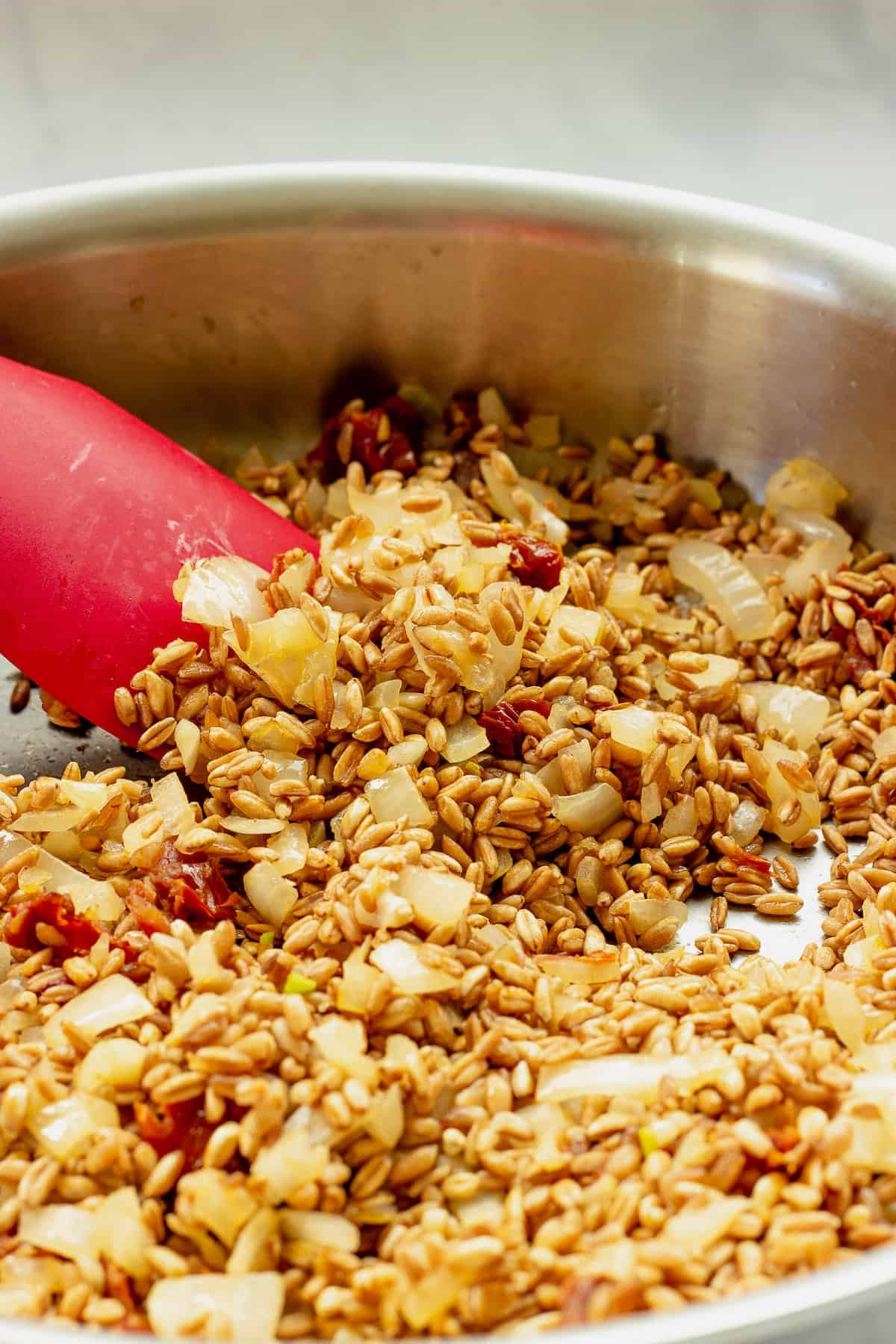 Sauteeing everything first intensifies the natural sweetness in your vegetables. And toasting brings out the nutty flavor in the farro.
Reserve some stock to add near the end
With regular risotto, it's important to add your stock or liquid one ladle at a time and stir it until it's absorbed into the rice. You don't have to do that here! Farrotto is so much easier because you add all (or most) of the stock, cover the pan, and let it cook.
When it seems about done, I like to add a little more stock, let it cook down, and then add more. That helps farrotto become creamier. And, of course, there's the cheese to help boost the creamy factor 🙂
Add fresh herbs at the end
Don't skip the fresh basil! You can also use a bit of fresh oregano, parsley, or thyme if you like. Slice or mince your fresh herbs and add them in at the end to retain their bright flavor.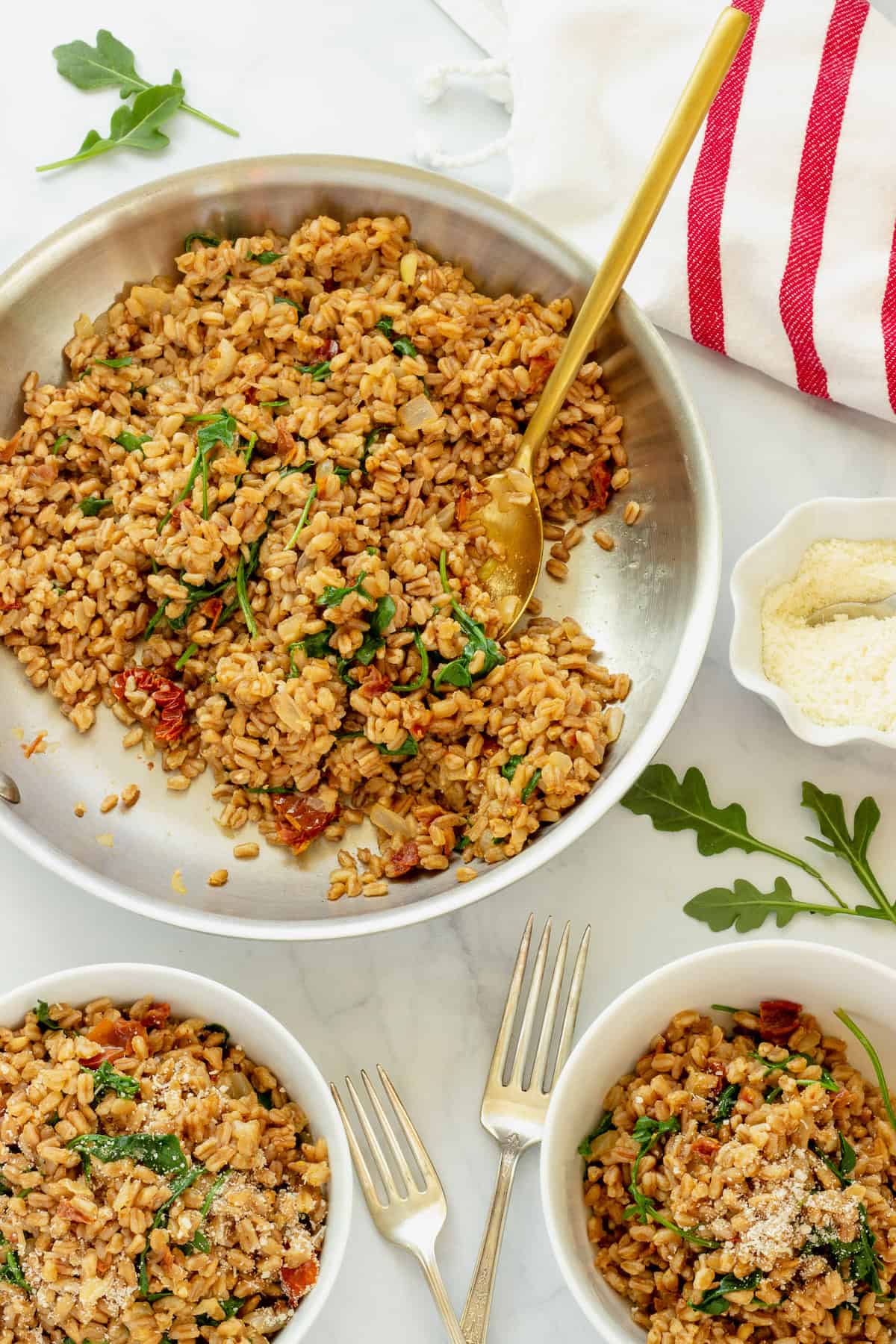 Frequently Asked Questions About Farrotto and Farro
Is farrotto gluten-free?
No farro is a type of wheat, so it is not gluten-free. If you have a wheat allergy or must avoid gluten, stick to risotto made with arborio rice.
Is farro a whole grain?
Whole, unpearled farro is a whole grain, but technically, pearled farro is not. Pearled farro has been lightly processed to remove the tough outer husk. That helps it cook faster but removes some of the fiber and nutrients. That said, pearled barley is still healthy and higher in fiber than most other grains.
Is farro healthy?
Farro is very healthy! A ½ cup serving provides about 35g of complex carbs, 6g of fiber, and 8g of protein. Much of the starch in farro is gut-friendly resistant starch. It's also a good source of vitamins, minerals like magnesium and zinc, and antioxidants.
Does farro go by any other name?
Farro is also known as Emmer in the U.S.
Can you freeze leftover farrotto?
Yes, you can freeze this leftover farrotto. Once it's cool, place it in a freezer-safe bag or bowl. It will keep for at least 6 months. To thaw, leave it in the refrigerator until it's softened. Reheat it on medium-low heat in a saucepan with some extra chicken or vegetable stock.
One-Pan Dinners
If you love easy meals, don't miss these other one-pan dinners!
Recipe
Italian Farrotto With Sundried Tomatoes
A fast and healthy one-pan meatless meal
Print
Pin
Ingredients
1

tablespoon

olive oil

1

small

onion

chopped

¼

cup

julienned sundried tomatoes

packed in oil or herbs, drained

2

medium

garlic cloves

minced

1 ¼

cups

uncooked Farro

¼

cup

white wine

optional

3

cups

low sodium chicken stock

2-3

cups

loosely packed arugula

or other leafy greens

4--5

large fresh basil leaves

sliced thin

⅛

teaspoon

Kosher or sea salt

or to taste

⅓

cup

grated Parmesan cheese

optional
Instructions
Heat oil in a large sauté pan, and sauté onions for about 5 minutes on medium-high heat until golden.

Add sundered tomatoes and garlic and saute for another minute. Add the farro and sauté for about 30 seconds to toast farro.

Add the wine if using, and stir until the liquid is absorbed.

Add about 2 ¼ cups of the chicken stock to the pan. Stir to combine and bring the mixture to a boil.

Reduce heat to low, cover, and let the farrotto simmer for 30 minutes or until Farro is tender.

For a creamy farrotto, add extra liquid as needed, about ¼ cup at a time until the grains are cooked to the desired consistency. This should take about 10 more minutes.

Stir in arugula or other greens and let them wilt.

Add the fresh basil and stir to combine. Taste and season with salt.

Add cheese if desired.

Serve with additional grated cheese if desired.
Notes
Nutrition information is with cheese.
Store leftovers in the refrigerator for up to 3 days or in the freezer for up to 6 months. To reheat, place the farrotto in a saucepan with about ½ cup chicken stock and heat on medium heat.
To make vegan, use vegetable broth and omit the cheese.
Nutrition
Calories:
353
kcal
|
Carbohydrates:
56
g
|
Protein:
13
g
|
Fat:
9
g
|
Saturated Fat:
2
g
|
Polyunsaturated Fat:
1
g
|
Monounsaturated Fat:
4
g
|
Cholesterol:
7
mg
|
Sodium:
300
mg
|
Potassium:
530
mg
|
Fiber:
11
g
|
Sugar:
2
g
|
Vitamin A:
433
IU
|
Vitamin C:
10
mg
|
Calcium:
127
mg
|
Iron:
2
mg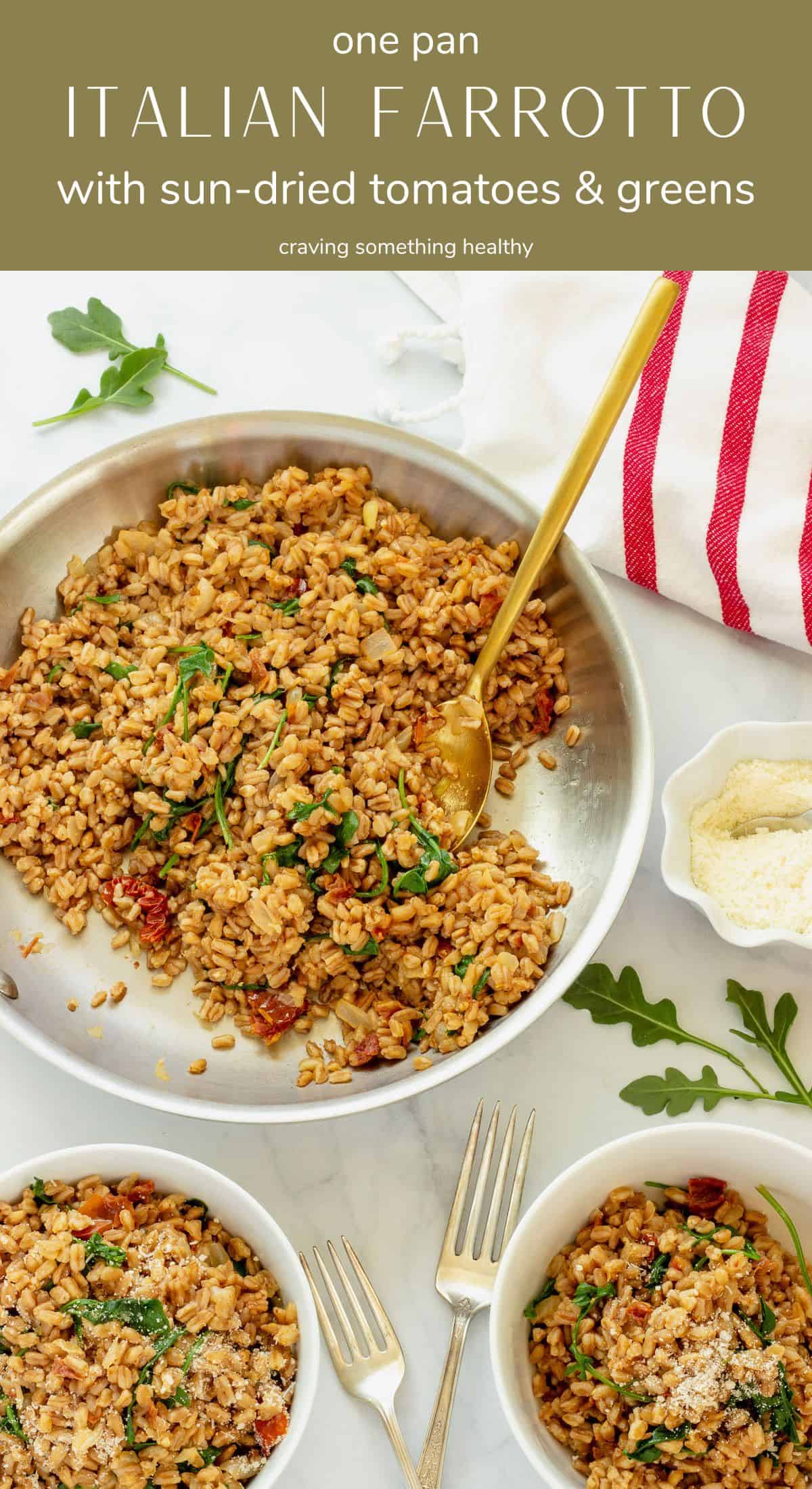 Have you ever made farrotto? Let me know if you like it!
Eat well!