Creamy Chicken and Corn Chowder
This hearty, flavorful chicken and corn chowder soup is cozy and satisfying on a cold night. It's rich and creamy but healthier than other chowders — because it's thickened with butternut squash, potatoes, and just a splash of cream.
If you follow my blog, you know how much I love soup! And this soup ranks near the top of my favorites list.
This soup is absolutely bursting with flavor. But my favorite thing about it is all of the textures. It's a perfect combination of smooth and creamy and crispy crunchy from the corn and some fresh vegetables and herbs that go into the pot at the very end.
Try it tonight! I promise you won't be disappointed.
I've been making this chicken and corn chowder forever. It's adapted from somewhere (maybe Bon Appetit), but I honestly forget where I discovered it.
I have to admit this version is different from most chicken and corn chowder recipes. It's super rich, but it has very little cream. And there's no bacon. Instead, the flavors come from onion, thyme, cilantro, and some butternut squash. It might seem like a strange combination, but trust me. It works.
What is Chowder?
Chowder is a term for a thick soup, usually made with a base of flour and butter (called a roux) and often thickened with cream or milk. Chowders frequently contain potatoes among their other ingredients. As the potatoes cook, their starch also helps thicken the soup.
Sometimes chowders are pureed, so the broth is smooth with fewer chunks of vegetables. Other times they're more brothy with chunks of potatoes, vegetables, fish, or meat.
You can turn nearly any vegetable, fish, or meat into chowder. In my opinion, the most famous chowder is New England Clam Chowder. It's thick and rich from cream and milk and packed with potatoes and clams.
Ingredients for Creamy Chicken and Corn Chowder
One of the things I love about the soup is that it's full of vegetables, making it a healthier version of most creamy chowder-like soups. Here are some of the main ingredients worth mentioning.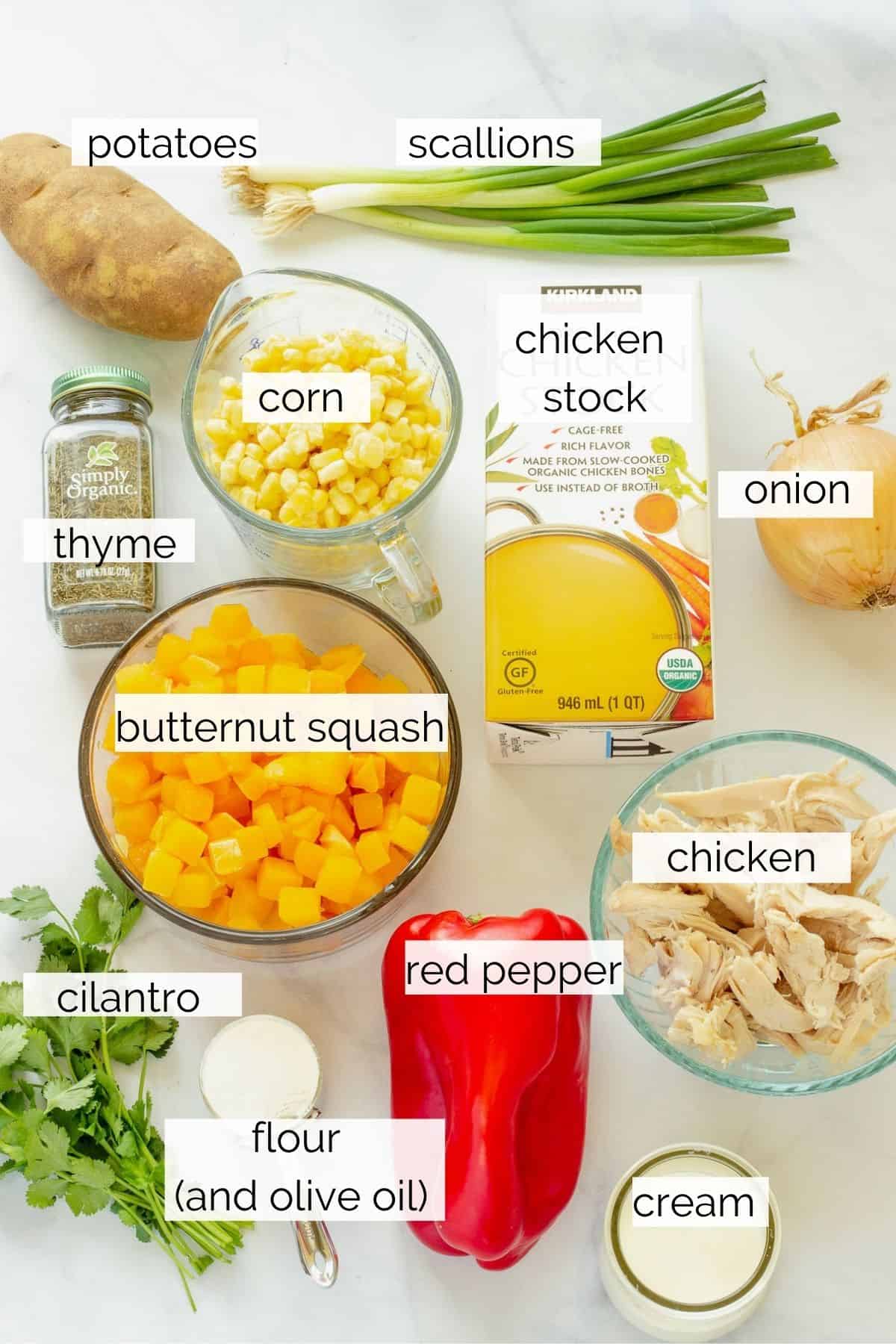 Butternut squash. No, it's not traditional in a chicken and corn chowder. But I love the color it provides, and it's a really nice (and healthy) thickener when pureed. It also boosts the nutrition content of this soup like crazy. Butternut squash is packed with beta-carotene, an important antioxidant. It also has a much lower glycemic index than potatoes. So adding both squash and potatoes to this soup makes it a bit more blood sugar-friendly.
Potatoes. They are traditional in chowder, but this soup doesn't need as much potato because of the butternut squash.
Corn. Obviously essential for this soup You can use fresh corn cut from the cob if you have it. But I always use frozen corn. Choose the small kernel sweet corn if it's available.
Flour and olive oil. When cooked together, these form a roux, which helps thicken the broth. You can also use butter, but olive oil is healthier, and this soup is flavorful enough, and I don't think it needs butter.
Chicken. I prefer white meat, but you can use dark meat if you prefer. Or mix them.
Cream. Every time I make this, I debate about adding the cream. Honestly, it's delicious without it. But there's not much cream, and it really makes the soup velvety luscious, and rich. You decide!
Herbs and seasonings. Dried thyme provides a delicious, rich flavor. I often add a few extra pinches at the end because it adds so much. But the stars are the fresh cilantro, fresh chopped scallions, and fresh sweet red pepper. These go into the pot at the very end and need only a minute or two to soften.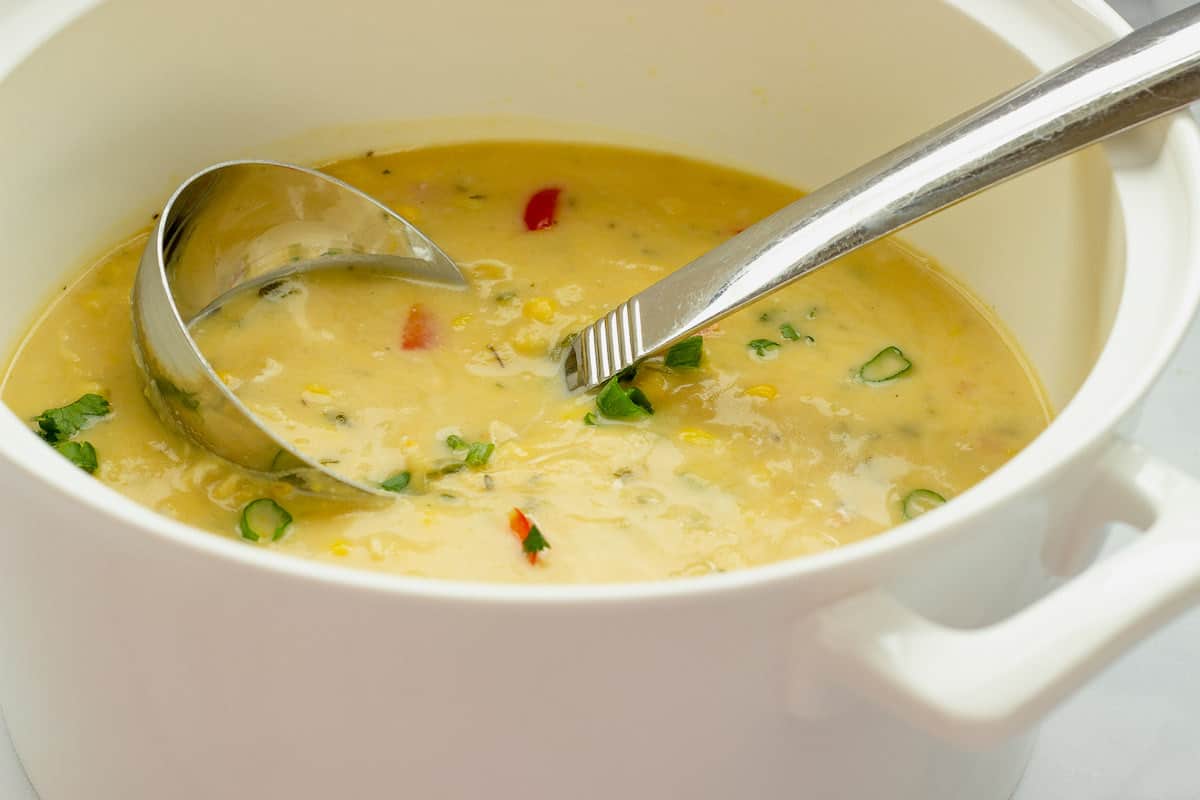 Tips and Shortcuts
This soup is super simple to make. And it's relatively quick. Here are a few tips and shortcuts I use.
Butternut squash is HARD to cut. Look for precut butternut squash where the precut vegetables are sold in the produce department. For faster cooking, cut the cubes into 1-inch pieces. Or use frozen butternut squash. It's an unbelievable timesaver because it cooks in minutes.
Cut the potatoes into a similar size as the squash. That way, they'll be cooked through at the same time.
Use frozen corn instead of canned. It has a crispier texture that will hold up well in this soup. I like to use the baby sweet white corn if I can find it because it's a little sweeter. But I've used regular larger kernel corn, too, and it works.
I prefer to precook my chicken before starting this soup or use rotisserie chicken to save time. The white gelatinous stuff that comes from chicken when it cooks is protein. It's perfectly edible, but I think it looks nasty. Cooking the chicken in advance (or using rotisserie chicken) means you don't have to deal with scooping that white protein out of your soup. Or hoping it somehow gets mixed in. Shred your chicken well. It will practically fall apart in the soup.
Don't skip the fresh cilantro, scallions, and red pepper! They add a nice fresh flavor and a lovely crisp texture that complements the soup's creaminess. Add these at the very end once the soup is cooked. They only need about 2 minutes to soften. You want them to stay fresh and crisp.
Use an immersion blender to puree this soup. It's SO much easier than a blender, and there's no extra mess to clean up. I've had my immersion blender for over 30 years(!), and it's probably my favorite kitchen tool.
I use just a little bit of heavy cream in this soup because it makes it super velvety-rich. You can also use light cream but don't let it boil vigorously. I don't recommend half-and-half, milk, or nondairy milk. Those are more likely to curdle if the soup comes to a boil or if you reheat it. However, you could remove the soup from the heat and add any of those off the heat. If you prefer to skip the cream or dairy, you'll still find this soup delicious.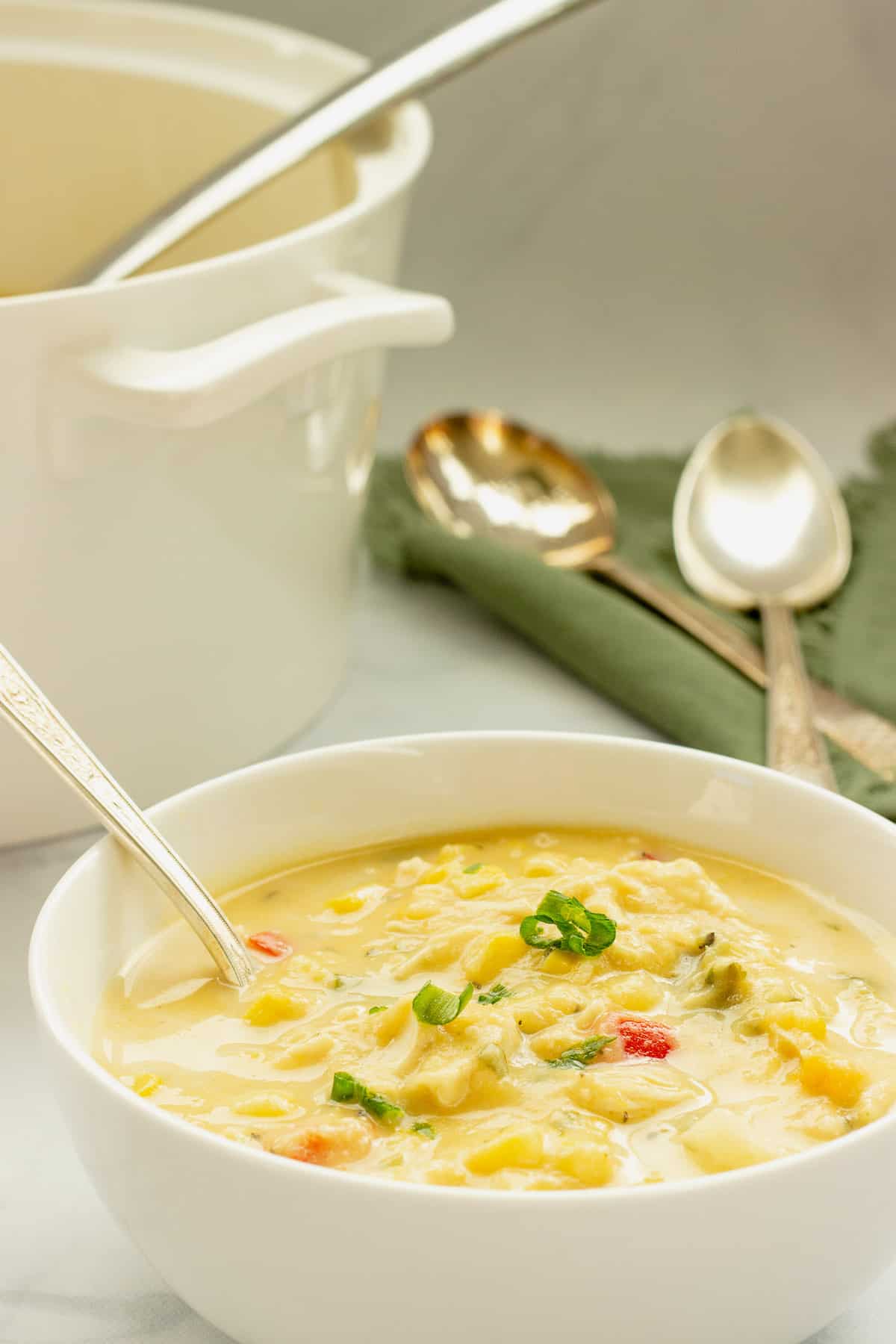 What to Serve With Chicken and Corn Chowder
I think this soup is a meal in itself. It really doesn't need anything because it's quite filling. It also has a nice blend of carbs, protein, and vegetables.
But you can definitely serve it with some sourdough bread, cornbread, or a green salad.
Storing Leftovers
This soup will keep in the refrigerator for up to 4 days or in the freezer for up to 6 months.
If you want to freeze a portion for later, I recommend adding the cream only to the portion you'll eat. Remove the portion you want to freeze, and store it in an airtight container. You can freeze it for up to 6 months.
When you thaw it, reheat it gently until it simmers. Stir it frequently because the corn will sink to the bottom of the pot and can scorch. Add the cream once the soup is heated through.
Favorite Soup Recipes
If you love soup as much as I do, try some of my other favorite soup recipes.
Recipe
Creamy Chicken and Corn Chowder
A creamy, cozy, and flavorful chowder that's surprisingly healthy
Print
Pin
Ingredients
3

tablespoons

olive oil

2

medium onions

diced

3

tablespoons

flour

6

cups

low sodium chicken stock

1

pound

butternut squash

cubed, approximately 1-inch, fresh or frozen

1

pound

potatoes

cubed, approximately 1-inch

1

tablespoon

dried thyme

16

ounces

corn

frozen

3

cups

cooked chicken breast

shredded

½

bunch scallions

chopped

1

large

red bell pepper

seeded and diced

2

teaspoons

Kosher salt

or more to taste

¼

cup

fresh cilantro

minced

½

cup

heavy cream
Instructions
In a large stockpot, sauté the onions in the oil until soft. Add flour and cook for 2 more minutes. Add broth, and bring to a boil to thicken slightly.

Add squash, potatoes and thyme and return to a boil.

Reduce heat, and let simmer 20 minutes or until vegetables are tender.

Remove soup from the stove and puree with an immersion blender. Alternatively, place most of the solids along with a cup of the liquid in a regular blender and blend until smooth. Pour the pureed portion back into the pot and stir well.

Return creamed soup to the stove, and add corn and chicken.

Simmer for 10 minutes or until corn is tender.

Add red peppers and scallions, and continue to simmer for 2 minutes or until the peppes are slightly softened.

Finally, add cilantro and cream and heat through.

Season with 2 teaspoons salt (or more to taste) and additional thyme if necessary.
Notes
Leftovers will keep in the refrigerator for up to 4 days or in the freezer for up to 6 months. If you plan to freeze it, remove the portion for the freezer before you add the cream. Store it in a freezer-safe container. Thaw and reheat the soup gently and add the cream once the soup is reheated.
Nutrition
Calories:
364
kcal
|
Carbohydrates:
37
g
|
Protein:
25
g
|
Fat:
15
g
|
Saturated Fat:
5
g
|
Polyunsaturated Fat:
2
g
|
Monounsaturated Fat:
7
g
|
Cholesterol:
61
mg
|
Sodium:
686
mg
|
Potassium:
958
mg
|
Fiber:
5
g
|
Sugar:
7
g
|
Vitamin A:
7110
IU
|
Vitamin C:
55
mg
|
Calcium:
79
mg
|
Iron:
3
mg
Do you have a favorite chowder? Stay warm and ...
Eat well!