Apple Cinnamon Upside Down French Toast
This Apple Cinnamon Upside Down French Toast is make-ahead easy, and a surprisingly low carb breakfast or brunch treat. 
This post was sponsored by Truvia and the Healthy Aperture Blogger Network.  Thank you for supporting the brands I love and trust.
Who doesn't love a baked French toast casserole for a leisurely Sunday brunch?  It's a great option to feed a group because you make it the night before, let it sit in the fridge, and then when it's time, you just pop it into the oven.  Unfortunately, most recipes tend to be pretty high on the carb scale, because in addition to the bread and syrup, there's usually a fair amount of sweetener involved in the egg mixture.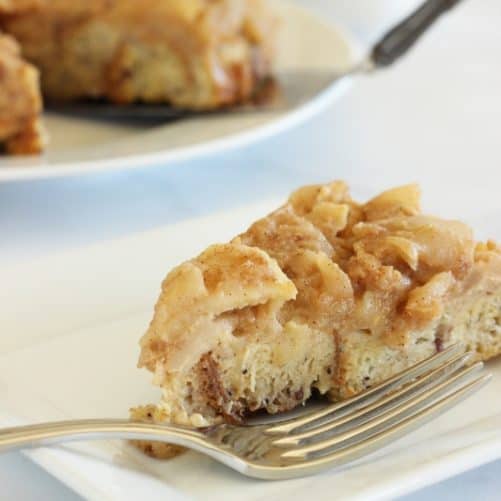 I work with many clients who have diabetes, and others who just prefer to eat a lower carb diet (myself included), to keep their weight in check. So when Healthy Aperture and Truvia asked me to create a healthy recipe using new Truvia Nectar for National Diabetes Month, I jumped at the chance to try it out.
Truvia Nectar is made with stevia leaf extract and honey, and it has 50% fewer calories than sugar.  It's a great way to sweeten hot or cold beverages, oatmeal, yogurt, or wherever you would use agave, sugar, or honey.   It's also sweeter than honey, so you only need a tiny bit to sweeten your recipes.
Truvia nectar only provides 2 grams of carbohydrate per 1/2 teaspoon serving, so if you're counting carbs, or you're working on limiting added sugars in your diet to meet the dietary guidelines, it fits.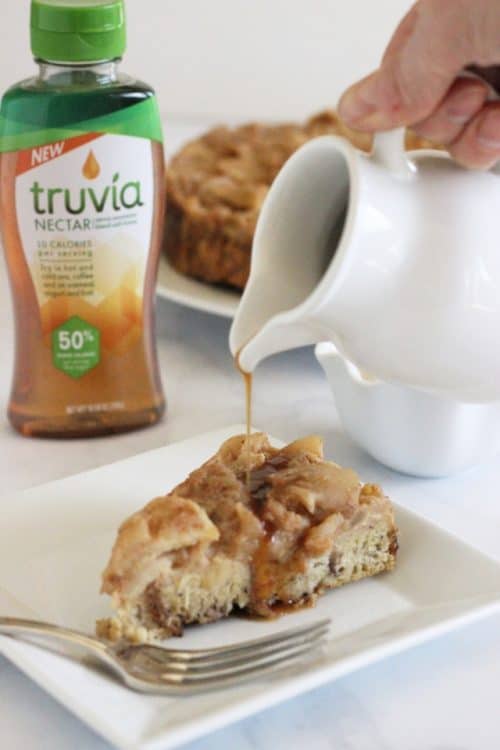 Truvia nectar gives the apples, the egg mixture, and the "syrup" in this recipe just a bit of added sweetness without adding any additional sugar.  That means everyone at the table can enjoy a slice and know that what they're eating fits into a healthy, balanced diet.
[bctt tweet="#ad Having company for brunch? #UseNectar in this baked #FrenchToast & keep it #LowSugar for everyone" username=""]
This recipe is actually totally guilt free, and a balanced healthy meal – whole grain bread (I love the nutty kind from the bakery), eggs and milk for protein, and apples.  Your kitchen will smell SO good too, from the apples, cinnamon, and spices getting all happy together.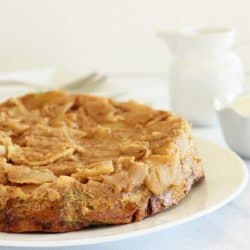 Ingredients
5

medium sweet-tart apples

I like macintosh

2

tablespoons

unsalted butter

1

teaspoon

cinnamon

1/4

teaspoon

nutmeg

1/4

cup

apple cider

2

teaspoons

Truvia Nectar

4

large eggs

1/2

cup

low fat milk

1/2

teaspoon

cinnamon

1

teaspoon

vanilla

2

teaspoons

Truvia Nectar

5-7

thick slices of whole grain bread
Syrup
2

cups

apple cider

2

teaspoons

Truvia Nectar

1

teaspoon

vanilla
Instructions
Peel the apples and thinly slice them

Melt the butter in a large sauté pan over medium-high heat, and add the sliced apples to the pan.

Mix the cinnamon and nutmeg with the apple cider and pour over the apples. Stir well to combine the apples with the cider/spice mixture.

Bring the mixture to a boil, and then reduce the heat to low, cover, and let apples simmer until they are softened and the liquid is thickened. Add the Truvia Nectar and stir well to combine. Taste and add additional sweetener if desired.

While the apples are simmering, spray the bottom and sides of an 8-inch cake pan with nonstick spray and set aside.

Combine the eggs, milk, cinnamon, vanilla and Truvia Nectar in a measuring cup and set aside.

Line the bottom of the pan with the cooked apples. Fit the slices of bread over the apples, trimming any pieces as needed so that all of the apples are covered.

Pour the egg mixture over the bread and gently press down with a spatula to make sure the egg soaks into all of the bread.

Cover the cake pan with plastic wrap, and weight it down a bit with a plate. Refrigerate overnight or until ready to bake.
To Make the Syrup:
Heat the cider, Truvia Nectar and vanilla in a large saucepan, and bring the mixture to a boil. Reduce the heat to medium, and let it reduce until you have approximately 1/2 cup. It will thicken a bit, but will not be the same consistency as syrup. Taste and adjust sweetener as desired.
To Bake:
Preheat the oven to 325 degrees. Remove the plastic wrap from the French toast, and bake for about 40-45 minutes or until the bread is puffed, and lightly browned and the eggs are cooked through.

Let cool for about 10 minutes, invert the pan onto a large serving plate, and cut into slices.
What's your favorite brunch food?
Eat well!