No Sugar Added Cinnamon Raisin Butter Fruit Spread
This Cinnamon Raisin Butter is a healthy, no sugar added fruit spread that's perfect for an afternoon snack. Spread some on pita bread with nut butter or ricotta cheese.
Is there a person on this earth who doesn't crave a snack around 3:00 each day? It's like clockwork, whether you're young or old -- there's a teeny (or sometimes screaming loud) voice inside your head that says "feed me or else!" right smack in the middle of the afternoon.
Anyone with kids knows all about the complete physical and mental breakdown that occurs when one is unprepared for the Hangry Horrors. But offer them something delicious, filling, and healthy, and that afternoon snack can easily turn evil little monsters into happy, sweet and energetic angels.
Well, guess what? Even though most adults can do a good job of controlling our hangry tantrums (it doesn't look so good after all, to have a breakdown in the middle of a business meeting) even grownups still need a healthy snack in the mid-afternoon. Imagine how much happier the world and especially our workplace would be with snack and nap at 3:00 each day. Just sayin…
And raisins still make the perfect snack food. Remember when you found them in your snack bag when you were young? Well, they're still around, and they're still the perfect snack no matter what your age.
California raisins are an all-natural, dried-by-the-sun fruit you can feel good about serving your kids or yourself as part of a healthy pick-me-up-when-I need-it-most snack. Their sweetness is all raisins – not a drop of added sugar, and absolutely none needed. Ever. Feel free to check the nutrition label if you don't quite believe me. You'll also notice that raisins provide a healthy dose of fiber, potassium, and iron, and they're completely fat-free.


While snacking is perfectly acceptable for kids, I know lots of adults who think it's a no-no. Actually, let me put on my dietitian coat for a moment and set the record straight. Adding a healthy snack in the afternoon will actually help you to eat less later in the day. Yup, it's true. Research suggests that it works for kids, and I'm willing to bet that the same is true for the rest of us too.
Especially when you pair sweet raisins with a touch of cinnamon, to make raisin butter, and serve it on top of whole grain bread with a dollop of nut butter or luscious ricotta cheese.
This recipe couldn't be any easier, and it makes enough to keep the kids satisfied for several afternoon snacking sessions. Or bring a jar to work to share at snack time. And don't forget your blankey 😉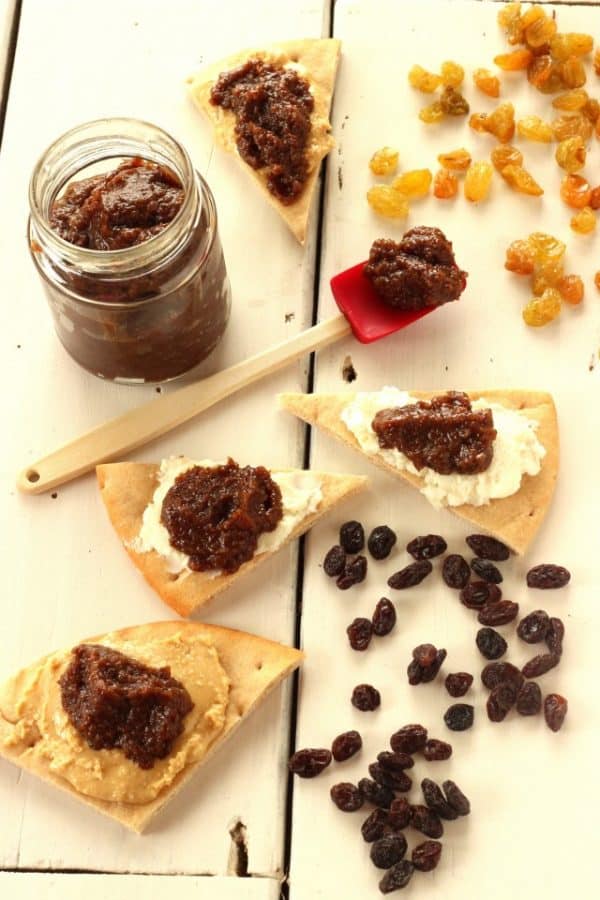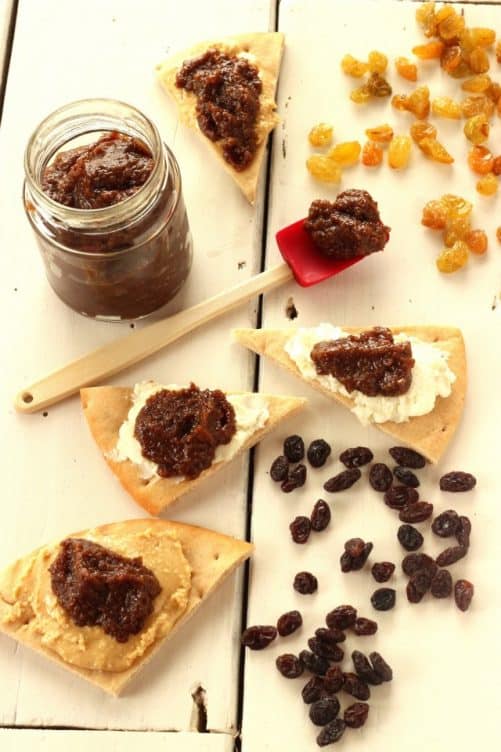 Recipe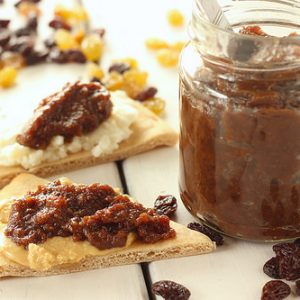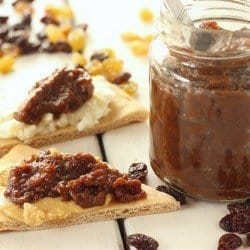 Cinnamon Raisin Butter
A healthy, no sugar added, fruit spread that makes a delicious snack
Print
Pin
Ingredients
2 ½

cups

black or golden California raisins

2

medium

pears

peeled, cored and cut into 1-inch pieces

½

teaspoon

cinnamon

½

cup

water
Instructions
Place all ingredients into a large saucepan and bring to a boil.

Reduce heat, cover, and simmer for about 20 minutes, or until the pear is soft and broken down, and the raisins are very plump and softened.

Remove the mixture from the heat, and let cool.

Place the raisin mixture into the bowl of a food processor fitted with the chopping blade.

Process until raisins are smooth.

Pour into a 12- ounce jar, and store for up to 1 week in the refrigerator.

Serve on toast, with ricotta or nut butter,
Nutrition
Calories:
108
kcal
|
Carbohydrates:
29
g
|
Protein:
1
g
|
Fat:
0.2
g
|
Saturated Fat:
0.1
g
|
Polyunsaturated Fat:
0.1
g
|
Monounsaturated Fat:
0.03
g
|
Sodium:
4
mg
|
Potassium:
260
mg
|
Fiber:
2
g
|
Sugar:
21
g
|
Vitamin A:
8
IU
|
Vitamin C:
2
mg
|
Calcium:
20
mg
|
Iron:
1
mg
For more information about the health benefits of raisins or for more recipes and inspiration, check out the California Raisins website.
Eat well!