Creamy Mediterranean Tomato Hummus Soup
A mug of soup warms you right up during the football game, and this tomato soup gets a boost of Mediterranean flavor and extra creaminess from a secret ingredient – spoiler – it's hummus!
By posting this recipe I am entering a recipe contest sponsored by Sabra Dipping Co. LLC, and am eligible to win prizes associated with the contest. I received coupons for free product used in testing this recipe. I was not compensated for my time.
Hey, it's mid-October, which means there are two important questions on the minds of football fans everywhere.  1) How's your team doing?  2) What can we serve for the tailgate party?
I'll be totally honest, I'm usually more concerned about the food than the game – unless Notre Dame (my school) or Clemson is playing (my son's school, but since I'm on my 7th semester of college bills there, it's kind of become my school). Last week was especially HUGE in my house– ND vs Clemson. I couldn't decide which team to cheer for, and in the end I realized there really was no loser. Nothing like rooting for both teams! #EveryonesAWinner!
Sabra Hummus is another winner at tailgate parties, and with so many different flavors, it never gets old. It's so very easy to love as a dip with vegetables or pita chips, and apparently pretty popular with fans everywhere. Did you know Sabra is the Official Dips Sponsor of the NFL? Yep – It's nice to know that there's a healthy food sponsor, and it's not all about greasy chicken wings and pepperoni pizza.
Hummus is such a great party food choice because it's made from completely wholesome and healthy ingredients, including chickpeas. And their #TwoSpoons campaign is a reminder that just two heaping spoonfuls of Sabra Hummus a day fulfills your bean recommendation for the week. Beans are high in cholesterol-lowering fiber and an important part of that healthy Mediterranean Diet, so YES, you can stick to a healthy diet, even while tailgating.
Now that the weather is cooling down, and really feeling like tailgate temps, soup is a perfect addition to your football feast. Nothing warms cold fingers and bodies like a hot cup of soup, and this one is totally drinkable – no spoons needed just in case your tailgating involves lots of standing up and foam finger wearing.
It's a Mediterranean twist on cream of tomato soup. No cream is needed, because hummus makes the soup thick and creamy, while also adding delicious flavor.  Bonus – it takes less than 20 minutes to make, so you won't miss a minute of the game.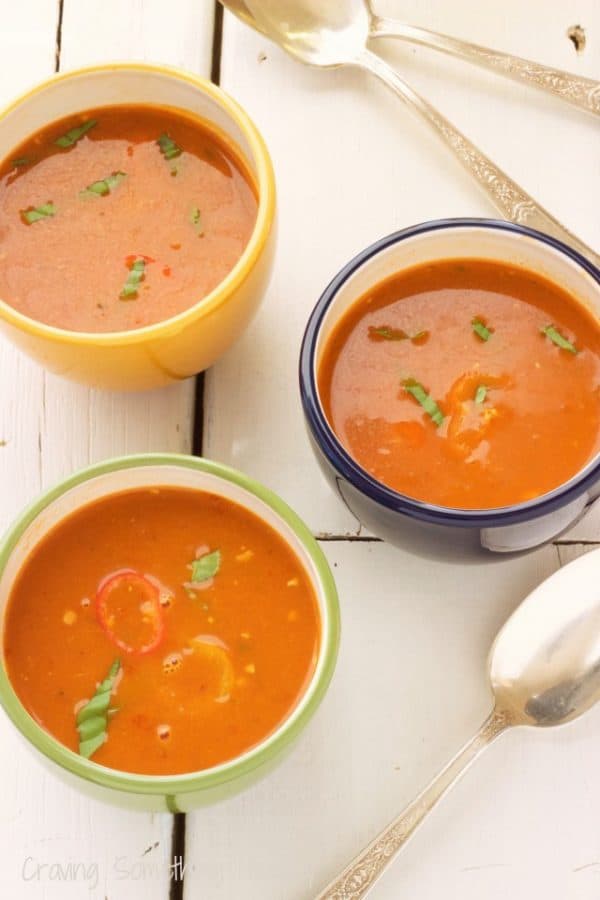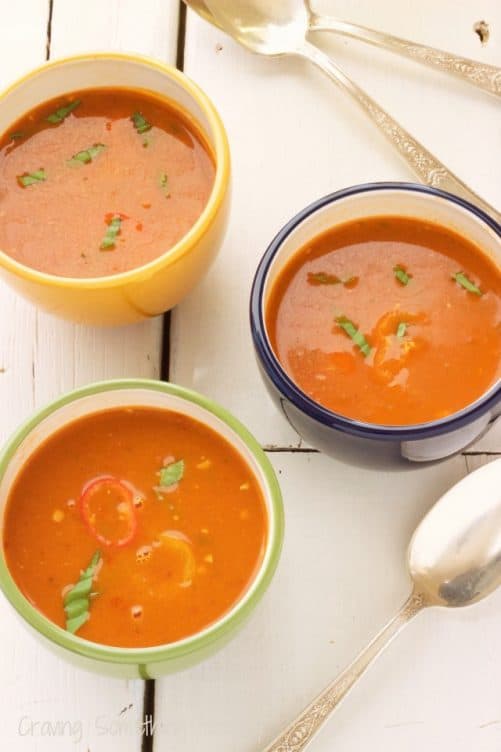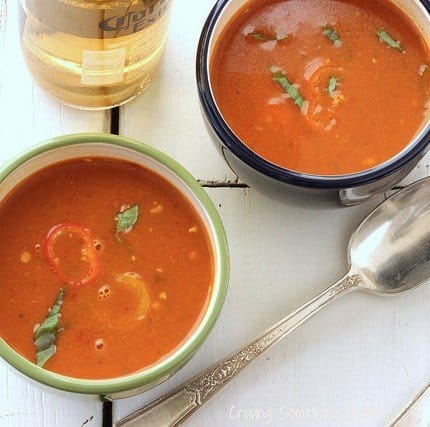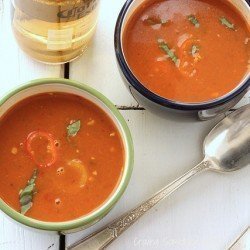 Ingredients
2

tablespoons

olive oil

1

small onion

diced

3

cloves

garlic

minced

1- 15

ounce

can organic crushed tomatoes with basil

6

cups

low sodium beef or vegetable broth

1/2

cup

prepared pesto

1-10

ounce

container of Sabra Roasted Red Pepper Hummus

optional garnish: thin sliced mini sweet pepper rings and thin sliced fresh basil
Instructions
Heat oil in a heavy stockpot over medium high heat. Add onion and saute for about 3-4 minutes until golden brown. Add garlic and saute for another 30 seconds.

Add crushed tomatoes, broth, pesto, and Sabra Hummus to the stock pot, and stir well to combine. Bring soup to a boil, and then reduce heat to low, cover and let simmer for 15 minutes.

Puree soup with an immersion blender, or in a regular blender (be careful to leave the lid cover open to let the steam escape).

Spoon into bowls or cups, and if desired, garnish with mini sweet pepper rings and fresh basil.
Nutrition
For more tips and information about how to eat healthy with hummus, visit the Sabra Hummus website.  
Eat well!