It's time for another Recipe ReDux, and this month the theme is Get Your Dehydrator On!  We were challenged to get creative with dehydrated fruits, vegetables or other ingredients.  You know I border on OCD when it comes to collecting kitchen gadgets, so even I was surprised to be caught off guard on this one.  I don't own a dehydrator!  Well, never fear because as I learned last year when I made fruit leather, a regular old oven turned on very low will do the trick just fine. 
Before I go into the details of today's recipe, I have a confession to make:  I was all set to experiment with carrot chips, when I happened to see a post on drying herbs from one of my favorite blogs, Kalyn's Kitchen.  One look at my overgrown herb garden, and the full sleeve of garlic sitting in my fruit bowl (that's smelling up all of my fruit), and I quickly decided to steal borrow Kalyn's recipe and adapt it a bit.  I also realized that with the still 100 degree weather we're having in Scottsdale, I wouldn't even need to turn on my oven.  Win!
It's so easy to dry your own herbs, and it's also a great way to save any that would otherwise go into the compost bin.  I love this mixture of rosemary and thyme for fall dishes, but parsley and sage would work (am I hearing a song here…?) too.  Just make sure you choose herbs that hold their color well when chopped fine.  Add some lemon zest if you like, or  garlic or hot pepper flakes would also be nice.  Pulse them well in a food processor, and if your house (or patio) is warm, just spread them out and let them dry for a good 5-8 hours.  If it's really humid or you just want to speed it up, spread them on a microwave safe plate, cover with a paper towel, and zap em for 1-3 minutes,  Check them frequently though because microwaves will vary.
So today, I'm sharing a recipe for an herb mixture that goes into one of my favorite marinades for chicken, fish or vegetables.  I add some lemon juice and olive oil to the mix, and it's a great all purpose, and lower sodium marinade.
I will admit, I've never thought to dry this herb mixture, so thanks Kalyn for the inspiration!  I pulsed everything in the food processor, spread it onto a baking pan,  set it out on the patio for a few hours to dry and voila!  Delicious and fresh dried herb mixture with so much flavor you'll never notice that it's lower in salt.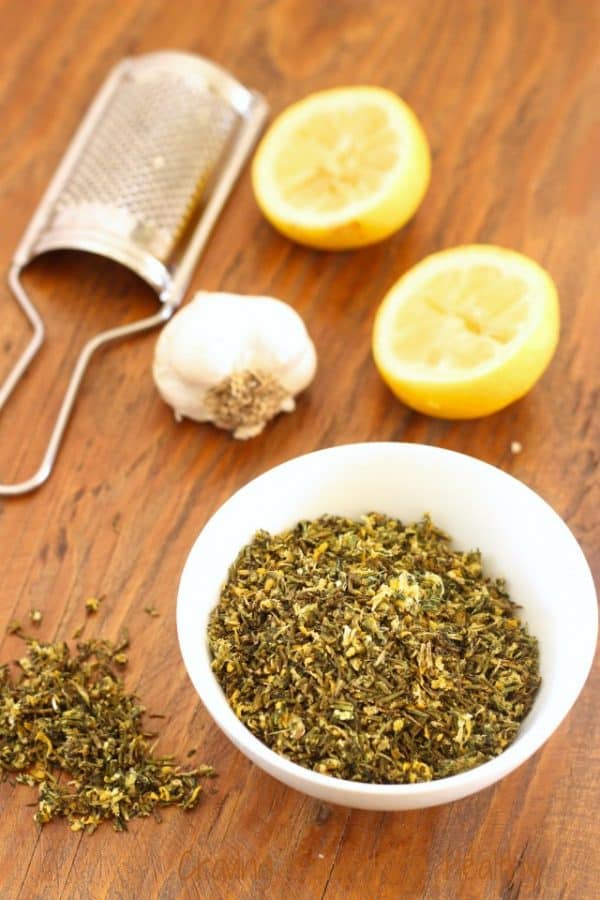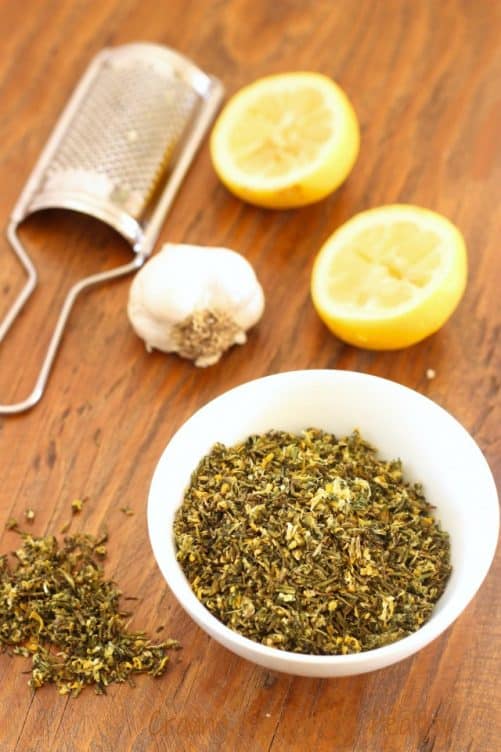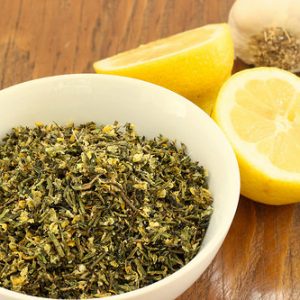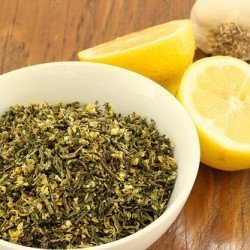 Rosemary Thyme Lemon and Garlic Herb Mix
Ingredients
1/2

cup

packed rosemary leaves

1/2

cup

packed thyme leaves

zest of 2 lemons

1

head of garlic

cloves peeled
Instructions
Place all ingredients in the bowl of a food processor fitted with the chopping blade. Pulse until mixture is well chopped and blended, with no large pieces of garlic remaining.

Spread herb mixture on a cookie sheet or baking pan and let air dry in a warm place for 4-8 hours, pr until dry to the touch.

When completely dry, break any clumps apart with your fingers and transfer mixture to an airtight container or jar.
Do you ever dry the last herbs in your garden?  Do you have a favorite herb mix combo?
Be sure to check out the other fabulous dehydrated foods members of the Recipe ReDux have cooked up!
Eat well!
[inlinkz_linkup id=442141 mode=1]