How to Make Homemade Dried Herb Mix
Do you have an herb garden that needs a good haircut? If so, cut it back and make your own homemade dried herb mix from your fresh herbs. You can stick to just herbs, or mix in some lemon zest, sea salt, or chili seeds for extra flavor.
I love to add some lemon zest and dehydrated garlic to my homemade dried herb mix. It's delicious sprinkled on grilled fish, meat, or vegetables. I also use this dried herb mix to flavor salad dressing or as a base for a marinade.
Living in Arizona, I'm fortunate to have fresh herbs in my garden pretty much year-round. They aren't usually too happy when the summer temperatures top 115 degrees, but the rest of the year, they grow like crazy. Sometimes, a little too crazy, and I end up cutting them back and throwing them out or adding them to the compost pile, which makes me sad.
Then one day, I realized just how easy it is to dry fresh herbs. Because it's so hot and dry here in the summer, I don't even need an oven or a food dehydrator. I just spread them on a baking sheet and let them dry in a shady spot on the patio for a few hours. If you don't live in the desert, a food dehydrator, low oven, or microwave work well too.
What Types of Fresh Herbs Work Best for Drying?
You can dry pretty much any type of fresh herbs. However, I find that those with leaves that are more firm, or tough dry better and hold their flavor longer. Soft leaf herbs like basil, parsley, or cilantro tend to lose their flavor quickly — but that's not to say you can't dry them. These are just best used within a few weeks after you dry them.
If you've ever had a jar of parsley from the grocery store which smelled like nothing after a few weeks, you know what I mean.
I love using these fresh herbs in various dried herb mixes:
Rosemary
Thyme or lemon thyme
Oregano
Lavender
Sage
Italian basil
Thai basil
Dill
Marjoram
Mint
How to Dry Fresh Herbs
Try to cut your herbs in the morning, when they're freshest. Give them a good watering and rinsing with the hose the night before, and you shouldn't have to rinse them after they're cut.
If you live in the desert, just lay your fresh-cut herbs on a baking sheet for 5-8 hours or until they're dry and crumbly. Make sure you put them in a warm, but shady spot. Alternatively, you can cut your herbs, tie the stems together, and hang them in a dry spot for a few days to dry.
Tougher herbs like rosemary or oregano work best for air drying. Soft herbs like basil might get moldy if it's not hot or dry enough, so you may want to rely on an oven to dry softer herbs.
To dry herbs in the oven, set your oven to the lowest temperature (less than 180° F) or use a food dehydrator. Spread the herbs on a cooling rack set on top of a baking sheet and put them in the oven for 2-4 hours. If you don't have a cooling rack, just use the baking pan, but give them a toss periodically so they dry evenly.
You can also dry herbs in the microwave. This method works best for small amounts of herbs. Just spread them on a paper towel and microwave them on high for 30 seconds. Check and toss them, and then give them another 15-30 seconds. Keep doing this until your herbs are dry and crumbly.
How to Add Other Flavors to Your Dried Herb Mix
The nice thing about DIY dried herb mixes is the flavor possibilities.  You can stick to one type of dried herb, mix and match them, or add in extra yummies like:
lemon or lime zest
sea salt
cracked black pepper
dried garlic
chili seeds
sesame or poppy seeds
If you use lemon or lime zest or chili seeds, you'll want to dry those along with your herbs. Sea salt, cracked pepper, sesame, or poppy seeds are already plenty dry, so you can just add them in. If you like garlic, make sure you buy dehydrated garlic pieces instead of garlic powder. Or dry your own garlic.
Remove any stems from your herbs, put them in a food processor along with any flavor mix-ins and just pulse everything a few times to break it down. Or just crumble the herbs with your fingers if you prefer larger leaves and pops of flavor.
Make sure you store your dried herb mix in an airtight jar and use it within a month or two.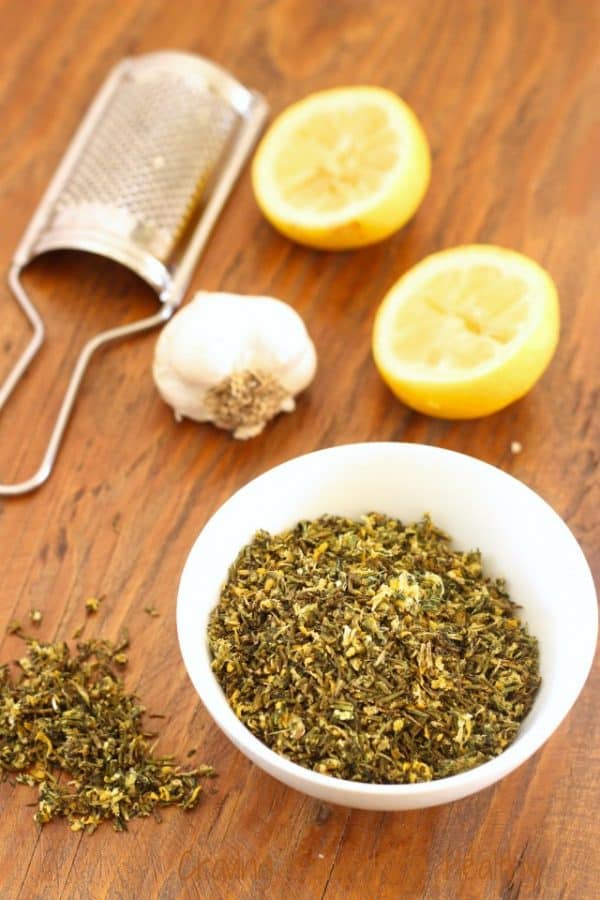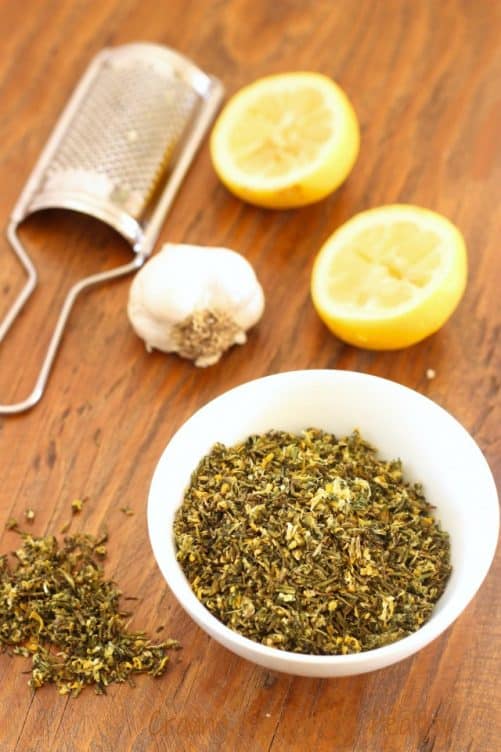 Here's an easy recipe for an herb mixture that goes into one of my favorite marinades for chicken, fish, or vegetables.  And sometimes, I add some lemon juice and olive oil to the dried herb mix, and it becomes a great all-purpose, lower sodium marinade.
Recipe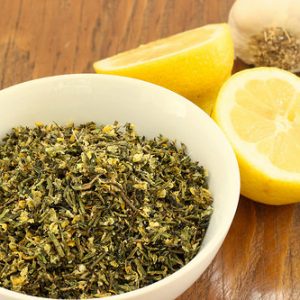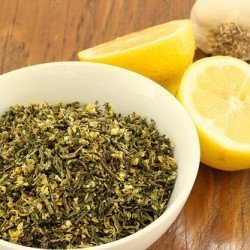 Rosemary, Thyme, Lemon and Garlic Dried Herb Mix
a delicious homemade dried herb mix you can make from your fresh herbs
Print
Pin
Ingredients
¼

cup

rosemary

stems removed

¾

cup

thyme

stems removed

½

cup

oregano

stems removed

3

medium

lemons - zested

3

tablespoons

dehydrated garlic flakes

1

tablespoon

sea salt (optional)
Instructions
Preheat the oven to the lowest temperature (120-170°F is best) and set an oven rack to the middle position.

Spread the herbs and lemon zest on a cookie sheet and place it in on the middle rack in the oven. Let the herbs dry for 2-4 hours in the oven, tossing the mixture every 30 minutes or so.

When the herb mixture feels dry, remove the pan from the oven. Let the herbs cool.

When completely cool and dry, transfer the mixture to a mixing bowl. Crumble the herbs with your fingers and stir in the garlic and sea salt.

Transfer mixture to an airtight container or jar.
Nutrition
Calories:
11
kcal
|
Carbohydrates:
3
g
|
Protein:
1
g
|
Fat:
1
g
|
Saturated Fat:
1
g
|
Polyunsaturated Fat:
1
g
|
Monounsaturated Fat:
1
g
|
Sodium:
389
mg
|
Potassium:
49
mg
|
Fiber:
1
g
|
Sugar:
1
g
|
Vitamin A:
123
IU
|
Vitamin C:
5
mg
|
Calcium:
36
mg
|
Iron:
1
mg
Do you have a favorite herb mix combo?
Eat well!