Vegan Pina Colada Ice Cream with Salted Macadamias
This super-simple non-dairy pineapple coconut ice cream transports you to an island vacation. You'll never guess it's vegan ice cream!
Hello from Hawaii! I'm in Kauai right now. Guess what's for dinner? Yep. Pina Coladas. Or in this case, pina colada ice cream with salted macadamias. You're welcome.
How did I miss the vegan ice cream boat?
I'm probably the last food blogger on earth to try coconut (aka) vegan ice cream, but I'm so glad I did! It's super easy, and while I rarely have real cream and whole milk in my house, I almost always have a can of coconut milk on hand.
Something tells me this coconut ice cream might be a regular thing.
First, a few scenes from my vacation. You might think it's weird to do Kauai in August, but remember I live in AZ, where we hunker down inside for the summer. Our August is like February for the rest of the country. So the thought of 85 degrees with light, on and off showers is actually pretty nice right about now. And Kauai is gorgeous, and you can see:
It's an amazing mix of beach and jungle. Very Costa Rica. With roosters instead of monkeys and sloths. And here's a fun fact about Kauai. If you feel like you've been here before, it might be because all of these movies/TV shows have been filmed here:
Avatar
Body Heat
The Descendants (I keep waiting for George Clooney to appear)
Hook
3-Jurassic Parks
Lord of the Flies
Raiders of the Lost Ark
South Pacific
Gilligan's Island
Fantasy Island
...and too many more to mention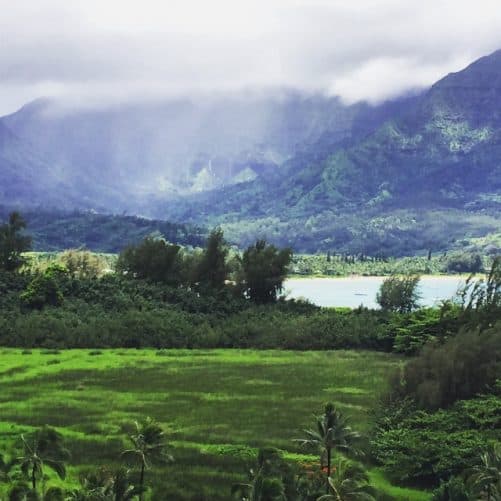 So back to the ice cream. You should use full-fat coconut milk, and NOT the kind in the cartons where the milk alternatives are.
You want the coconut milk in the can, in the Asian section of the supermarket. Low fat will be like eating coconut ice, so just splurge on the full fat. It's ice cream after all, and just a treat, not a meal, and the fruit and nuts are good for you, so they kind of cancel out the fat in the coconut milk... #DietitianReasoning
Fresh pineapple is really nice here, but if for some crazy reason you can't find it, feel free to substitute canned. And if you want to make this an adult-only dessert, pour a bit of rum into the mixture. I won't tell.
Do you have an ice cream maker? It's not essential, but it's really, really, nice to have. I have a Cuisinart ice cream maker, and although I don't use it often, it's truly wonderful when I have a craving for healthier ice cream, sorbet, or frozen yogurt.
If you don't use an ice cream maker, this vegan ice cream will be a bit icier- just partially freeze the mixture, stir it up to incorporate some air, freeze again, and repeat a few times. Or just buy an ice cream maker!
Recipe
Pina Colada Ice Cream with Salted Macadamias
A refreshing, tropical, no-churn ice cream
Print
Pin
Ingredients
30

ounces

cans full fat coconut milk - chilled well

2 cans

1

small

pineapple

cut into 1-inch cubes

½

cup

organic corn syrup

1

teaspoon

vanilla extract

1

teaspoon

coconut extract

½

cup

salted macadamia nuts

chopped

½

cup

unsweetened shredded coconut
Instructions
At least 6 hours (or overnight) before making the ice cream, place the bowl of the ice cream maker in the freezer, and chill the cans of coconut milk.

Add the coconut milk, pineapple, sweetener, vanilla and coconut extract into a blender, or the bowl of a food processor fitted with the chopping blade.

Blend or process until smooth and frothy.

Pour the mixture into the ice cream maker, and churn for about 30 minutes or until desired consistency is achieved.

Add the nuts and coconut to the ice cream maker when the ice cream is just about finished, and let it stir to combine.

Pour the ice cream into a freezer-safe container, and place plastic wrap on top to keep the air out.

Freeze for at least 3-4 hours.
Notes
If the ice cream is frozen solid, let it sit at room temperature for 15 minutes or so to soften before serving. Store leftovers in a covered container in the freezer for 2 weeks.
Nutrition information is for ½ cup serving.
Nutrition
Calories:
214
kcal
|
Carbohydrates:
18
g
|
Protein:
2
g
|
Fat:
16
g
|
Saturated Fat:
12
g
|
Polyunsaturated Fat:
0.2
g
|
Monounsaturated Fat:
3
g
|
Sodium:
15
mg
|
Potassium:
211
mg
|
Fiber:
2
g
|
Sugar:
14
g
|
Vitamin A:
33
IU
|
Vitamin C:
28
mg
|
Calcium:
23
mg
|
Iron:
2
mg
What's the best thing you've eaten on vacation?
Eat well!