Rice Frittata with Caramelized Tomatoes Asparagus & Smoked Gouda
This Rice Frittata recipe was sponsored by USA Rice Federation but brown rice really is a kitchen staple I always have in my pantry!
How much do you know about rice? I'll bet you don't think about it much, unless the server at the Chinese restaurant forgets to bring it to the table! Rice is actually a pretty important food, and a great choice to talk about (and eat more of) for National Nutrition Month, and all year long. This month, The USA Rice Federation challenged members of the Recipe ReDux to Think Rice - and show you how and why healthy cooks love to include rice in our meals.
So let's have a pop quiz about rice!
True or False? A pound of rice delivers four times the food energy as the same serving of potatoes or pasta?
It's true, and that's why rice is the main food for half of the people in the world. In fact, more than 3 Billion people worldwide depend on Rice as their staple diet
True or False? All rice is genetically modified.
Totally false. U.S. grown rice is GMO-free, as well as sustainable, safe, and locally-grown. Just look for the "Grown in the USA Rice" logo on packages of 100% domestically grown rice in grocery stores.
True or False? Rice is fattening.
False. Rice contains almost no fat, and it's cholesterol free, low in sodium and high in complex carbs and protein. It's also a great option for anyone who eats a gluten-free diet. Studies also show that rice eaters consume less sugar and saturated fat than people who do not eat rice.
True or False? There are 40,000 varieties of rice grown worldwide.
True! Amazing, isn't it, especially since most of us are familiar with only white or brown rice. In fact, you can find U.S. grown rice in lots of varieties including the common white or nutty brown, as well as Arborio which is great for making risotto, wild or black japonica, which are lovely and chewy in a salad, jasmine or basmati both of which are beautifully fragrant and even red rice. With all of those options, the variations are endless!
True or False? Rice is cheap.
Hella yes! Rice is an affordable foundation of any meal, and averages less than $.25 per serving. Served as a side dish, salad ingredient, or part of a main course, rice is the perfect way to get lots of bang for your food budget. So next time you're trying to think of what to eat - think rice!
I always have an assortment of rice varieties on hand, but one of my favorites is good old chewy, nutty brown rice. I love how it makes my frittata so much more of a complete meal - high fiber whole grains from the brown rice, lots of protein from the eggs, and let's not forget the flavorful veggies!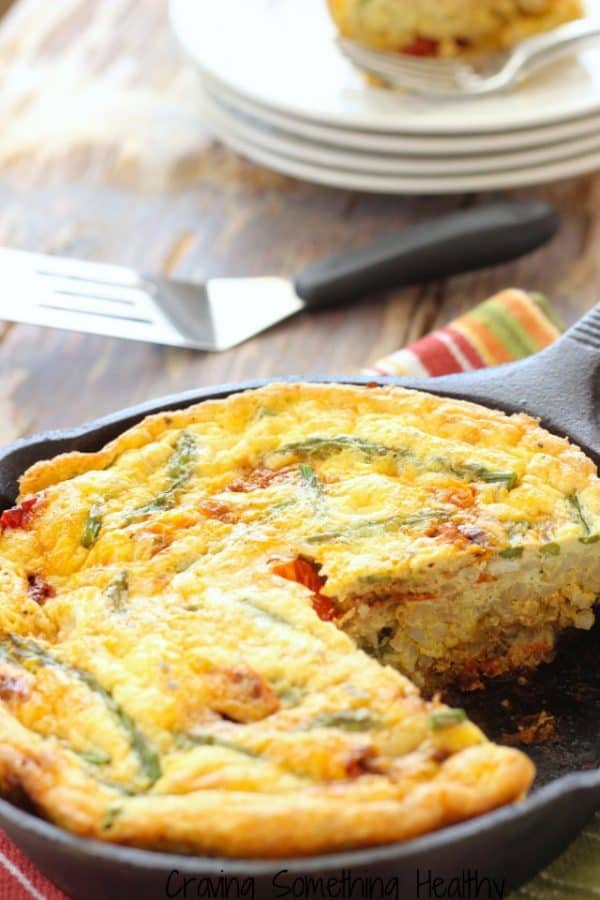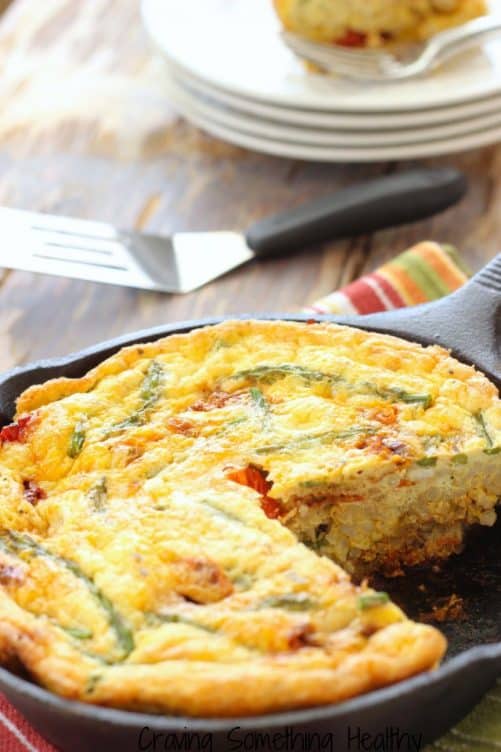 Make sure you caramelize the tomatoes for the most amazing flavor. Let 'em get almost burnt on the bottom. Trust me. Smoky-sweet tomatoes + smoked Gouda = Crazy delicious. Oh BTW - if you have leftovers, they're so perfect for breakfast or lunch. Cold or room temperature. YUM 🙂
Recipe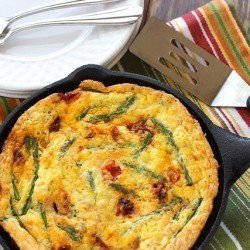 Rice Frittata with Caramelized Tomatoes & Asparagus
An easy dinner with leftovers for breakfast
Print
Pin
Ingredients
1

pint

cherry tomatoes

1

tablespoon

olive oil

2

medium cloves garlic

minced

1

cup

cooked brown rice

6

large eggs

½

cup

shredded Smoked Gouda cheese

divided

½

teaspoon

salt

⅛

teaspoon

ground pepper

¼

pound

thin asparagus

sliced into 1 ½-inch pieces
Instructions
Preheat oven to 350 degrees.

Heat an oven-proof nonstick skillet pan on high heat, and add olive oil. Salute the tomatoes and garlic in olive oil until the tomatoes pop and soften and start to caramelize and turn brown/black in spots. Reduce heat to medium.

While tomatoes are cooking, mix together rice, eggs, ¼ cup cheese, salt and pepper.

Add asparagus to the tomatoes and garlic and toss to coat with oil.

Pour egg mixture over all. Top with additional ¼ cup shredded cheese.

Cook on medium heat for about 7 minutes, until eggs start to bubble and set.

Place pan in the oven for another 20 minutes or until puffed and the top is golden brown.

Serve hot or cold.
Notes
For the most savory flavor, cook your rice in low sodium vegetable stock rather than water.
If you don't have an ovenproof nonstick pan, transfer cooked tomatoes, garlic and asparagus to a greased baking pan, pour egg mixture over and add an additional 5-10 minutes in the oven.
Nutrition
Calories:
327
kcal
|
Carbohydrates:
19
g
|
Protein:
20
g
|
Fat:
19
g
|
Saturated Fat:
8
g
|
Polyunsaturated Fat:
2
g
|
Monounsaturated Fat:
8
g
|
Trans Fat:
0.03
g
|
Cholesterol:
311
mg
|
Sodium:
770
mg
|
Potassium:
500
mg
|
Fiber:
2
g
|
Sugar:
4
g
|
Vitamin A:
1363
IU
|
Vitamin C:
29
mg
|
Calcium:
277
mg
|
Iron:
3
mg
How do you like to do rice? Do you have a favorite variety?
Eat well!
SaveSave