Spicy-Southwest Roasted Chickpeas
What do you do for New Year's Eve? In my opinion, this is one of those extremely over-hyped holidays that never, ever lives up to its expectations.
Here's what I think about New Year's Eve... The best point in your life for ringing in the New year is when you're 10. It's a major thrill and a half just to be allowed to stay up until midnight, and maybe even go outside at that hour and light off some illegal fireworks with one of the crazy neighborhood dads. THE BEST!
By your twenties, New Year's Eve usually involves someone vomiting in your toilet (hopefully not you) and passing out on the floor of your apartment because you don't have anywhere else for them to sleep. In your thirties, you spend weeks planning something really special, only to come down with the flu and a 104 degree fever, and a huge bill for swanky hotel room and an all-you-can-drink dinner party that you attended for about 5 minutes (true story). By your forties, you are sick all night worrying about what your kids are doing, who they're doing it with, and whether or not you'll get a call from the police.
I'm not going to go any further than that, lest you guess my age. But let's just say, last year was one of my favorite New Years because we were invited down the street for a pot luck dinner, and the host specifically said it would be over by 10:00 because who really wants to stay out until midnight at our age? THE BEST because I really like to be in my warm bed by 10:00 at the latest!
Hopefully your New Years Eve will be better than most of mine. If you're brave enough to venture out, you'll probably need to bring a snack. Did you know that beans are a lucky food? Because they're round like coins, they're a traditional symbol of prosperity in the New Year. Hopefully this recipe for Spicy-Southwest Roasted Chickpeas will bring you lots of money to help pay for the swanky hotel and all you can drink night, or a guest room for your guests to crash in, or college for your kids.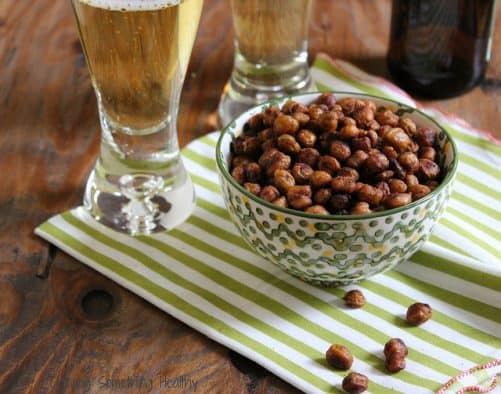 I think roasted chickpeas taste kind of like beer nuts - but in a much healthier way. Crunchy, crispy and really addicting.
Recipe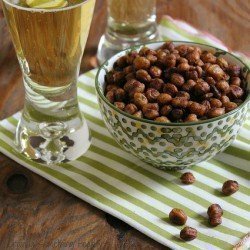 Ingredients
15

ounces

chickpeas

drained, rinsed and patted dry in a clean towel

1

Tablespoon

olive oil

¼

teaspoon

garlic powder

¼

teaspoon

kosher salt

½

teaspoon

chipotle chili powder

or more if you like very spicy

½

teaspoon

cumin powder
Instructions
Preheat the oven to 375 degrees.

In a large mixing bowl, mix together oil, salt and spices.

Add chickpeas and toss well to coat.

Spread seasoned chickpeas on a baking sheet in a single layer.

Cook 30-35 minutes, stirring occasionally. Toss well after 35 minutes, and taste to see if they are finished. Chickpeas are done when they are crunchy but not burned. They may need up to an additional 15-20 minutes to get crunchy enough, but check them frequently and stir them often, as they go from finished to burned very quickly.

Note: If they aren't cooked enough, they will have a semi-firm texture.
Nutrition
Calories:
208
kcal
|
Carbohydrates:
30
g
|
Protein:
10
g
|
Fat:
6
g
|
Saturated Fat:
1
g
|
Polyunsaturated Fat:
2
g
|
Monounsaturated Fat:
3
g
|
Sodium:
157
mg
|
Potassium:
321
mg
|
Fiber:
8
g
|
Sugar:
5
g
|
Vitamin A:
106
IU
|
Vitamin C:
1
mg
|
Calcium:
56
mg
|
Iron:
3
mg
Do you have plans for New Year's Eve?
Eat well!