Thai Basil Pesto-with Garlic Scapes From The Farmers Market
Farmers Market Finds…
My town has recently revamped our farmer's market and although it's small, we have a wonderful selection of local fresh fruits and vegetables, cheese, fresh pasta, honey, and even wine from a local winery.    I love a farmer's market in the summer – it's so nice to chat with other people who are passionate about good food, and there's something about knowing where your food came from, and who grew it, that makes it taste so much better.  If you're not sure where your local markets are, check out this farmers market finder, and pay them a visit soon.
It's always kind of a treat for a nutritionist to discover a new food, and a few weeks ago I found something I'd never seen before – garlic scapes.  The mess of green, curly, onion-like strands were piled up on quite a few tables in the market, so I had to ask about them.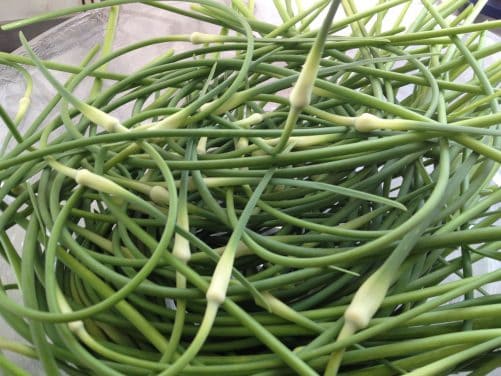 I found out that garlic scapes are the "flower stalks" of hardneck garlic plants, and they are available for only a few short weeks at the beginning of the summer- here in New England at least (OK I'm a bit late publishing this post).  They have to be removed from the garlic plant, so that it can direct its energy into making a better bulb.
Not quite sure how to eat them, I asked my local organic farmer, Laura Davis, of Longlife Farm here in Hopkinton, who promised that they would be tender with a mild taste of garlic, and great sautéed in some olive oil, or used raw in salads or pesto.  I also bought some amazing honey from Little Beehive Farm, and a few other herbs.  I planted some Thai basil this year, along with my regular Italian basil, so I thought I'd experiment with the herbs, scapes and honey, and this Thai Basil Pesto that I came up with was a hit.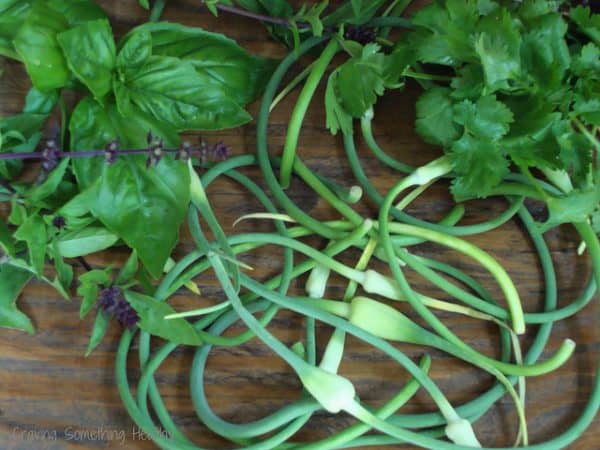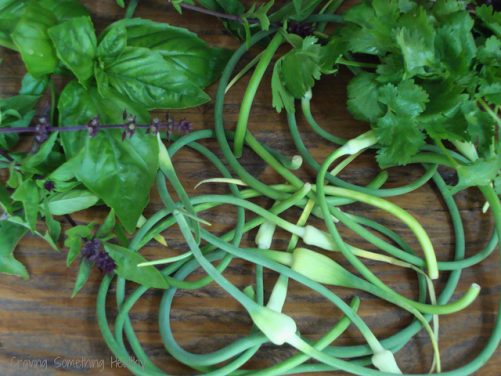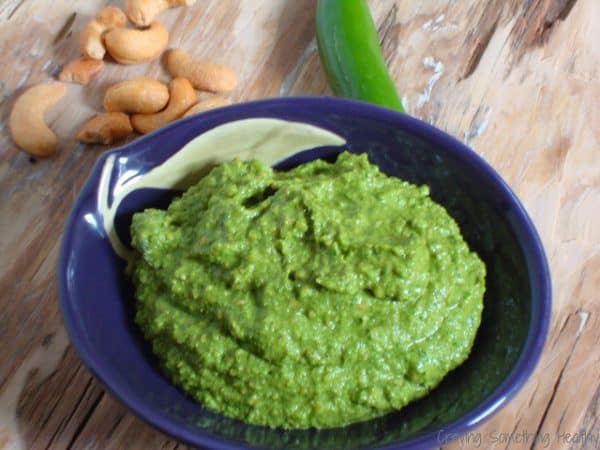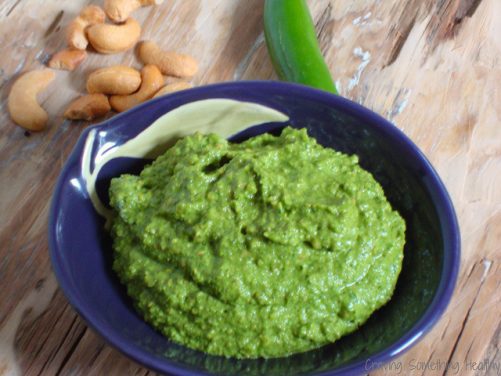 I tossed it with pasta, added some raw shredded carrots, colorful peppers, and scallions, and topped it with grilled shrimp.  I'm kind of sad that I have to wait another year for garlic scapes, but this recipe will work with regular garlic cloves as well.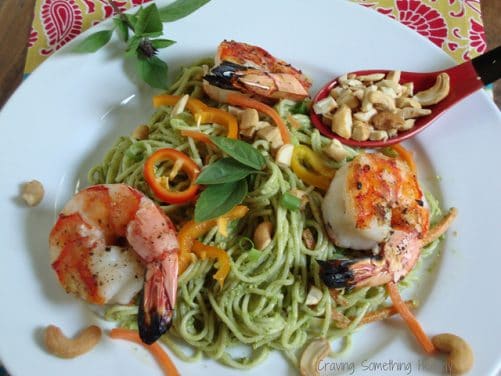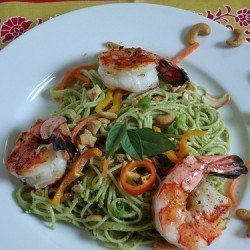 Ingredients
1 1/2

cups

Thai basil

or Italian basil leaves

1/2

cup

cilantro leaves and stems

2

cups

baby spinach leaves

12

garlic scapes

or 2 large garlic cloves

1

bunch scallions

1

hot pepper

Serrano, jalapeño etc

2

tsp

minced ginger

1/4

cup

olive oil

1

cup

unsalted peanuts or cashews

2

Tbs

fresh lime juice

1

Tbs

fish sauce

1

Tbs

low sodium soy sauce

1

Tbs

honey

kosher salt to taste
Instructions
Place all ingredients in food processor and process until smooth.

Add salt to taste.

If a thinner consistency is desired, add additional olive oil.

Extra pesto can be frozen in small freezer bags, and stored for up to 6 mos.
Have you discovered any new foods at the farmer's market?
Eat well!