Holiday Slaw with Greek Yogurt Dressing
My Brussels sprout and apple slaw is made with siggi's spiced apple yogurt. It's a tasty make-ahead holiday side dish you'll want to eat all season long!
I received free samples of siggi's yogurt mentioned in this post, and boy did I love it! 
Have you ever thought what Thanksgiving would be without the sides? It would literally be "turkey day". Bor-ing. I do love the turkey, but I also adore all of the sides. Especially the stuffing. I would die without stuffing.
The problem is, those sides take so much time to make. And they require extremely careful planning and precise timing so they're ready just as the turkey has rested for the appropriate amount of time. And most importantly, they require oven space. Precious oven space — that most of us don't have.
So please tell me you wanna shout from the rooftops when you find a quick and easy side dish that's perfect for Thanksgiving – or any of the multitude of other holidays and get-togethers that will be taking place between now and January – AND, it requires absolutely no oven space. You're welcome.
This holiday slaw is so pretty for the holidays, and it's pretty tasty too. Oh, and it'll be the healthy spot on your plate because it's made with only good-for-you ingredients and not a drop of fat. The creamy dressing is all courtesy of siggi's Icelandic skyr (AKA Greek yogurt).
Do you know about siggi's? It's called skyr, because that's what they call really thick, creamy and delicious Greek yogurt in Iceland. Siggi's is not very sweet, because it has very little sugar. But it's got the most amazing flavors you could imagine, and lots of protein in every little cup. I have no idea how they could pack so much Pomegranate and Passion Fruit, Orange and Ginger, Coconut or any of their other flavors into one little cup. But they really do.
I made a totally delicious creamy dressing out of their spiced apple skyr. I'm never buying creamy dressing again. No lie. So good.
[bctt tweet="Keep it easy w make-ahead Holiday Slaw w/apple spice yogurt dressing @siggisdairy #ad #TheRecipeReDux"]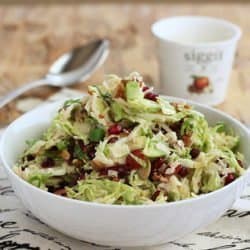 Ingredients
Dressing
1 5.3

ounce

container siggi's spiced apple skyr

3

tablespoons

apple cider vinegar

1/2

teaspoon

dijon mustard

1/2

teaspoon

kosher salt

1/4

teaspoon

fresh ground pepper
Slaw
3/4

pound

fresh Brussels sprouts

2

large apples

juice of 1 lemon

4

scallions

1

cup

toasted pecans

chopped

3/4

cup

pomegranate seeds

3/4

cup

dried cranberries

1/2

cup

salted pumpkin seeds

pepitos
Instructions
For the dressing, combine the apple spice yogurt, vinegar, mustard, salt and pepper in a small bowl and whisk well to combine. Add more salt if necessary. Set aside.

For the slaw, cut the tough ends off of the Brussels sprouts and remove the outer leaves. Rinse well.

Shred the Brussels sprouts in a food processor fitted with the slicing blade, or with a sharp knife or mandoline slicer. Place the shredded Brussels sprouts in a large mixing bowl.

Peel the apples, and cut into quarters away from the core.

Shred the apples in a food processor fitted with the shredding blade, or with a julienne peeler or mandoline slicer fitted with the julienne blade. Place the apples in the bowl with the Brussels sprouts.

Toss the Brussels sprouts and apples together and cover with 1 cup water with the juice of 1 lemon added, to keep the apples from turning brown. Let the mixture sit for about 10 minutes.

Meanwhile, slice the green parts of the scallions, and measure out all remaining ingredients.

Drain the lemon water from the apples and Brussels sprouts,

Add the scallions, pecans, pomegranate seeds, cranberries and pumpkin seeds to the Brussels sprouts and apples and toss well to combine.

Pour dressing over all, and let sit for at least an hour, or overnight for the flavors to combine.
Notes
If you prefer a creamier dressing, double the dressing recipe.
How do you keep it a bit healthy during the holidays?
Eat well!