Savory French Toast with Caramelized Vegetables
Break out of your breakfast boredom with this savory twist on French Toast.
I've never actually read a statistic about this, but I'm gonna guesstimate that about 75% of us eat pretty much the same thing for breakfast most days of the week.  As in I eat overnight oats Monday through Friday. Sure, I vary the fruit, and nuts, and overall flavors, but for me, it's usually oats, milk, fruit, nuts, yogurt.  Maybe if I'm feeling really crazy I'll sprinkle some hemp seeds over the entire thing.  If I ever go out to breakfast though – the last thing I'd order is overnight oats.
So how fun that this month's Recipe ReDux challenge is to break out of our breakfast boredom with something totally new and creative.  Totally time for me to snap out of my breakfast rut.
Whenever I have a choice between sweet or savory, I always choose sweet.  So of course, I love those big puffy pancakes with fruit and whipped cream, or french toast with lots of syrup.
I know, please don't tell anyone.
But besides the fact that that kind of food is NOT a healthy way to start the day, it also makes me feel kind of sick after eating it.  I suspect that's because those sweet breakfast foods have a high glycemic index, and I, strangely enough, end up a little bit hypoglycemic.  That means the sugar gets into my body too fast, and my insulin has to work overtime to bring it down, but in the process, it pulls my blood sugar down too low.  In plain English, if I eat sweet, sugary stuff for breakfast, I get nauseous, shaky and dizzy about 2 hours later.  Bad.
Soooo – long story short, that's how this Savory French Toast idea was born.  I can still have French toast, but it's made with a higher fiber whole grain bread, egg (or course), a little bit of Parmesan cheese, and some fresh vegetables that have been roasted just until they caramelize a bit.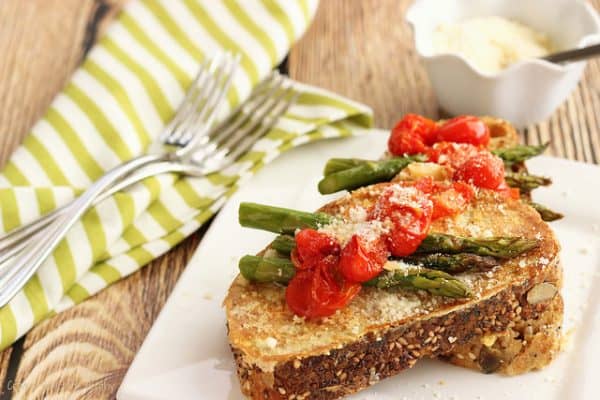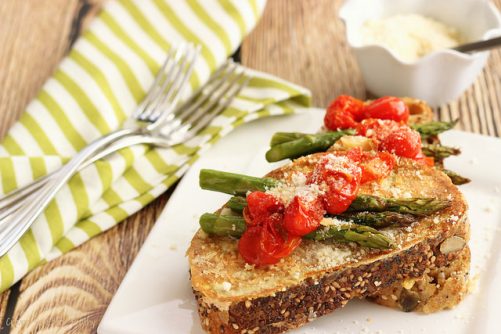 I love the idea of vegetables at breakfast- these are so delicious roasted up with some garlic cloves until they're just a little bit sweet.  This recipe makes more vegetables than you'll need for one serving, which means you can make this later in the week and skip the vegetable roasting step.  Or, just eat the leftovers for dinner.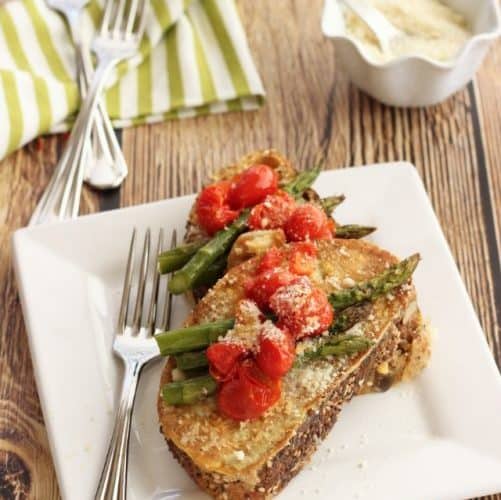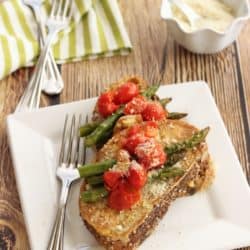 Savory French Toast with Caramelized Vegetables
Print
Pin
Servings:
1
serving plus extra vegetables for several more breakfasts or dinner
Ingredients
1

pound

thin asparagus

tough ends snapped off

1

pint

cherry tomatoes

4

large cloves of garlic

skins removed

kosher salt

2

tablespoons

olive oil

1

large egg

2

slices

of whole grain bread

2

teaspoons

grated parmesan plus extra if desired to top
Instructions
Preheat the oven to 400 degrees.

Toss the asparagus, tomatoes and garlic cloves with the olive oil, and sprinkle with about 1/2 teaspoon kosher salt. Spread the vegetables in a shallow baking dish, and roast for about 15 minutes, or until the tomatoes start to pop and vegetables turn slightly brown in spots. Stir the vegetables occasionally so they cook evenly.

While the vegetables are roasting, heat a nonstick frying pan on medium high heat.

Lightly beat the egg and a pinch of salt in a shallow bowl.

Dip each slice of bread into the egg, coating it with the egg on both sides.

Place the bread in the pan and let it cook for about 30 seconds on each side.

Flip the bread over while in the pan, and sprinkle each slice with about 1/2 teaspoon Parmesan cheese. Heat the bread just until the cheese melts.

Remove the bread from the pan, and spoon some of the vegetables over each slice.

Serve immediately with extra Parmesan cheese sprinkled on top if desired.
Notes
This recipe makes enough roasted vegetables for 4-6 servings. Store the leftover vegetables in an airtight container in the refrigerator, and reheat them for another breakfast or to use at dinner.
Nutrition
Do you eat the same old thing most days for breakfast?  Why or why not?
Don't forget to check out the other non-boring breakfast ideas fro the Recipe ReDux members.
Eat well!
[inlinkz_linkup id=601847 mode=1]