Sparkling Spiced Blood Orange Shrub
When blood oranges are in season, stock up and make this Spiced Blood Orange Shrub Syrup. It lasts for months in the fridge and you'll be able to enjoy that beautiful color and fresh flavor well into the spring!
I still remember the first time I accidentally brought home blood oranges from the market. There I was, peeling my orange when I noticed the color - the most beautiful shade of crimson red-orange I'd ever seen. I thought I had a rare, mutant orange until I remembered there's such a thing as a blood orange. I was hooked right then and there.
Blood oranges sound gruesome but they're really such a treat - not only to look at, but also, to eat. They have a slightly less "orangey" taste than regular navel oranges, and a bit of a raspberry flavor. They're native to the Mediterranean, which makes me love them even more. Eating one is like taking a quick trip to southern Spain. Without the airfare.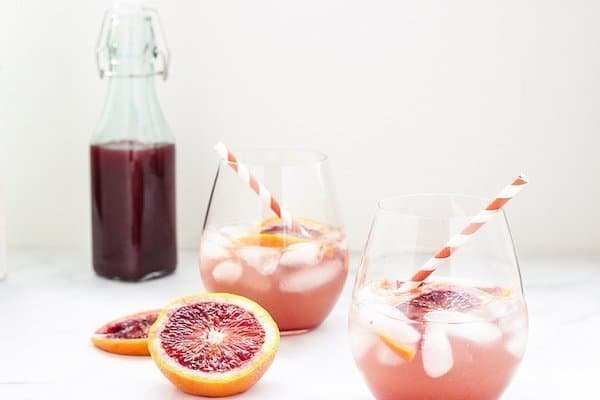 Blood oranges are also even better for you than navel oranges, so when they're in season in late winter through early spring, eat up! It's true that the more color a fruit or vegetable has, the more antioxidants it provides, and blood oranges are a perfect example. In addition to vitamin C, they're jam-packed with anthocyanins, the same compounds that give berries their deep, rich colors and superpowers.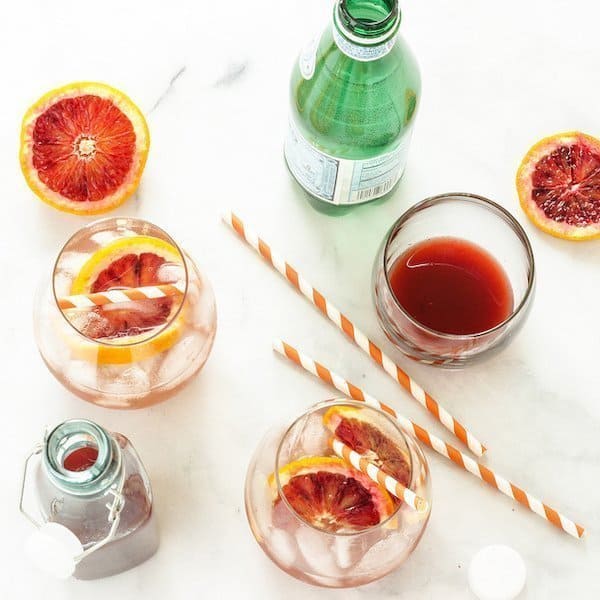 Whenever a favorite fruit is in season, I love to make a bottle of shrub syrup. A shrub is a drinking vinegar, which sounds totally crazy - but stay with me here. You mash the fresh, ripe fruit with sugar (or another sweetener) and any other herbs or spices you like. Keep it in the fridge for a few days so all of the juice is released.
Next, you drain off the fruit pulp and you mix the sweet juice with vinegar. Return it to the fridge and the flavors will blend and mellow into the most delicious mixture ever. It's almost like a sweet, concentrated wine. When you're craving something refreshing, just mix 1 or 2 tablespoons of the shrub syrup with some seltzer water and lots of ice. Keep it simple, or make it boozy by adding a splash (or more) of vodka or prosecco.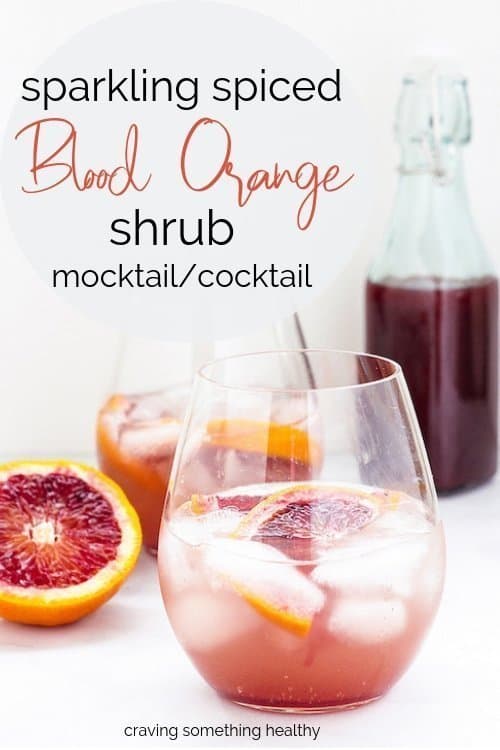 The best thing about shrub syrup is that it lasts for months and months. The combination of sugar and vinegar preserves the fruit, so you get to enjoy your favorite fruits well into the next season. And - the sky's the limit in terms of fruit and flavor combos. This one is a bit wintery, exotic and spicy with the addition of Chinese Five Spice Powder and some ginger. My Strawberry Basil Shrub Syrup tastes like pure summer.
Recipe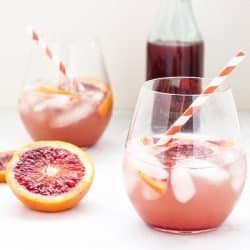 Sparkling Spiced Blood Orange Shrub
Add a splash of this sweet drinking vinegar to a cocktail or mocktail for a refreshing burst of flavor! Adapted from Sunkist
Print
Pin
Ingredients
4

medium

blood oranges, segmented

1

cup

sugar

1

cup

apple cider vinegar

2

teaspoons

minced ginger

2

teaspoons

Chinese Five Spice powder

available in the spice section
Instructions
Combine the orange segments and sugar in a large measuring cup or bowl, and mash well with a muddler or the back of a spoon. Make sure any large pieces of fruit are broken up.

Add the vinegar, ginger and Chinese Five Spice powder and mix well. Pour the mixture to a container with a lid, and refrigerate overnight or up to a week.

Remove the mixture from the refrigerator, and strain the solids through a sieve or fine strainer. Press as much juice as possible out of the fruit. If desired, reserve the fruit pulp to use in baking or spoon it over yogurt or oatmeal.

Pour the strained liquid into a jar or bottle with a lid and keep it in the refrigerator. It should last for several months.

To serve, add 1-2 tablespoons to sparkling water and ice. Add vodka, run, or prosecco if desired.
Nutrition
Calories:
35
kcal
|
Carbohydrates:
8
g
|
Protein:
0
g
|
Fat:
0
g
|
Saturated Fat:
0
g
|
Cholesterol:
0
mg
|
Sodium:
0
mg
|
Potassium:
15
mg
|
Fiber:
0
g
|
Sugar:
8
g
|
Vitamin A:
5
IU
|
Vitamin C:
1.2
mg
|
Calcium:
4
mg
|
Iron:
0.1
mg