This super-simple shortcut version of chicken Pho is every bit as flavorful as the traditional Vietnamese noodle-y soup but so much easier.
It's January and cold outside baby and that means soup. Today, it's all about pho, or actually, a faux pho. That's because I learned real, traditional pho involves homemade stock and hours of waiting. And sorry, but that's just too much work for us coming off the holidays.
In case you don't know pho, it's a Vietnamese noodle and broth soup. It usually has chicken or beef, but you can also keep it vegan with tofu. However, you can't skip the noodles or the flavorful broth.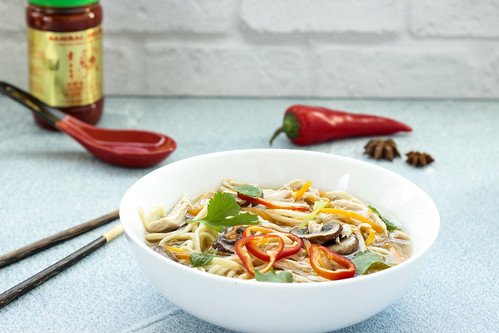 There's a very authentic pho place near me. It's in a strip mall with a massive Asian supermarket, and lots of Asian specialty stores, so I do believe it's legit.
I had a huge, steaming bowl of their Chicken Pho a few weeks ago. It was so very delicious, and as I always do when I eat something amazing, I tried to identify all of the flavors so I could make it at home. The crazy thing was, it was the simplest bowl of soup ever. Just a clear broth, rice noodles, a little bit of chicken, and a side of fresh cilantro, Thai basil, mint, chili peppers, and fresh lime juice to top it with.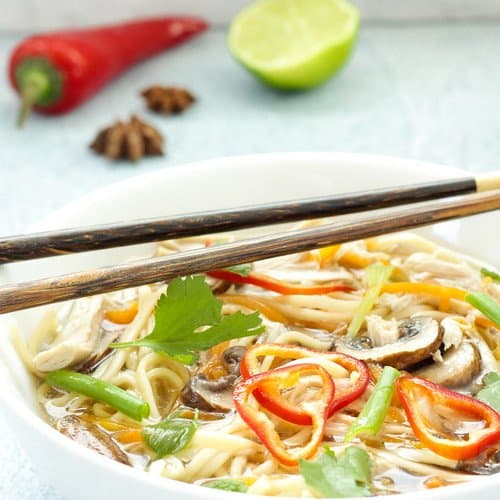 Except it tasted nothing like my go-to chicken soup recipe, which has parsley instead of cilantro and is probably the same chicken soup recipe everyone else makes.
The thing that makes pho completely different from any other type of chicken soup, I realized, is the broth.
It's all in the broth
After lots of research and a quick read of The Pho Cookbook, I learned that pho broth features spices like star anise, coriander, ginger, cinnamon, and cardamom pods.
Well, that explains a lot. No wonder it tastes nothing like my mom's chicken soup!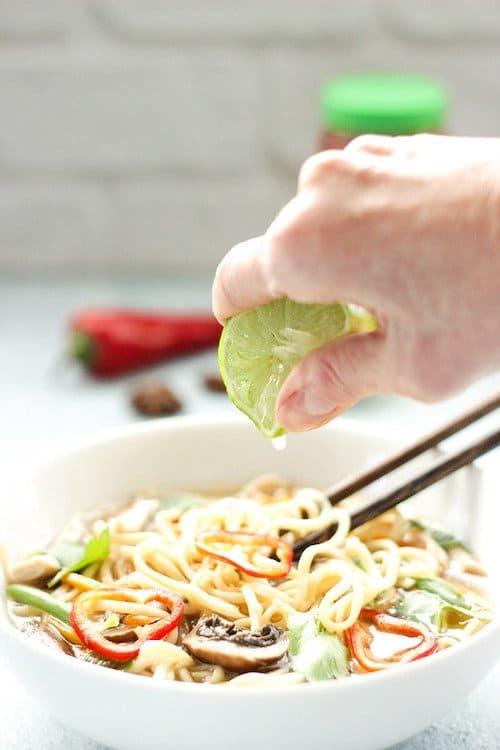 This version is every bit as good (I think) but it really is a Shortcut Chicken Pho. I think we could all agree there's nothing wrong with shortcuts! I used a doctored (or spiced) up carton of chicken broth, shredded rotisserie chicken breast, sliced mushrooms, and a bag of shredded carrots. Yep, I'm lazy like that.
Whatever you do though, don't skip the spices - especially the star anise and the coriander seeds. They totally make the broth shine.
Pho broth is clear, so I tied my spices up in a piece of cheesecloth. Once they infused the broth, I removed the bag of spices before serving.

I also opted for Chinese egg noodles in my version. Rice noodles are traditional. However, I prefer the texture of egg noodles. And, since my pho place offers either egg or rice noodles, I kinda felt like I got the green light from them.
Recipe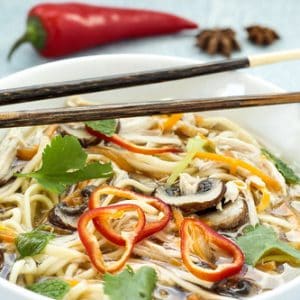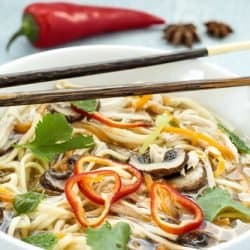 Shortcut Chicken Pho
A quick, easy and just as delicious version of traditional Pho
Print
Pin
Ingredients
1

inch

fresh ginger

peeled, sliced into round pieces

2

large

garlic cloves

smashed

1

teaspoon

coriander seeds

2

whole

star anise

½

Thai chili

or more to taste, sliced in half lengthwise

4

cups

low salt chicken broth

1

teaspoon

fish sauce

1

teaspoon

brown sugar

6

ounces

egg or rice noodles

1

cup

shredded rotisserie chicken breast

½

cup

shredded carrots

½

cup

sliced Bella mushrooms

salt or additional fish sauce to taste
Toppings
green onion, sliced lengthwise

fresh cilantro leaves

fresh mint leaves

fresh Thai or regular basil leaves

thin sliced Thai or other hot chili peppers
Instructions
Place the ginger, garlic, coriander seeds, star anise, and Thai chili on a piece of cheesecloth and tie the ends together to make a little packet.

Pour the broth into a large saucepan. Add the fish sauce, brown sugar and packet of spices. Bring the broth to a boil. Cover, reduce the heat to medium-low and simmer the broth for about 20 minutes or until it's fragrant and infused with the spices.

While the soup is simmering, prepare the noodles according to the package directions. When they're cooked, drain, rinse, and divide them into two bowls.

Remove the spice packet from the broth, and add the shredded chicken, carrots and mushrooms. Stir and increase the heat to a low boil to heat the ingredients. Taste and add salt as needed.

Ladle the broth into the two bowls, and top with sliced green onion, cilantro, mint, basil, and chili slices as desired.
Notes
If you like your Pho spicier, add hot chili sauce or Sriracha.
Nutrition
Calories:
348
kcal
|
Carbohydrates:
35
g
|
Protein:
32
g
|
Fat:
10
g
|
Saturated Fat:
3
g
|
Cholesterol:
77
mg
|
Sodium:
462
mg
|
Potassium:
755
mg
|
Fiber:
3
g
|
Sugar:
5
g
|
Vitamin A:
4442
IU
|
Vitamin C:
4
mg
|
Calcium:
67
mg
|
Iron:
3
mg
Do you know how to pronounce Pho? Word is it's "fuh".
Eat well!