Sweet and Spicy Zucchini Relish
Make a big batch of this easy zucchini relish this summer, and spice up your sandwiches, burgers or hot dogs. It keeps for quite a while in the refrigerator and there's no canning required!
As a nutritionist, I appreciate food for the good things (or not so good things) it does for our bodies. Health aside though, I've always said one of the biggest reasons I love food is for the memories it makes.
Food plays such an important role in so many aspects of life. Every holiday, season, birth, death – people celebrate or mourn with food. I think it's especially amazing how sometimes just a taste or smell or the act of making a certain food will remind you so much of someone you love, or miss.
This recipe I'm sharing today – Zucchini Relish, is from my friend Jill. She makes it in the summer, when there's so much zucchini you don't know what to do with it. It reminds me of visiting her Cape Cod house in Orleans, and packing sandwiches at the kitchen counter to take to the beach. There's always a big jar of this zucchini relish in her refrigerator to add to the sandwiches.
She told me for the longest time she couldn't bring herself to make it because it reminds her so much of her dad, who she lost unexpectedly and far too early. They always made it together in the summer, probably to put on sandwiches to eat at the beach.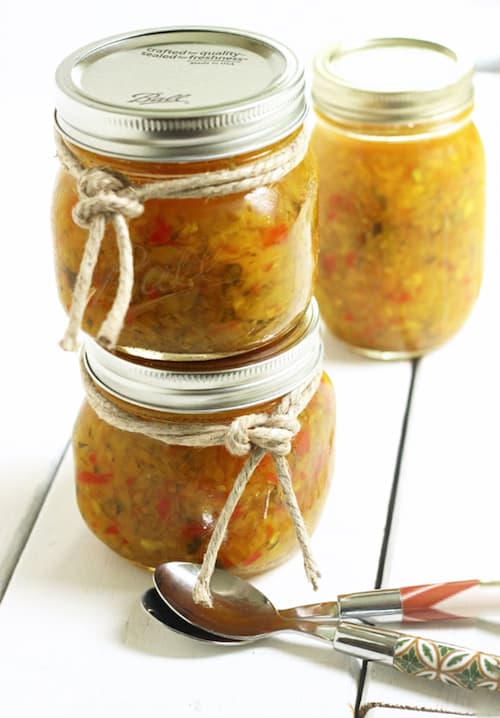 I actually posted this recipe on this blog several years ago. Year after year, it's one of my most popular recipes on Pinterest, so I thought I'd share it again for anyone who's a new here.
I retested it and tweaked it a bit based on some of your helpful comments. I also added some jalapeño for a bit more spice - if you don't like it very spicy, feel free to leave it out.
Since this relish isn't processed, it should be kept in the refrigerator, but it should keep for several weeks. It also makes a lovely hostess gift, if you're lucky enough to get an invite to someone's beach house 🙂
UPDATE: I've had SO MANY wonderful comments and quite a few questions and suggestions on this post over the years, so I've compiled a list of my most frequently asked questions about techniques and substitutions here:
FAQs About Homemade Zucchini Relish
Can you make this sweet and spicy zucchini relish sugar-free?

Yes! Many of my readers have asked this question and I'm happy to say now that we have easy access to some good quality zero-carb sweeteners like Swerve, Lakanto, and Splenda Monkfruit (all contain either erythritol and/or monk fruit) you can absolutely substitute those for the sugar in this recipe. I prefer the taste of those zero-calorie sweeteners over stevia, but you can certainly use that too if you prefer.
Can you heat process (can) this zucchini relish?

Personally, I haven't done this, but many of my readers have chimed in to say they have, and it works well. Keep in mind, that when you heat process relish recipes, the sugar helps to preserve the relish by maintaining color and texture and preventing bacterial growth. So I recommend using sugar vs a no-carb sweetener if you plan to heat process and store this on the shelf. Make sure you refrigerate it after popping the lid.
Can you swap cucumber for the zucchini or vice versa?

Absolutely! I like zucchini because it's a bit more firm, but if your garden is overflowing with cucumbers, feel free to substitute or add them along with the zucchini. You can also use yellow summer squash in this relish recipe.
Can you use other types of hot peppers? Or leave them out?

You bet! You can swap any type of hot pepper you like. Jalapenos are easy to find and not super hot, so that's what I use, but serranos, hot Hatch chiles, or even habaneros if you're brave all work. If you want it hot (or hotter) and don't have hot peppers, you can also add a few pinches of red pepper flakes. And if you prefer just a sweet relish, feel free to leave the hot peppers out. You can use more red, yellow, green, sweet Hatch chiles, or even poblanos if you like.
What put zucchini relish on?

Definitely a burger (or veggie burger) or hot dog. But I also love it on a turkey sandwich, chicken sausages, stirred into pasta salad, OR mix it with some ketchup, mayonnaise, and a dash of Worcestershire sauce to make homemade Thousand Island dressing.
What if there's too much liquid?

A few people commented that 6 cups of vinegar seems like too much. I usually let it evaporate a bit and find it to be about right. But you can cut it back a bit if you like, or don't add all of the liquid to the jars. If you have too much liquid, save any leftover pickling liquid and use it in salad dressing (just add some olive oil).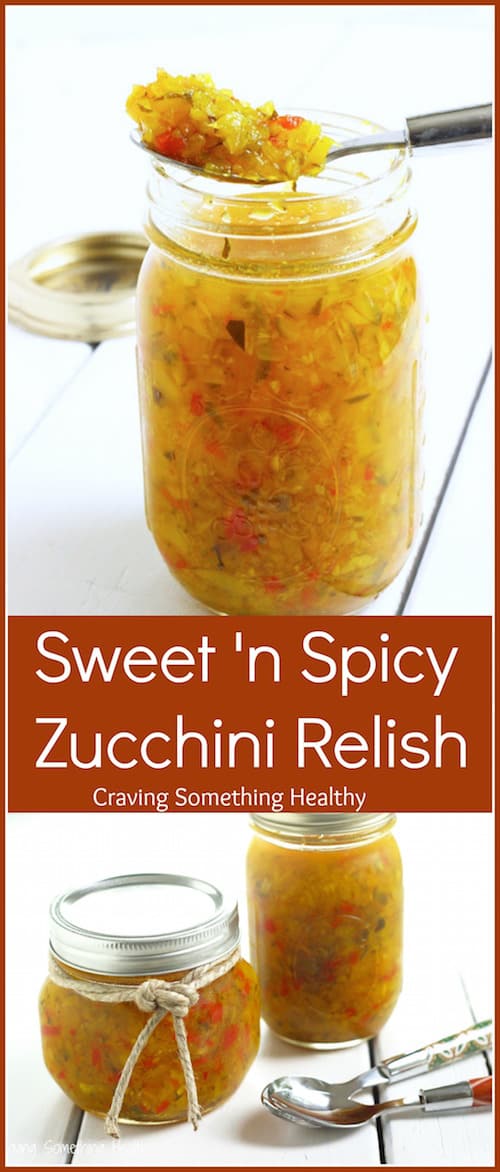 If you love pickled zucchini recipes - check out my Zesty Zucchini Refrigerator Pickles. They have a similar flavor, but they're pickles.
SaveSave
Recipe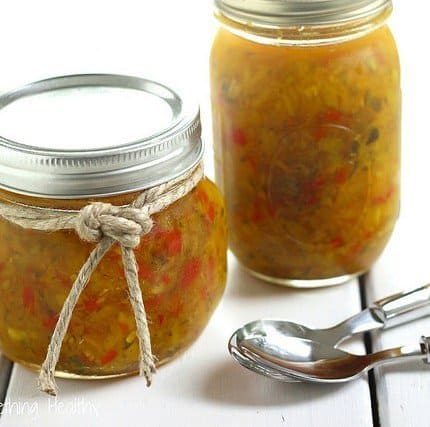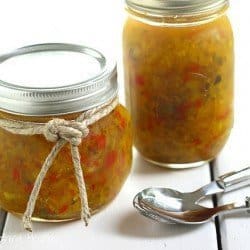 Sweet and Spicy Zucchini Relish
This delicious relish is a perfect way to use up that summer zucchini. Makes about 8 cups.
Print
Pin
Servings:
32
about 4 pints
Ingredients
2 ½

pounds

zucchini

ends trimmed and cut into slices (about 10 cups)

3

large vidalia or other sweet onions

sliced (about 4 cups)

1

medium

yellow pepper

seeded and quartered

1

medium

sweet red pepper

seeded and quartered

3

medium jalapeno peppers

seeded and sliced

3

Tablespoons

kosher or pickling salt

divided

6

cups

apple cider vinegar

3 ½

cups

sugar

1

teaspoon

tumeric

1

teaspoon

nutmeg

1

teaspoon

dry mustard

1

teaspoon

cornstarch
Instructions
Place zucchini in the bowl of a food processor fitted with the chopping blade, and pulse until it's chopped into very small pieces. Place chopped zucchini into a large colander.

Repeat with onions, and then peppers. Place all vegetables into the colander, and toss with about 1 tablespoon salt. Stir well to combine vegetables and salt, and let sit in the colander for at least 30 minutes to release some of their liquid.

Meanwhile, mix together remaining ingredients in a large stockpot, and bring to a boil.

Add vegetables and return to a boil. Reduce heat and simmer uncovered for 45 minutes.

Remove pot from heat, and let cool for about 15 minutes.

Ladle the hot relish with some of the liquid into sterilized jars, and seal tightly.

Discard any extra liquid, or use for another pickling project.

Refrigerate relish for at least 24 hours, and for up to 4 weeks.
Nutrition
Serving:
0
g
|
Calories:
113
kcal
|
Carbohydrates:
26
g
|
Protein:
1
g
|
Fat:
0.3
g
|
Saturated Fat:
0.1
g
|
Polyunsaturated Fat:
0.05
g
|
Monounsaturated Fat:
0.02
g
|
Sodium:
662
mg
|
Potassium:
184
mg
|
Fiber:
1
g
|
Sugar:
25
g
|
Vitamin A:
209
IU
|
Vitamin C:
21
mg
|
Calcium:
17
mg
|
Iron:
0.4
mg
SaveSave
Do you have any favorite food memories?
If you make this recipe, drop me a line and let me know. Or snap a pic and tag me on Instagram at @CravingSomethingHealthy!
Eat well!
SaveSave
SaveSave
SaveSave
SaveSave
SaveSave
SaveSave
SaveSave