Grilled Tandoori Turkey Salad with Creamy Curry Dressing
Don't limit turkey to the holidays! It's a perfect choice for summer grilling and it turns this savory and sweet salad into a quick summer meal.
Thank you to the National Turkey Federation for sponsoring this post and inspiring this recipe!
I was thinking the other day, that turkey doesn't get nearly enough love. Not the kind of turkey from the deli, but the home-cooked kind that steals the spotlight on one important day of the year (and maybe shows up once more for Christmas), but then quietly takes a back seat somewhere in the poultry section… We should change that, and include turkey in our summer festivities too, don't you think? How about we let a new bird take over the grill this summer?
We're literally counting down to the unofficial start of summer, which means it's time to pull out your creative grilling recipes. I prefer to limit the burgers and dogs, and stick to fish, vegetables, and leaner proteins – like turkey. It's such a perfect choice for the grill, because turkey is so moist and tender, and it plays so nicely with almost any marinades or seasonings you can think of. It's almost hard to screw it up. Really.
Here are a few more reasons to invite turkey to all of your summer food fests:
The variety! I'm talking turkey breast, thighs, drumsticks, wings, burgers, dogs, bacon, sausages… Your guests will be so impressed with your culinary creativity
It's lean but SO moist! Waaay better than some of those "other birds"
A 3 ounce serving of most cuts of turkey has a whopping 25 grams of protein, about 130 calories, and almost no saturated fat. It's not gonna weigh you down this summer.
So, let's talk about this recipe. Traditional Indian tandoori is a meat coated with a yogurt-spice mixture, and then cooked in a clay pot, but I'm keeping it cool in the house, and grilling instead. The nonfat Greek yogurt in this "marinade" does an amazing job of tenderizing the meat and makes these turkey thighs so totally moist they almost melt-in-your-mouth. And the Indian curry-garam masala flavors are just a treat for the senses. If I do say so myself.
DO NOT be alarmed by the long(ish) ingredient list. Most are used in both the marinade and the dressing, and both can be done way in advance if you like. Just measure, mix, and marinade. Make sure you get that yogurt-y stuff all over both sides for max flavor and tenderizing. Oh, and if you click the image below, you'll be treated with hundreds of other delicious, creative turkey dishes for all summer long.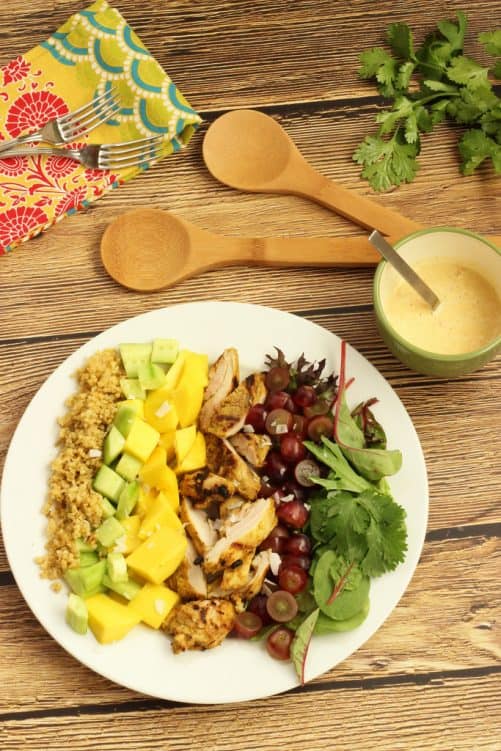 I love cool, pretty, and colorful salads when the weather is hot, and this one totally hits the spot. It's a perfect blend of spicy, savory, sweet, crisp, crunchy and chewy. With a member of every food group present and on one plate. Or bowl if you prefer.
It's already hot here in AZ, so I cook the turkey and make the dressing early in the day, which means when dinner rolls around, I don't sweat it!
Recipe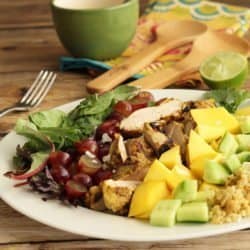 Grilled Tandoori Turkey Salad with Creamy Curry Dressing
A fresh, delicious dinner salad featuring boneless, skinless, grilled turkey
Print
Pin
Ingredients
½

cup

plain nonfat Greek yogurt

½

teaspoon

Garam masala

1

teaspoon

curry powder

2

tablespoons

fresh lime juice

½

teaspoon

salt

1

tablespoon

prepared mango chutney

8

ounces

boneless, skinless turkey thighs or breasts

1

cup

cooked freekeh

or other whole grain (brown rice, farro, etc), prepared according to package directions

1

medium

mango

peeled and cut into 1-inch diced pieces (about ¾ cup)

½

cup

red grapes

sliced in half

1

medium

cucumber

peeled, seeded, and cut into 1-inch diced pieces

3

cups

baby salad greens

¼

cup

fresh cilantro leaves

¼

cup

shredded unsweetened coconut
Dressing
2

tablespoons

minced red onion

2

tablespoons

prepared mango chutney

½

teaspoon

minced fresh ginger

½

teaspoon

curry powder

4

tablespoons

white wine vinegar

2

tablespoons

honey

4

tablespoons

plain nonfat Greek yogurt

2

tablespoons

mayonnaise
Instructions
Mix the first 6 ingredients together in a measuring cup and pour the marinade into a bowl that is large enough to hold the turkey pieces.

Add the turkey pieces and turn so that both sides are coated with the yogurt marinade.

Cover and refrigerate for at least 2 hours, or overnight.
For the Dressing:
Combine all of the dressing ingredients in the bowl of a food processor, or in a blender. Puree until smooth. Refrigerate the dressing until ready to use.
For the Salad:
Preheat the grill to medium-high heat.

Grill the turkey until it is cooked through, about 5-7 minutes per side, depending on the thickness of the meat. A meat thermometer should register 170-175 degrees.

Remove the cooked meat from the grill, and let it sit for 10 minutes. At this point, you can slice it to use immediately, or refrigerate it if you will make the salad later in the day.

Combine the whole grains, mangos, grapes, cucumbers, salad greens, and cilantro leaves in a large mixing bowl and toss to combine.

Top with the sliced turkey thighs, and as much dressing as desired. Toss well to coat with the dressing.

Sprinkle shredded coconut on top of the salad, and serve immediately.
Notes
Keep any leftover dressing in the refrigerator. If making this ahead of time, you can marinate and grill the turkey, and chop the ingredients for the salad but don't combine everything until you're ready to serve.
Nutrition
Calories:
407
kcal
|
Carbohydrates:
55
g
|
Protein:
26
g
|
Fat:
11
g
|
Saturated Fat:
4
g
|
Polyunsaturated Fat:
3
g
|
Monounsaturated Fat:
1
g
|
Trans Fat:
0.02
g
|
Cholesterol:
52
mg
|
Sodium:
400
mg
|
Potassium:
389
mg
|
Fiber:
6
g
|
Sugar:
29
g
|
Vitamin A:
1034
IU
|
Vitamin C:
33
mg
|
Calcium:
101
mg
|
Iron:
3
mg
Want more recipe inspiration? Check out the many ways you can Serve Turkey this summer, and follow the National Turkey Federation on Facebook and Twitter, for tips, turkey-prep videos, and healthy recipes you can enjoy all year long.
Have you ever used yogurt as a marinade? Do you know what a tandoori is?
Eat well!