Mexican Street Corn and Quinoa
When it's too early for good corn on the cob, this Mexican street corn casserole recipe satisfies your craving for street corn, and it's made with frozen corn.
If there is one thing that just screams summer is here, it's a beautiful ear of grilled corn schmeared with real, sweet butter, and topped off with a sprinkle of salt. Mmmm. Can you taste it? So please, can someone tell me why the grocery stores are desperately trying to ruin that summer thought by selling what is clearly WAY too early corn on the cob packaged in little styrofoam trays that are wrapped in plastic?
I totally realize that it's summer somewhere, and in this day and age we can get any produce we want when we want it, but - corn on the cob just doesn't work that way. If you've ever lived where real corn is grown (i.e. the midwest) then you know all about "knee high by July". That means the really good stuff doesn't show up until August. You can't rush it
Because all of that way-to-early corn has given me a craving, and I know what's in the stores right now is tough and starchy, today's recipe works perfectly with frozen sweet corn, OR the real stuff if you're reading this in the summer. This recipe was inspired by a dish at one of my fave local fast casual restaurants - Flower Child. I've actually never tried their sweet corn and quinoa with Greek yogurt, because I'm usually busy devouring my flying avocado wrap. But I've heard from multiple sources that it's the bomb. I think my Mexican Street Corn version is also the bomb.
Even though this is made with frozen corn, you can still get that grilled, charred, street corn flavor from a hot saute pan. Really. And the beauty of this recipe is that you can make a huge batch and eat it for a few days. Just try and do that with corn on the cob.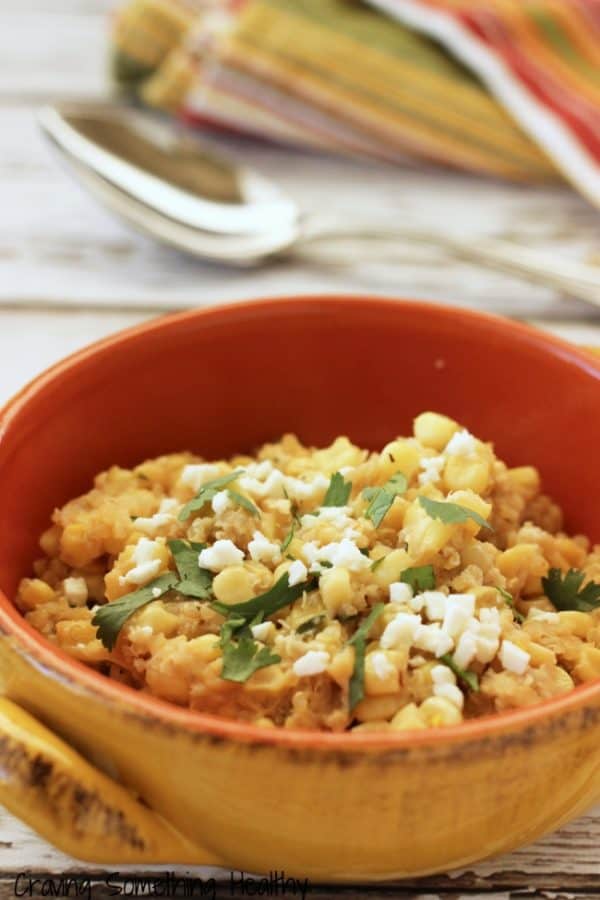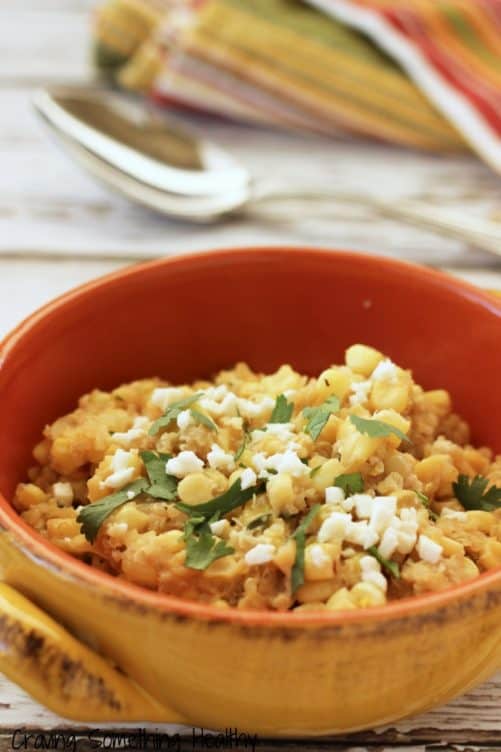 Recipe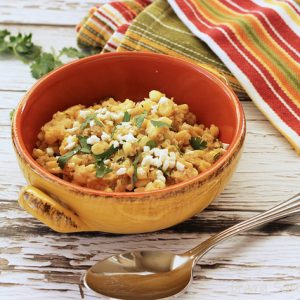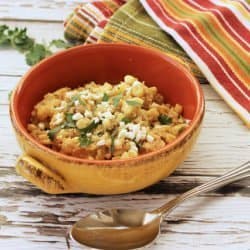 Mexican Street Corn and Quinoa
All the flavors of Mexican street corn in a casserole
Print
Pin
Ingredients
½

cup

quinoa

uncooked

1

cup

water

1

teaspoon

kosher salt

2

tablespoons

olive oil

1

medium

onion

diced

1

clove garlic

minced

1

medium

poblano pepper

cored and diced

1

pound

package of frozen sweet corn

¾

cup

plain Greek yogurt

nonfat or regular

¼

cup

grated Parmesan

3

tablespoons

minced fresh cilantro

salt and pepper to taste

¼

cup

cotija cheese
Instructions
Place the quinoa, salt and water in a medium saucepan and bring it to a boil. Reduce the heat to low, cover, and let simmer until cooked and fluffy, about 15 minutes. Remove from heat when cooked through.

While the quinoa cooks, Heat the oil over medium -igh heat in a saute pan and sauté the onion, garlic and poblano until just golden.

Add the sweet corn to the pan, and increase the heat so that the corn blackens in spots.

Remove from the heat, and stir in quinoa, Greek yogurt and Parmesan cheese.

Stir well to combine.

Add cilantro, and season with salt and pepper to taste.

Top with crumbled cotija cheese. Serve immediatley
Notes
If using corn on the cob, grill 4-5 medium ears of husked corn, and let rest until cool enough to handle. Cut the kernels from the cob to use in the recipe.
Nutrition
Calories:
171
kcal
|
Carbohydrates:
22
g
|
Protein:
7
g
|
Fat:
7
g
|
Saturated Fat:
2
g
|
Polyunsaturated Fat:
1
g
|
Monounsaturated Fat:
3
g
|
Trans Fat:
0.001
g
|
Cholesterol:
8
mg
|
Sodium:
409
mg
|
Potassium:
267
mg
|
Fiber:
3
g
|
Sugar:
4
g
|
Vitamin A:
264
IU
|
Vitamin C:
16
mg
|
Calcium:
85
mg
|
Iron:
1
mg
Have you been seeing corn at the grocery store? Is it edible yet?
Eat well!