3-Seed Whole Grain & Kefir Quick Bread
It's soup season!  Make some for dinner tonight, and serve it with this whole grain quick bread, warm from the oven.
Disclosure: This post is sponsored by ReganMillerJones Inc. and the General Mills Bell Institute of Health and Nutrition on behalf of Progresso™ .  I received free samples of the soup mentioned in the post and I was compensated for my time. As always, opinions are my own.
I might have mentioned a few dozen or so times, that I'm pretty much addicted to soup, especially when it's served with fresh quick bread, warm from the oven.  Is there anything better when the weather is cool, cold, or even warmish?? When I lived in Boston, I could eat it all year long. Now, with the 100+ temps in AZ for several months of the year, I've had to cut back a bit, but February is soup season, so I'm in full soup swing – it's like a big hug or a warm blanket on a cold night.  Soup is also my "secret weapon" for balancing any winter weight that might come from indulging in a few too many sweet treats or comfort foods during these long winter months. Eating vegetable or broth-based soups can fill you up for not a whole lot of calories – in fact, research suggests that people who eat soup tend to have healthier body weights.
While I love to get creative and make my own soups, I also tend to keep a few cans of ready-made soup on hand, and one of my favorite brands is Progresso™.  So many great flavors, and did you know that their chicken soups are made with white meat chicken with no antibiotics – ever?  #Truth.  Progresso ™ makes it pretty much the way I make it myself.


Having the quick and easy convenience of Progresso ™ soups on hand means that I have some extra time to play with dough.  This quick bread is the perfect compliment to a bowl of hot chicken soup.  It's full of fiber and whole grain goodness, from whole wheat and oats, as well as pumpkin, sunflower and hemp seeds. You can certainly make the dough with regular (or nondairy milk), but I love the tang and extra protein that kefir gives it.  Kind of like kicked-up buttermilk.
[bctt tweet="#sponsored Warm up this #Winter with @Progresso soup + homemade #WholeGrain quick bread #SoupYourWay" username=""]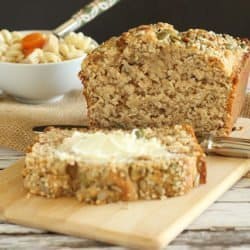 Ingredients
1

cup

old fashioned oats

1

cup

whole wheat flour

1

cup

all-purpose flour

3

tablespoons

roasted

unsalted sunflower seeds (divided)

2

tablespoons

roasted

unsalted pumpkin seeds (pepitos)

2 1/4

teaspoons

baking powder

1/4

teaspoon

baking soda

1

teaspoon

salt

1/4

cup

olive oil

1/4

cup

honey

1 3/4

cups

full fat or low fat plain kefir

1

tablespoon

hemp seeds

hemp hearts
Instructions
Preheat the oven to 375 degrees, and spray a loaf pan with cooking spray.

Place the oats in the bowl of a food processor fitted with the chopping blade, and process until finely ground.

In a large mixing bowl, mix together the ground oats, whole wheat and all-purpose flours, 2 tablespoons of the sunflower seeds, 1 1/2 tablespoons of the pumpkin seeds, baking powder, baking soda and salt. Mix well with a spatula to combine the dry ingredients.

Add the olive oil, honey, and kefir, and stir with a spatula, to combine the wet ingredients with the dry ingredients. Do not overmix. The dough will be sticky.

Pour the dough into the prepared loaf pan, and sprinkle the remaining 1 tablespoons of sunflower seeds, 1/2 tablespoon of pumpkin seeds, and 1 tablespoon of hemp seeds over the top. Lightly pat the seeds so they adhere to the dough.

Bake for 50-55 minutes, or until a toothpick inserted into the middle comes out clean.

Let the bread cool for about 15 minutes, and then turn over to remove from pan. Serve warm.
Are you a soup lover?  What's your favorite flavor?
Eat well!