Apple Cheddar Beer Batter Bread
Do you like to bake bread?  Wait.  Silly me, let me rephrase that.  Do you wish you had the time and energy to measure, mix, knead, wait two hours for it to rise, punch, fold, proof, punch again, and then bake bread?  I think I tried making yeast bread once and I was so exhausted by the end that I didn't even have the energy to eat it.  And then it was stale.  I really admire people who can do it, but it's WAY too much work for me.
Thank heavens for beer batter bread, because there is something so wonderful about hot, fresh bread with a bowl of soup or chili or chowder.  I discovered beer bread a while ago, and I think it's nothing short of a miracle, because the beer does all the work for you.  Put all the ingredients in a mixing bowl, mix until blended, put it in a loaf pan and bake.  I'm not kidding.
I usually make this bread with just cheddar cheese, but I thought I'd spice it up a bit for the holidays with some apple and cinnamon.  It's perfect with a creamy squash or sweet potato soup, and it also makes a fun "Gift in a Jar" with a brick of cheese and some beer.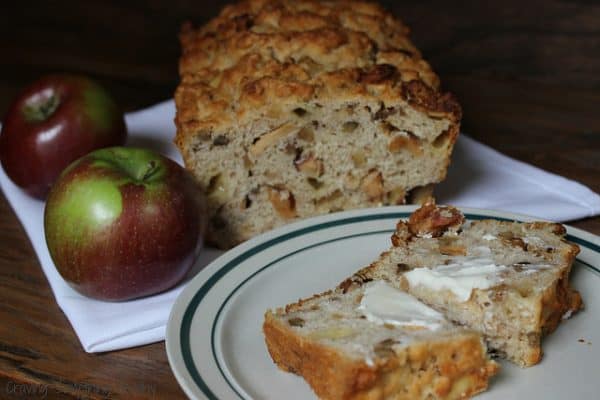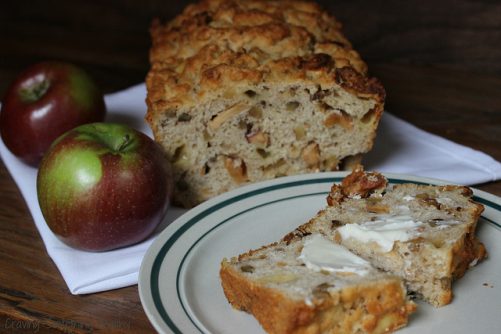 I used an apple-flavored beer in this recipe, but you can really use any kind of beer – even light or nonalcoholic. I find that a lighter bodied beer tastes best.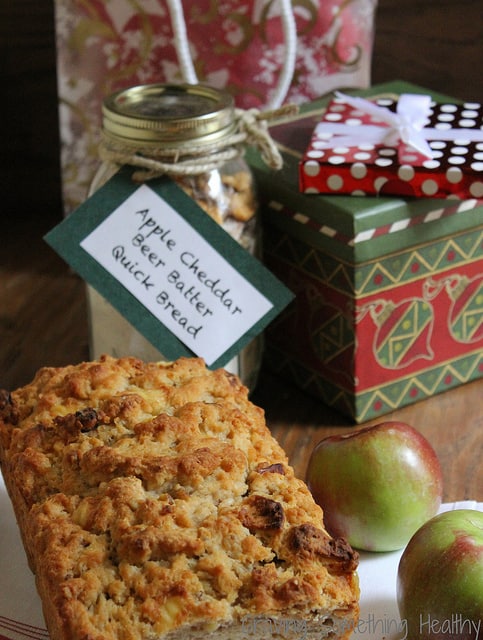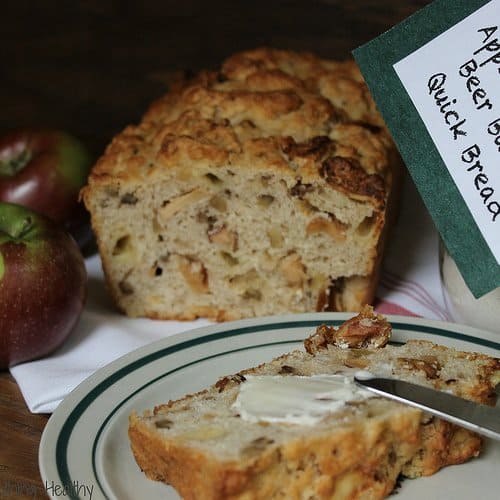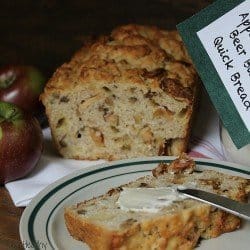 Ingredients
4

oz

sharp cheddar cheese

cut into 1/4 inch cubes

3

cups

flour

3

Tbs

sugar

4

tsp

baking powder

1 1/2

tsp

salt

1

tsp

cinnamon

1/2

cup

chopped walnuts

optional

4

oz

soft

dried apple rings, chopped

1-12

oz

bottle of beer

apple or light bodied

2

Tbs

melted butter
Instructions
Preheat oven to 375 degrees. Spray a 9 x 5 inch loaf pan with cooking spray and set aside.

In a large mixing bowl, mix together flour, sugar, baking powder, salt, cinnamon, nuts and apple pieces until well combined.

Sprinkle cheese pieces over flour mixture, and toss well to combine and distribute cheese evenly.

Pour beer over flour mixture, and mix well until combined.

Pour batter into loaf pan, and drizzle melted butter evenly over the top.

Bake for 45 to 50 minutes or until a toothpick inserted comes out clean.

Cool for 5 minutes, and then turn bread onto a rack to cool.

Serve warm.
Notes
This is best eaten the same day, but if you have leftovers, toast or warm them in the oven before serving.

Do you bake bread?
Eat well!