Fruit Bliss Apricot Almond Truffles
I was not financially compensated for this post. I received samples of Fruit Bliss Soft Dried Fruit to taste and review, and the opinions expressed are completely my own.
I've admitted many times, that I have a huge sweet tooth.  If it's in the house, I'll always go for sweet over salty, but I try to keep it healthy and stick to fruit -or at least something with fruit in it 🙂 for dessert or a sweet snack.  When fresh fruit doesn't quite hit the spot, I go for my secret stock of dried fruit (you know, nature's candy), maybe with a handful of dark chocolate chips -lots of antioxidants and just enough guilt-free sweetness to satisfy me.  
Lucky for me, the folks at Fruit Bliss were nice enough to send me samples of their soft dried fruit.  Talk about nature's candy!  Their fruits are all natural, with no preservatives or sugar added, and they're rehydrated with water, which makes them so amazingly sweet and juicy, and unlike any of the dried fruit I usually buy in the bulk packages.
I especially love that their dried apricots are brown because they are sulfite free -they give you a heads up about that on the package.  They were a major hit in my house straight out of the bag for snacking, and their super sweet flavor and moist texture inspired this quick and easy, no bake recipe, which tastes like a guilt free candy truffle.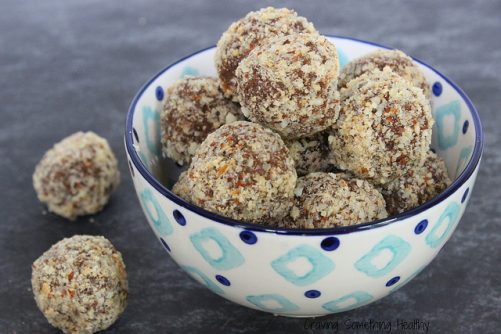 Ingredients
2-6

oz

packages of Fruit Bliss Soft Dried Apricots

1

cup

roughly chopped almonds

toasted

1/2

cup

old fashioned oats

1

cup

*vanilla wafers

1

Tbs

almond paste
Instructions
Place toasted almonds, oats, and vanilla wafers in the bowl of a food processor, and process well - until fine crumbs.

Remove 3/4 cup of the crumb mixture and set aside.

Add almond paste and apricots to the remaining almond, oat mixture in the food processor.

Pulse until mixture is well combined, scraping down the sides of the bowl several times, and then process mixture until smooth.

"Batter" will be sticky, but should not be too wet or crumbly.

If apricot mixture seems too wet, add additional nut-oat crumbs, 1 Tbs at a time. If mixture seems too crumbly, add water 1 tsp at a time.

Use a teaspoon to scoop out batter and roll into 1-inch truffle sized balls.

Roll each ball in the remaining nut-oat mixture.

Store Apricot Almond Truffles in the refrigerator.
Notes
*I used Country Choice Organic Vanilla Wafers

Nutrition
[box] Tip! Did you know that 1/3 cup of dried apricots has more potassium than a banana? [/box]
Check the company's website to find a store near you that carries Fruit Bliss Dried Fruits.  You can also order directly from their website, or through my Fruit Bliss Amazon link
.  Time for another disclosure:  This website is monetized through the use of affiliate links.  If you were to make a purchase through one of these links, I would receive a small percentage of the sales price.  Thanks for your support!
Eat well!