Turkey Sausage and Egg Stuffed Peppers
This post is sponsored by Pete and Gerry's Organic Eggs. Thanks for supporting brands I use and love!
Stuffed peppers are always a great dinner option, but here's a twist that works for breakfast or brunch too. These Italian Sausage and Egg Stuffed peppers are low in carbs, packed with protein, and they'll satisfy you for hours!
Hey, did you know that May is National Egg Month? So, of course, I'm celebrating with a brand new egg stuffed pepper recipe for you. It's perfect for weekdays, holidays, or a weekend brunch.
I love eggs any time of day. Of course, they're a no-brainer for breakfast and they're so satisfying for dinner. I find myself whipping up a dozen deviled eggs every week or so because they're one of my favorite snack options and also, a perfect way to pack some extra protein into my lunch.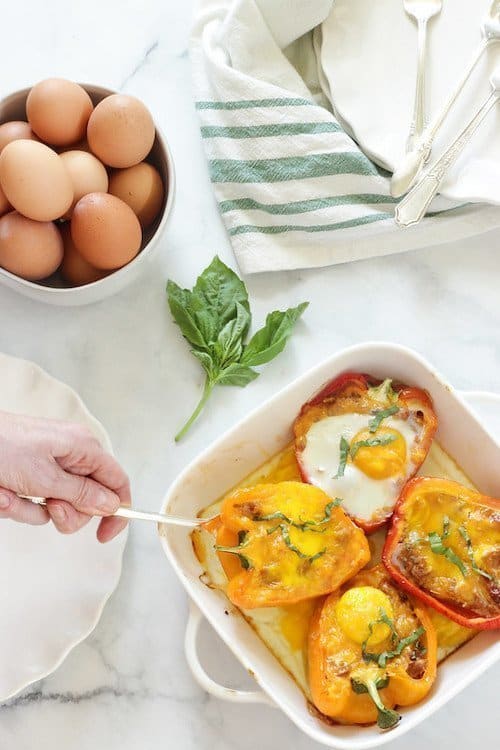 Why Eggs Are Good For you
Eggs are one of those foods that have done a complete turnaround in terms of health research. Still, I meet so many people who are afraid to eat them. So here are some facts and research about eggs to set the record straight:
Eggs are healthy! One large egg provides 6 grams of protein and 13 different essential vitamins and minerals all for about 70 calories. Talk about a nutritious bang for your buck.
Don't eat enough carrots and orange vegetables? Eggs also provide carotenoid compounds - just like the beta carotene in carrots.
Eggs do have cholesterol (in the yolk) but cholesterol that you eat doesn't really impact your blood cholesterol in a negative way. In a recent study out of the University of CT, researchers measured people's cholesterol before and after eating 3 whole eggs per day for 12 weeks. They also followed a slightly lower carb diet along with eating the eggs. They found that their cholesterol profile, triglycerides and insulin levels all improved. That's GREAT news for anyone with metabolic syndrome.
Several studies have shown people who eat eggs for breakfast feel less hungry and lose more weight than those who eat a bagel or some other carb-heavy breakfast.
If you have diabetes or prediabetes, you should definitely add eggs to your diet. A recent study on people with diabetes found that those who ate one whole egg a day dropped fasting glucose levels by 4.4%, and reduced insulin resistance.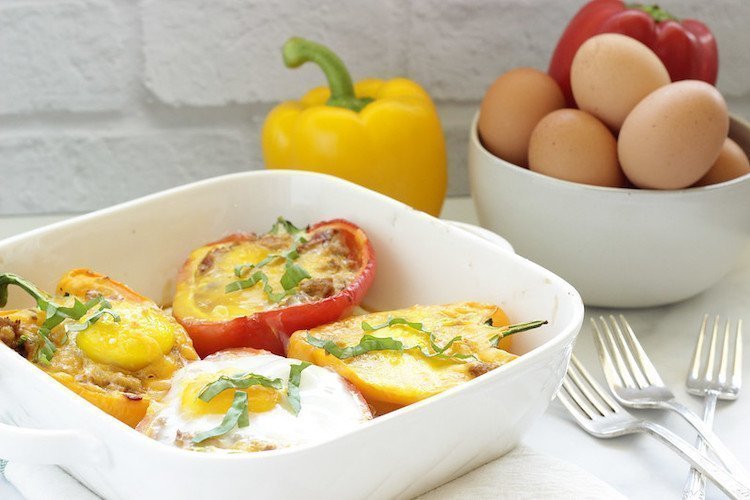 Adding more eggs to your diet gives you more variety, and they pair so nicely with vegetables (or meats) so they're a great option for vegetarians.

I get a lot of questions about organic, cage-free, free-range, and conventional eggs and whether it's worth it to spend the extra money. Personally, I try to buy organic eggs, as well as other animal products like dairy and chicken. My feeling is that I'm eating whatever the eggs, cows, chicken ate - and I do worry about conventional farming practices especially if it's a huge farm.
That's why I love these Pete and Gerry's eggs. They're organic, which means that their chickens are only fed organic feed. Their chickens are also free-range (versus cage-free) which means that they spend time outside doing stuff that chickens like to do. Cage-free chickens may not be housed in individual cages, but chances are, they're not outside.
Pete and Gerry's eggs also come from chickens that are raised on small, certified humane farms. Cause happy chickens lay tastier eggs. And why do you want to eat something from a stressed-out animal? We all have enough of those bad stress hormones running through us as it is...
Check out their website to learn more about their farming practices and their eggs.
Recipe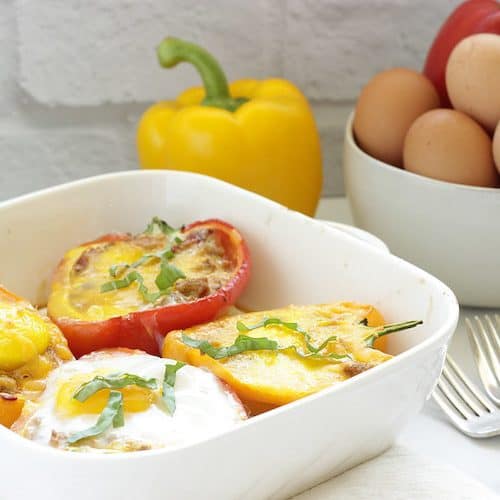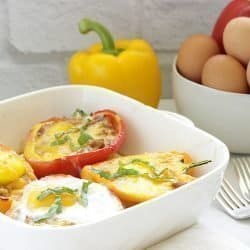 Turkey Sausage and Egg Stuffed Peppers
A low carb and protein-packed brunch recipe that satisfies for hours
Print
Pin
Ingredients
3

medium

bell peppers (red, orange, yellow, or green)

Sliced in half lengthwise, cored and seeded

salt (optional)

1

tablespoon

olive oil

½

pound

sweet or hot Italian Turkey Sausage

organic if available, removed from casing

1

medium

onion

diced

1

large

clove garlic

minced

¼

cup

sun-dried tomatoes in oil and herbs

minced

¾

cup

shredded sharp cheddar cheese

6

large

eggs

salt and fresh ground pepper

2-3

fresh basil leaves

sliced thin
Instructions
Preheat the oven to 350 degrees and set the rack to the middle position.

Place the pepper halves in a casserole dish and if desired, sprinkle lightly with salt. Microwave them for 2-3 minutes or until they are tender. Remove the dish from the microwave and let the peppers cool.

Heat the oil in a saute pan over medium heat. Add the sausage and onions and saute until the sausage is no longer pink. Add the garlic and sun-dried tomatoes and saute for another 3 minutes. Remove the pan from the heat.

Drain any water from the peppers and casserole dish.

Fill each pepper about ⅓ full with the sausage mixture.

Sprinkle the cheese over each pepper (about 2 tablespoons per pepper)

Top each pepper with an egg, either by cracking it over for sunny-side up, or scramble all of the eggs and pour them evenly over each of the peppers.

Sprinkle the peppers with salt and fresh ground pepper.

Bake the peppers in the oven for about 30-40 minutes, or until the eggs are set.

When the peppers and eggs are cooked, remove them from the oven and top with the fresh sliced basil.
Nutrition
Calories:
236
kcal
|
Carbohydrates:
10
g
|
Protein:
18
g
|
Fat:
12
g
|
Saturated Fat:
3
g
|
Cholesterol:
246
mg
|
Sodium:
534
mg
|
Potassium:
476
mg
|
Fiber:
2
g
|
Sugar:
6
g
|
Vitamin A:
2405
IU
|
Vitamin C:
90.8
mg
|
Calcium:
155
mg
|
Iron:
5.4
mg
Do you ever make stuffed peppers with eggs?
Eat well!