Lose More Weight By Volumizing Your Meals
Has your weight loss diet ever gone like this:
Breakfast: 1 low-fat muffin, coffee with equal and skim milk;
Lunch: salad with lite dressing and 3 croutons;
2:00 Snack: 15 pretzels, half a banana;
3:00 Snack: a small bag of chips and 15 more pretzels, other half banana;
4:00 Snack: half package of Oreos, with a quart of ice cream and a can of cashews;
Dinner: an order of chicken fingers, with an order of sweet and sour chicken, a container of fried rice, 4 fortune cookies, and a diet Coke?
If so, let me assure you, you're NOT alone!  The main reason most people abandon any diet (and Nutritionists don't like to use the word "diet") is that they restrict too many foods and end up overly hungry and feeling deprived.  Successful weight loss means not only losing weight, but also keeping it off, and that means making changes that you can live with for the rest of your life.
Most people know that to lose weight, you have to eat less, but those of us who have tried it, also know that's easier said than done.  Eating low-calorie foods or smaller portions helps, but what can you do when you eat less and are hungry?  Instead of overfeeding yourself later in the day, try to volumize your meals and snacks.
Eating more foods that are big on volume but small on calories is a great strategy to feel full throughout the day and still lose weight.  Good examples include raw fruits or vegetables, lean proteins like chicken, fish, or turkey, and high-fiber grains like whole wheat bread, brown rice, or quinoa.  When combined together, these high-volume foods can create delicious and filling meals or snacks which are quite low in calories.  To illustrate this, look at the following examples of some volumized meals next to the same number of calories as their restaurant counterparts: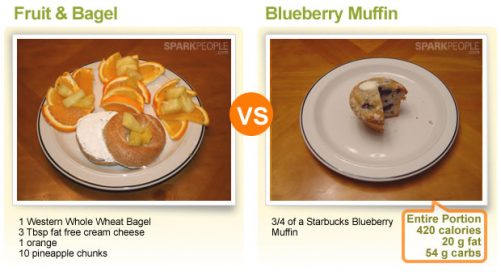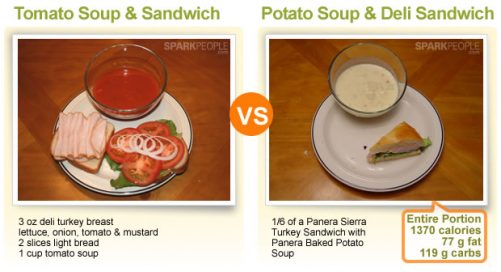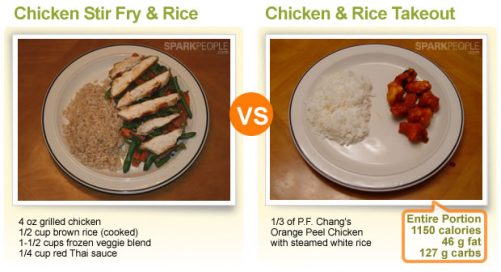 Each of these meals has between 300 and 400 calories.  The difference is that the ones on the left are prepared without added fats and sugar.  Instead, their calories come from ample portions of lean proteins, lots of fruits or vegetables on the side, and high fiber, stomach-filling whole grains.  Spread them out evenly throughout the day, add 2 healthy snacks in between, and it's easy to see; with some creative planning and healthy ingredients on hand, it is possible to eat well, feel full, and still lose weight!  Do you have any creative ideas for volumized meals or snacks?  If so, I'd love to hear them!
Eat well!
* also posted at: Harvardvanguard.org