While we're on the subject of the heart healthy diet for American Heart Month… Many people assume they should take an omega-3 or fish oil supplement to protect their heart, but a number of recent research studies on this topic aren't so clear.   In particular, one very large study published in last fall's  Journal of the American Medical Association, indicated that omega-3 supplements had no significant effect on preventing heart attacks or strokes in study participants.  So does this mean you should scrap the pills and stop eating fish?
Not so fast! – First, it's important to understand that not all omega-3s are created equal.  Omega-3 is a type of polyunsaturated (healthy) fat that can come from either plant sources like flaxseed oil, chia seeds, or walnuts, or from cold-water fish.   While both forms have been shown to have benefits in various studies, the marine sources of omega-3 offer far more potent health benefits overall.  And although there have been studies like the one mentioned above, there is also much research that finds fish oil very beneficial for the heart, brain, joints, depression, cancer, ADHD, Alzheimer's, etc, etc.  For heart disease, fish oil has definitely been shown to reduce triglycerides, blood pressure, and inflammation throughout the body, as well as help prevent excess blood clotting and irregular heart beat.  It's just not completely clear if it's as effective in people who already have heart disease, or if taking a pill works as well as eating fish.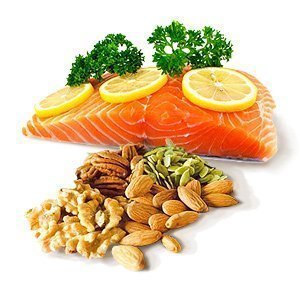 So I still think it's helpful to get a good dose of omega-3 each week, BUT – I always recommend getting it from fish first, supplemented with a few servings of nuts and seeds.   Oily fish like salmon, sardines, herring, and bluefish have the highest amounts of omega-3 fats, but all fish – even shellfish like shrimp and scallops have some.  Here's a list of the omega-3 fat content in commonly consumed seafood.  In addition to their heart healthy fat, seafood is also very low in artery clogging saturated fat, and it provides a great source of lean protein.  The American Heart Association recommends at least 2 servings of seafood each week for a total of 6-8 oz/week.
Many of my clients don't like salmon or other fatty fish, and they are afraid to eat shrimp or other shellfish because they have cholesterol.  It's true that shellfish have cholesterol, but it's saturated (bad) fat, far more than dietary cholesterol that will raise your cholesterol.  Like all other seafood, shrimp, scallops, and other shellfish are extremely low in saturated fat– so feel free to enjoy them!  Just don't fry, and skip the butter, as both are extremely high in saturated fat.
If you need a quick and easy recipe for almost any fish – try one of my favorites:
[box]  Sriracha and Honey Glaze
2 Tbs Sriracha sauce
1/3 up honey
Mix together and brush on any seafood as you are grilling.
I love this on salmon, shrimp or scallops, but it's great on any seafood.[/box]
Here's the original recipe, which I've pinned on Pinterest too many times!
Eat well!