Pear and Chai Spiced Coconut Ice Cream
Think  canned food can't be on-trend and full of interesting flavor?  You need to try this Pear and Chai Spiced Coconut Ice Cream. It's quick and easy when you use canned pears!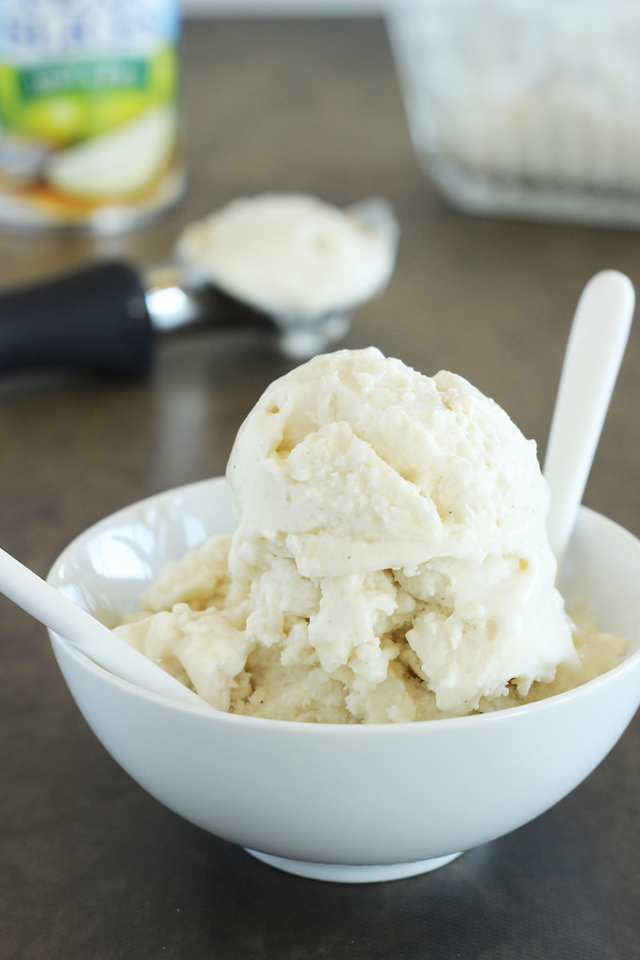 By posting this recipe, I am entering a contest sponsored by Libby's Fruits and Vegetables and am eligible to win prizes. I was not compensated for my time, but I did receive free samples of Libby's fruits mentioned in this post.
I've got lots of canned foods in my pantry, and there are always a few cans of fruit in the mix.  Peaches, apricots, and pears are my favorites, and I use all of them in my cooking and baking.  Just like frozen fruit, canned fruit is picked and packed at the peak of freshness, so it's often better quality than the stuff that's not quite ripe, or out of season at the grocery store.  Pears are such a perfect example.  One of my favorite fruits when they're totally ripe and juicy, but when I need them, they're often out of season, or hard as rocks.  Thank heavens for canned pears – always perfectly ripe, already peeled, and just as nutritious as fresh pears.  
So… about pears.  And ice cream.  It's already July, and although I've made a few frozen treats this summer, I haven't made ice cream yet!  My ice cream maker has been a little sad and lonely pushed way back in the cabinet, so I decided it's time to pull it out and give it some love.
I love experimenting with ice cream flavors, and I get ridiculously excited when I hit on a great flavor combo.  And then there's the anticipation of waiting until it's frozen just enough to be creamy and heavenly, and still kind of like soft-serve, but not too frozen so you have to wait longer for it to soften up… Wow, I clearly need more excitement in my life.
So anyway, when Libby's challenged members of the Recipe ReDux to come up with a recipe using their canned fruits and one or more of the ingredients on Google's 2016 Food Trends list – I knew it would be ice cream, and it would involve pears, ginger, and coconut milk.  I happen to love all of them, and apparently, they're all trending!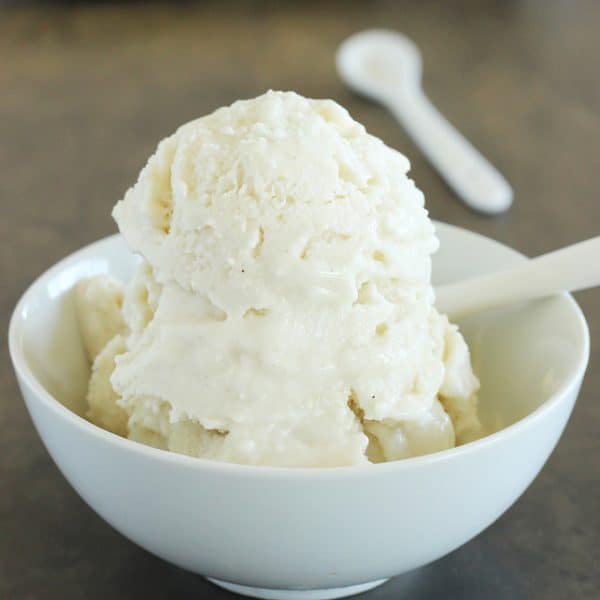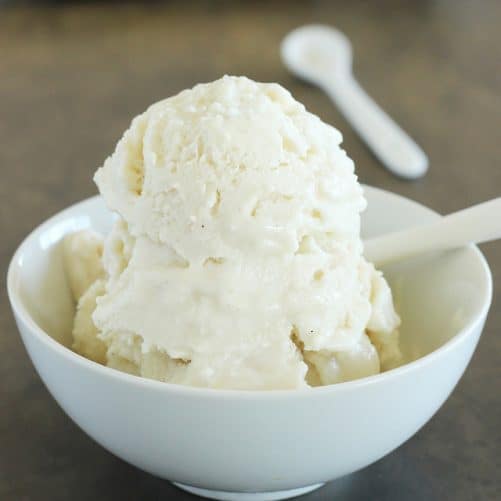 And, yes, oh yes, this rich and creamy ice cream came out just the way I hoped.  It was super quick to make because there was no waiting for the pears to ripen, no pear peeling, and no cooking the pears to soften them.  Just drain 'em and go.  I won't lie, the worst part is having to wait for it to freeze.  I might or might not have-taste tested quite a bit right out of the ice cream maker.
The ice cream part of this recipe actually involves only 4 simple ingredients, but the exotic blend of spices makes it quite special.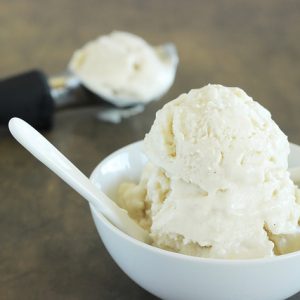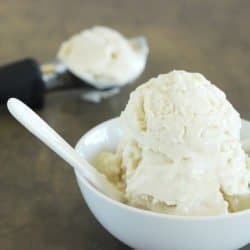 Ingredients
1 13.5

ounce

can of full fat coconut milk

1 15

ounce

can Libby's pear slices in 100% pure fruit juice

drained

1 14

ounce

can sweetened condensed milk

1 1/2

tablespoons

vanilla

1

teaspoon

powdered ginger

1/2

teaspoon

ground cardamon

1/2

teaspoon

ground coriander

1/4

teaspoon

ground cloves
Instructions
Before starting your ice cream, make sure the bowl to your ice cream maker has been frozen overnight or for at least 6 hours!

Place all of the ingredients in a blender, and blend until smooth.

Turn on the ice cream maker, and pour the blended mixture into the bowl.

Let the ice cream churn for 30 minutes, or until it is lighted up and the mixture doubles in size.

Immediately transfer to a freezer-safe container (a loaf pan works well), and place plastic wrap on top of the ice cream to prevent ice crystals.

Freeze for at least 4 hours.
Do you ever cook, bake, or make ice cream with canned fruit?  What do you like to make?
Click the link below and check out the other creative recipes using Libby's canned fruits and vegetables, from the Recipe ReDux members!
Eat well!