How to Sleep Better When Your Hormones Won't Let You
Can't fall asleep, or when you do, you can't stay asleep? It's one of the most common complaints of women over the age of 40, and you can blame it on your hormones.
Here's one of the lesser-known facts about perimenopause and early menopause - you can pretty much say goodbye to a good night's sleep. The hot flashes, weight gain, and mood swings get lots of attention, but for more than 60% of us, it's the inability to get a good night's sleep that's the last straw.
Sleep problems in women are worst between the ages of 40-55, and usually related to menopause. They can range from having trouble falling asleep, to waking up earlier than you'd like to, or even waking up in the middle of the night and not being able to fall back asleep at all.
The Sleep-Hormone Connection
The biggest contributor to women's sleep problems is hormonal changes, especially the sudden drop in estrogen, which triggers hot flashes. When hot flashes occur at night, you may wake up drenched in sweat and unable to get back to sleep. Progesterone, a hormone that plays a role in sleep, also declines in perimenopause. As we age, our body also produces less melatonin, the hormone that regulates our sleep and wake cycles.
Another big reason many of us have trouble falling and staying asleep is stress. It's probably not that menopause itself causes stress, but instead the baggage that comes with it, especially that feeling like you're suddenly living in someone else's body, that causes the stress. Stress makes it difficult to get a good night's sleep, leaving us feeling exhausted, unproductive, and more stressed. Chronic stress can also wreak havoc with your cortisol levels (the "fight or flight" hormone), keeping levels too high at night, which makes it even harder to fall asleep. It's a vicious cycle.
For me, some days I'm so tired I can't wait to get into my bed, but as soon as I'm in bed, I'm completely wide awake, and stressing about how I can't fall asleep.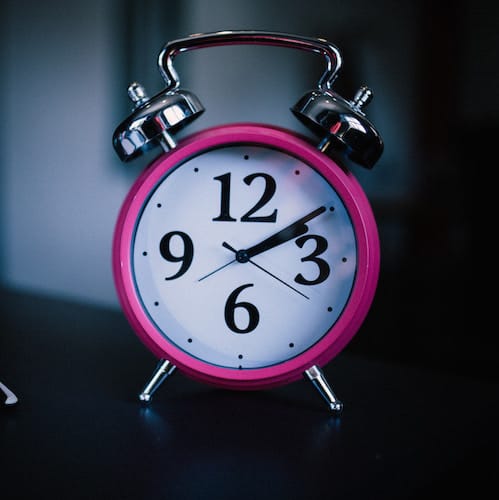 Health professionals recommend getting at least 7-8 hours of sleep each night, but not just so you can feel rested and refreshed the next day. Research studies show that those who don't get enough sleep for long periods of time, tend to put on weight more easily, and are at increased risk for depression, heart disease, high blood pressure, and diabetes.
How to Balance Your Hormones and Get Some Sleep
If you're in the "I can't get a good night's sleep no matter what I do" club, definitely try to stick to as consistent of a sleep-wake schedule as you can, and make sure the temperature in your bedroom is comfortable for sleep (usually around 65 degrees). In addition:
Avoid caffeine-containing foods like coffee, black tea, and chocolate at least 3-4 hours before sleep. Also, limit alcohol - it can make you drowsy, but also tends to cause you to have a more restless sleep.
Eat a lighter dinner that's high in healthy carbs from foods like sweet potatoes, vegetables, whole grains, along with some lean protein. You might also try the glass of warm milk trick - it's a source of tryptophan, which increases serotonin (the feel-good hormone) levels in the brain. Whatever you do, avoid high-fat and high protein late-night meals.
Try a low dose of melatonin. Most people only need about .5- 1 milligram, and more melatonin is not better. In addition, melatonin should only be taken for a short term.
Turn off your computer, iPad, phone, TV, and any other source of "blue light" - it reduces melatonin production.
Try taking adaptogenic herbs which can help to balance your cortisol levels, and allow your body adapt to various types of stress. Good choices include Ashwagandha, Holy Basil, and Rhodiola - I'm partial to Gaia Herbs, which are organically grown.
I also like magnesium (about 300 milligrams of a glycinate blend which is better absorbed) to relax your muscles and L-Theanine to quiet your mind.
Get good, regular exercise. Although a recent study found that doing yoga or aerobic exercise didn't have a direct impact on quality of sleep during peri/menopause, other research studies have found that regular exercise results in fewer hot flashes and milder menopause symptoms, and that will increase your odds of sleeping through the night.
Finally, if your lack of sleep is having a severe effect on your quality of life, talk to your doctor to see if you're a candidate for medication like short-term hormone replacement therapy, or antidepressant medication which have been shown to alleviate some symptoms of menopause.
If you have any tips to get a better night's sleep, please share them in the comments, and as always, eat well!
SaveSave
SaveSave
SaveSave
SaveSave
SaveSave
SaveSave
SaveSave
SaveSave
SaveSave