Rainbow Asian Rice Salad with shrimp
This post was created in partnership with the USA Rice Federation. Thanks for supporting products I use and love!
This colorful, crunchy and satisfying Asian rice salad is packed with fiber and protein. It's an easy, make-ahead recipe that's perfect for lunch a light dinner.
Rice is probably one of the most important staple grains in the world, but with all of the focus on lower-carb eating, it tends to get passed by too often.
US-grown rice is a healthy source of complex carbohydrates, which means it provides slow energy that lasts for hours. It's also a good source of more than 15 different vitamins and minerals, including B-vitamins, iron, and zinc.
I'm not suggesting that we all dive into a big pot of white rice head first, but there are lots of ways to incorporate whole grain rice into a healthy, low glycemic diet. And, since September is National Rice Month, it's a perfect time to get out the rice cooker and put it to good use!
First, let's talk about US-grown Rice. I have to confess I didn't know that much rice is grown in this country. In fact, there are rice farmers in California, Louisiana, Mississippi, Missouri, Arkansas, and Texas. Who knew?!
And… it's not just good old basic white rice that grows here. There are 11 different varieties available, including colorful red rice, black rice, and wild rice, which is technically a type of semi-aquatic grass native to North America (in case you end up on Jeopardy).
About the Carbs
Now, let's talk about rice, carbs, and glycemic index. We all know what carbs are. They're an important source of fuel for your body. The downside of that fuel is that some carbs can raise your blood sugar too fast and too high – those types of carbs have a high glycemic index.
So, here's a tip. First, cook your rice. Then, cool it in the fridge and add it to a salad. When you cool rice, it reduces the glycemic index a bit, and also, those carbs turn into resistant starch, as well as a delicious rice salad.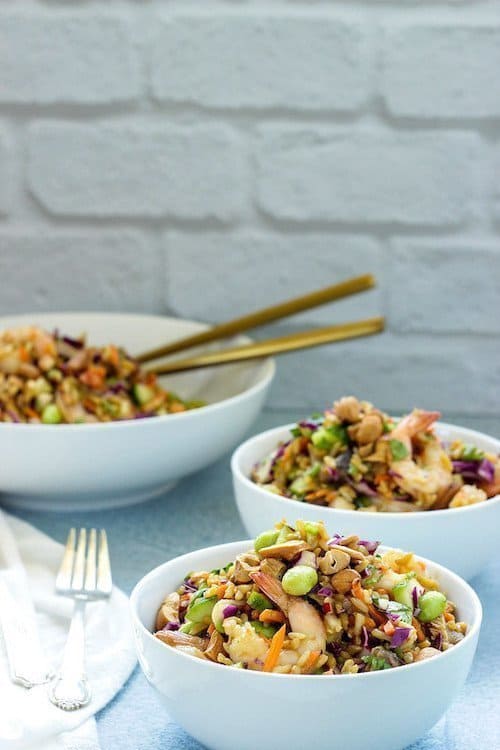 Resistant starch is like magic. You get to enjoy that chewy satisfying texture, but the starch resists digestion in your small intestine.
Instead of being digested, resistant starch is fermented in your large intestine, where it helps to feed your gut cells and the bacteria that live there. Other health benefits of resistant starch include promoting weight loss, lowering your cholesterol, and improving glucose control.
I know, you're welcome.
I used US grown brown basmati rice for this Rainbow Asian Rice Salad because I love the aromatic flavor (Fun fact: The word basmati means "queen of fragrance") but also because basmati has the lowest glycemic index of all rice types.
On the glycemic index scale, which runs from 0 to 100, basmati comes in around 57. Low glycemic index foods are under 55. Adding some protein (like shrimp) and/or fat (like sesame oil) to your carbs also reduces the glycemic index even further.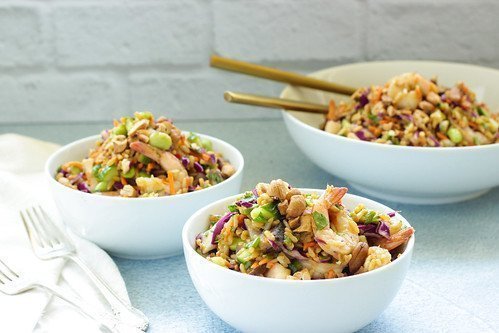 Eating lower or moderate glycemic index foods helps to stabilize your blood sugar because those carbs are digested more slowly. That also helps keep you feeling full and satisfied for longer.
I'm kind of dying over the wild riot of color in this recipe. It's got fiber and crunch from the raw veggies, chewiness from the rice, a wonderful fragrance, and flavor from the basmati rice and Asian dressing — and it's packed with protein from shrimp and edamame.

A few tips about this recipe:
Use pre-cooked, shelled shrimp to make it easier - or feel free to skip the shrimp or substitute salmon or chicken if you prefer a different protein
I happen to love this vegetable combination, but this is an "anything goes" salad, so if there's something you don't like, substitute a different vegetable. Sweet peppers, bean sprouts, or chopped bok choy, would all work!
Don't oversalt your rice when cooking it - the tamari is high in sodium, and it's better to add it later than have it too salty.
Recipe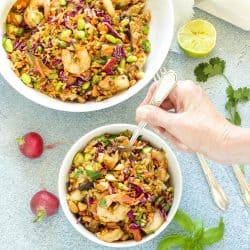 Rainbow Asian Rice Salad
A high protein, colorful and satisfying salad that's perfect for dinner
Print
Pin
Ingredients
Dressing
2

tablespoons

rice vinegar

2

tablespoons

tamari or soy sauce

3

tablespoons

toasted sesame oil

1

tablespoon

maple syrup

1

tablespoon

fresh lime juice plus the zest of 1 lime

1

teaspoon

Sriracha sauce

or more to taste

2

large

garlic cloves

minced
Salad
2 ¼

cups

cooked and cooled US-grown brown basmati rice

prepared according to package directions, seasoned with salt if desired

½

cup

shredded red cabbage

roughly chopped

½

cup

shredded carrots

roughly chopped

¼

cup

diced radishes

½

cup

diced cucumber

¼

cup

chopped green onion

¼

cup

chopped shiitake mushrooms

fresh, or dried and soaked to soften

½

cup

edamame

cooked and cooled

1

tablespoon

minced fresh basil

Thai or regular basil

1

tablespoon

minced fresh mint

2

tablespoons

minced fresh cilantro

8

ounces

cooked and peeled medium-size (41-50 per pound) shrimp

grilled, steamed, or panfried as desired.
Instructions
Prepare the rice according to package directions in a rice cooker or on the stove. Note: ¾ cup of dry brown rice will make about 2 ¼ cups cooked.

Whisk together all of the ingredients for the dressing and set aside.

When the rice is cooked, cool it to room temperature, and pour the dressing over the rice. Place it in the refrigerator for at least 3 hours (or until it's cold) or overnight.

Place all of the vegetables and the herbs in a large mixing bowl.

Add the seasoned rice to the vegetables and toss well to combine.

Add the shrimp and toss again to combine.

Taste, and adjust seasonings with additional tamari or sriracha as desired
Nutrition
Calories:
328
kcal
|
Carbohydrates:
35
g
|
Protein:
18
g
|
Fat:
13
g
|
Saturated Fat:
2
g
|
Cholesterol:
143
mg
|
Sodium:
993
mg
|
Potassium:
309
mg
|
Fiber:
3
g
|
Sugar:
5
g
|
Vitamin A:
2499
IU
|
Vitamin C:
16
mg
|
Calcium:
129
mg
|
Iron:
2
mg
What's your favorite type of rice? Do you ever eat it cold in a rice salad?
Eat well!