Spiced Winter Fruit Compote with Raisin Balsamic Syrup
If you like to cook or bake, the holidays are always kind of a free pass to just get all crazy and wild with really exotic recipes that you probably would never think to try if you weren't all hyped up on sugar plums and candy canes and Christmas glitter. It's usually the only time of year I'll make a decadent flourless chocolate cake, or individual chocolate soufflés, or beef wellington.
This year though, I'm trying to be just a little bit healthier. I've realized that even though I love to make a big production out of fancy desserts and ultra-rich main courses and sides, we have a really small family, and we don't really like to eat that way anymore. Gasp! I know, crazy, right? I always promise my clients - your tastebuds will change and you truly won't miss it. Well, maybe not ice cream, but most other really rich foods... And that's kind of how my family is now, so much of those ultra-rich foods end up going to waste - or I eat them all week because I feel guilty throwing them out.
So when California Raisins challenged members of the Recipe ReDux to come up with a holiday recipe that's delicious and nutritious for a little less indulgent of a holiday, I jumped right on board, and decided to try a light and healthy dessert. And don't tell anyone, but this dessert is a great way to sneak in an entire serving of fruit!
This Fruit Compote with Raisin Balsamic Syrup (and I left out the sugar and spice dusted puffed pastry in the title, but please don't leave it out of the recipe!) sounds fancy, but it's just roasted fresh fruit that's sweetened with a touch of spiced cider, and naturally sweet and delicious California raisins. Did you know that raisins are a perfect ingredient to boost the natural sweetness in a recipe, while also adding lots of nutrients, like iron, potassium and fiber?
I dare you to tell me there's sugar in the balsamic syrup that's drizzled over the fruit! Just try it - NOPE, not a drop. It's just all naturally sweet California raisins 🙂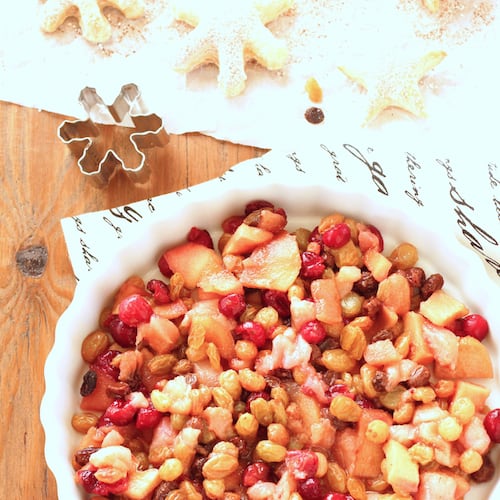 I promise this dessert is sweet, delicious and will satisfy your sweet tooth as well as any cake, but it's light and healthy with no added sugar or fat. And how about all of that beautiful color! No red or green food coloring here. I have a feeling that this one will be polished off pretty quickly in my house.
Recipe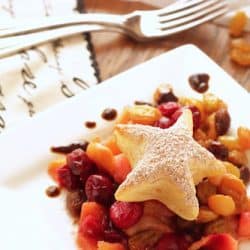 Spiced Winter Fruit Compote with Raisin Balsamic Syrup
A flavorful holiday dessert that doubles as an oatmeal or pancakes topping.
Print
Pin
Ingredients
Fruit Compote
1

medium

apple

peeled, and cut into 1-inch pieces

2

medium

pears

peeled and cut into 1-inch pieces

1

cup

black or golden California raisins

1

cup

fresh or frozen cranberries

½

cup

apple cider
Syrup
½

cup

raisins

black or golden

½

cup

balsamic vinegar

water to thin

if needed
Pastry
1

sheet of frozen puff pastry

thawed

2

tablespoons

confectioners

powdered sugar

½

teaspoon

cinnamon

¼

teaspoon

ground clove

⅛

teaspoon

ground nutmeg
Instructions
Preheat oven to 350 degrees.

Place apples, pears, cranberries, 1 cup of raisins and cider in a glass baking pan and toss to combine. Roast fruit for about 20-30 minutes, or until fork tender.

Drain and reserve any excess juice from the pan, and let fruit cool to room temperature.

To prepare syrup, combine any remaining juice from the roasted fruit, ½ cup raisins and balsamic vinegar in a medium saucepan. Bring to a boil, reduce heat and let simmer until raisins are completely soft and vinegar begins to thicken.

Let raisin-balsamic mixture cool and then blend until smooth in a blender or food processor.

For the puffed pastry, increase oven to 400 degrees. Place the pastry sheet on a lightly floured surface, and roll out the pastry to about ⅛-inch thickness. With a cookie cutter or knife, cut out 6, 2- inch squares or desired shapes.

Lay out cut pastry pieces on a baking sheet, about 1-inch apart. Bake for 8-10 minutes or until puffed and golden. Remove from the oven and let cool.

While pastry is baking, mix together powdered sugar and spices. Sprinkle over cooled puffed pastry pieces with a sifter or fine mesh sieve.

To serve, spoon about ½ cup fruit mixture on plates or in small bowls. Drizzle with raisin balsamic syrup, and top each with one piece of puffed pastry.
Notes
Serve warm or at room temperature. Store any leftover fruit and syrup in an airtight container for 2-3 days.
If desired, you can make the compote without the puff pastry and serve it over oatmeal or pancakes for breakfast.
Nutrition
Calories:
420
kcal
|
Carbohydrates:
73
g
|
Protein:
5
g
|
Fat:
16
g
|
Saturated Fat:
4
g
|
Polyunsaturated Fat:
2
g
|
Monounsaturated Fat:
9
g
|
Sodium:
115
mg
|
Potassium:
465
mg
|
Fiber:
6
g
|
Sugar:
29
g
|
Vitamin A:
42
IU
|
Vitamin C:
8
mg
|
Calcium:
38
mg
|
Iron:
2
mg
Do you tend to splurge on rich foods during the holidays or keep it on the lighter side?
Eat well!
SaveSave
SaveSave
SaveSave