Workout Food -Chocolate, Banana, Peanut Butter Energy Bites
Let's talk about sports nutrition today.  And if you're not an "athlete" training for a marathon or triathlon or some other form of physical torture, stick with me here.  What I have to tell you applies to everyone who works out in any way, shape or form – hopefully that's everyone.
I know many people who go on their run or to the gym on an empty stomach.  WRONG!  I also know many people who don't eat after they work out because they don't want to replace all of the calories they just burned off.  WRONG Again!
In order to have a productive workout and build muscle, you must eat both before and after working out.  I know that sounds like too much food to some of you who are really working on weight loss and counting every calorie, but it's true.  Here's why:
Before working out, you need to give your muscles and brain some fuel (primarily glucose from carbohydrate).  If you don't, your muscles won't be able to do the work, and you'll crash much earlier.  Even if you push and fight through it, you won't work out as well because your brain doesn't have enough glucose, and it will talk you into doing a lighter workout. You'll also remember how awful your workout was, and probably skip the next one.
After you work out, your muscles are primed for some protein, so that they can rebuild and get stronger for the next time you work out.  If you eat or drink something high in protein, with a little bit of carbs, you'll notice an improvement in overall muscle strength, and a lot less soreness the next day, which will allow you to build more muscle and have a better and workout the next time.  Are you following me here?  Soooo, in the end, even though you are eating more calories than you might like, you'll actually end up ahead.
Now, if you're an elite athlete or training extremely hard, you will need to do more than this, but if you're a regular old run-of-the mill exerciser, doing moderate intensity cardio and/or weights for about an hour, here's what you should eat and when:
If it's been about 2 to 4 hours since your last meal, you're OK – no need to eat unless you're hungry, but make sure you're well hydrated.  If it's been over 4 hours (and especially if you're working out first thing in the morning), eat something light and mainly carbohydrate based – about 300 calories with about 45 to 60 grams of carb and just a little bit of protein, at least 30 minutes, and up to an hour before exercise.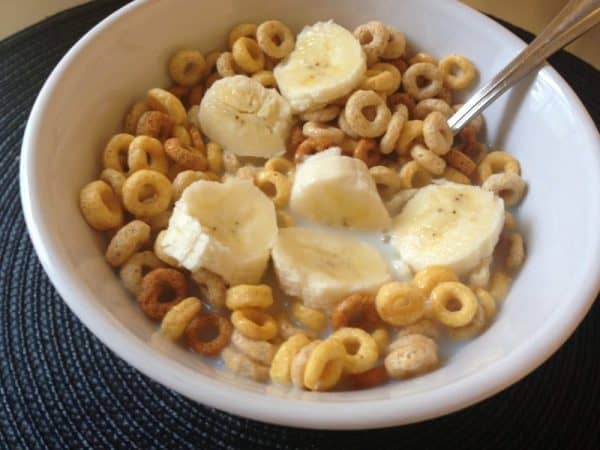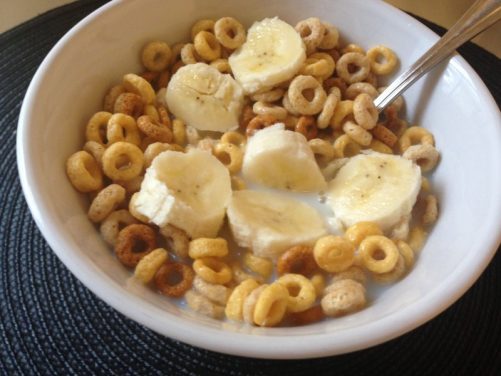 That 's about the amount of carb and protein in a small bowl of cereal + 6 oz of milk + ½ banana.  Or an English muffin with a tablespoon of peanut butter and some sliced strawberries, or a yogurt with a handful of berries.   This isn't a time for lots of protein, fat or fiber so skip the bacon and eggs, butter, bran cereal, or protein shake.  All of your energy will be focused on digesting that heavy meal in your stomach, and not on your muscles.  Plus, you'll probably throw up 🙂 .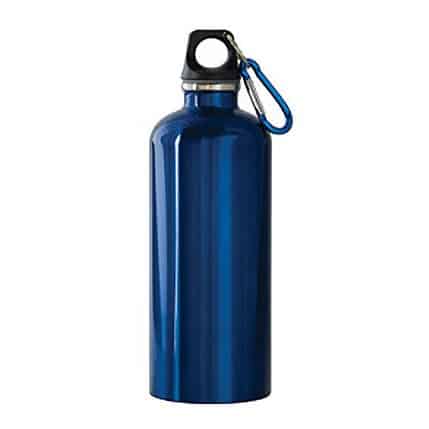 During your workout, just drink water, unless you're exercising at a really intense level for more than an hour, or it's really hot and your sweating like crazy.  If that's the case, you probably need a sports drink with some carbs and electrolytes.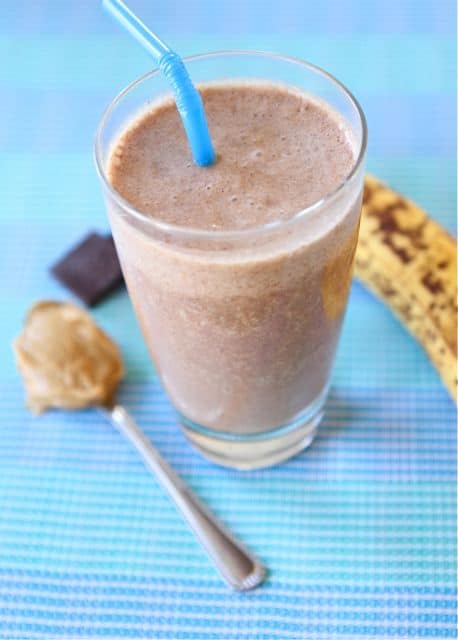 After your workout, you have about 45 minutes to pump protein and carbs into your muscles, to nourish, repair, and rebuild.  This is known as "the recovery window".  Ideally, you want another mix of protein and carb, but this time, focus more on higher protein foods or drinks.  A chocolate milk with some fruit is perfect, or if you feel like eating once you get home, 2 eggs with toast and fruit works fine.
If you're out and about after exercise and you don't have time to stop to eat, try these chocolate peanut butter banana bites and a bottle of water.  They're made with protein powder and peanut butter for protein, banana, oats and honey for carbs and potassium, a little bit of salty pumpkin seeds for some salt and crunch.  A couple of these will fuel you with protein and carb plus some sodium and potassium to replenish those electrolytes.  Yum to recovery food!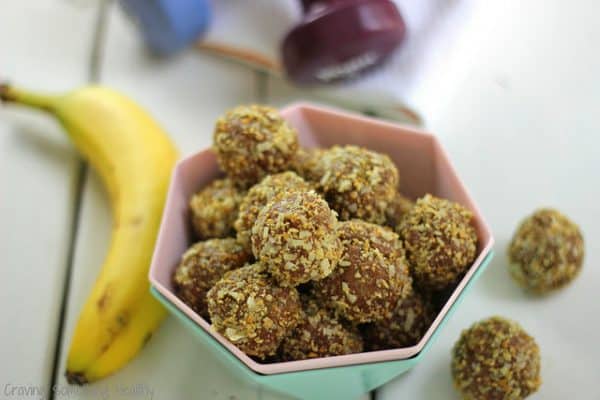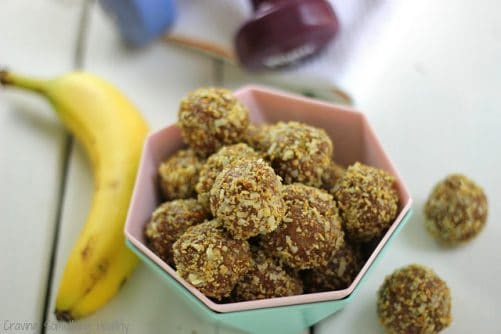 Keep them in the freezer, and throw three in a ziploc bag when you go to the gym.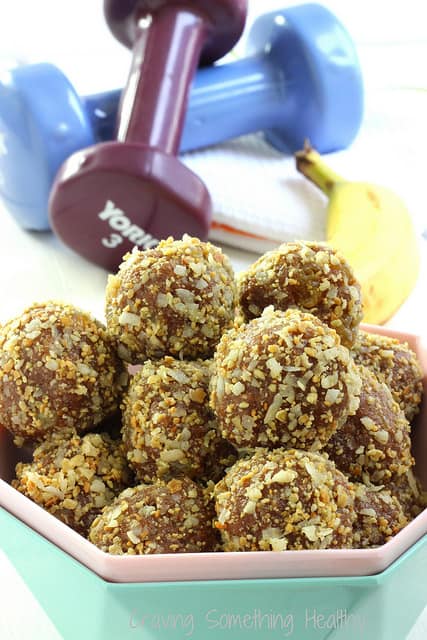 Recipe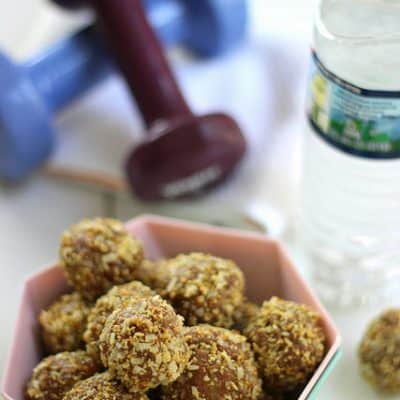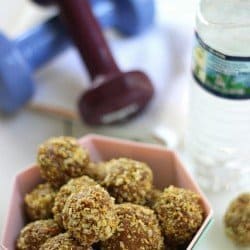 Ingredients
¼

cup

salted

roasted pumpkin seeds

¼

cup

sweetened shredded coconut

1

cup

oats

½

cup

chocolate protein powder

1

ripe banana

1

cup

smooth all natural peanut butter

¼

cup

honey

1

teaspoon

vanilla extract

½

cup

golden raisins that have been soaked in water to plump

and drained
Instructions
Place pumpkin seeds and coconut in the bowl of a food processor and process until crumbs. Remove and set aside.

Place oats and protein powder in the bowl of the food processor, and process until will combined and oats are mostly crumbs. Add banana, peanut butter, honey and vanilla and process until mixture comes together.

Add raisins and pulse about 5-6 times, or stir mixture by hand to combine raisins.

Give mixture a stir with a spatula to make sure it's well combined.

Roll into 1-inch balls and then roll in pumpkin seed-coconut mixture to coat.

Store energy bites in an airtight container in the refrigerator for up to 1 week, or freeze.
Nutrition
How long do you usually work out?  Do you eat before and after?
Eat well!