OK – I totally know what you're thinking, but shut the front door, because dessert hummus is a thing! And once you try this Loaded Oatmeal Chocolate Chip Cookie Dough Dessert Hummus, you're gonna want to keep some in your fridge at all times. For when the need to snack on cookie dough strikes, but you know you really need a snack that's good for you.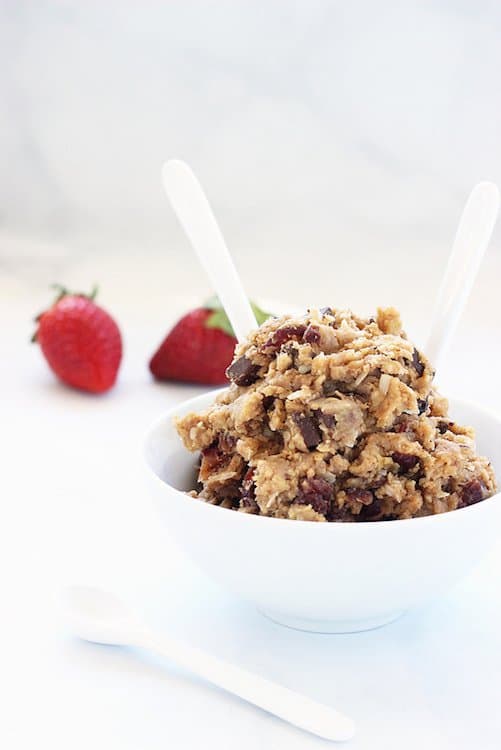 Trust me on this. Hummus doesn't have to be savory and eaten with carrots and celery. It can be sweeted with dates or maple syrup or even bown sugar, and I promise, you'll never know you're eating chickpeas.  Never. I thought I was a genius for coming up with this Chocolate Walnut Hummus recipe a while ago, but now I see ads for companies that make all sorts of flavors of dessert hummus. It's a thing people.  Let's jump on the bandwagon.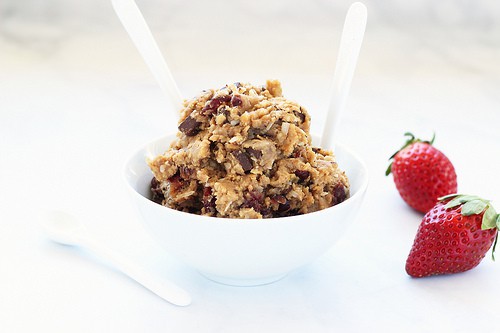 I was originally going to make chocolate chip cookie dough hummus, but then I remembered a recipe I made for a Loaded Granola Skillet Cookie (seriously amazing with some vanilla ice cream and a spoon for everyone). So I kept adding things to my sweetened chickpeas – toasted oats, dark chocolate chunks, dried cranberries, toasted pecans, and finally coconut – and then this Loaded Oatmeal Chocolate Chip Cookie Dough Dessert Hummus emerged from my food processor. #magic.
This is unlike any hummus you've ever tasted. It's so delicious for snacking with sliced apples, or pears. Or you can thin it out a bit and use it as a dip for strawberries or any other fresh fruit. And OK, I might or might not have just gone at it with a spoon. Because, chickpeas are good for you!
One little tip I have when making this, is to rinse the chickpeas really, really well, and then put them in a bowl of cold water and rub them gently with your fingers so the skins come off. It's a little bit of work, but it will make your hummus so much creamier – believe me it's worth it.
Since when is eating cookie dough good for you? When it's Loaded Oatmeal Chocolate Chip Cookie Dough Hummus! #hearthealthy #lovepulses
Click To Tweet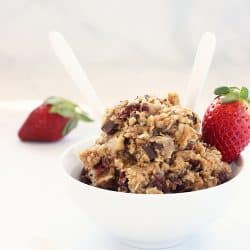 Loaded Oatmeal Chocolate Chip Cookie Dough Dessert Hummus
Ingredients
1

15 ounce can

chickpeas

drained well

1/4

cup

almond milk

or more to thin

1/4

cup

maple syrup or brown sugar

or more to taste

2

tablespoons

natural peanut butter

1

teaspoon

vanilla extract

1/4

cup

pecans

lightly toasted and chopped

1/2

cup

old fashioned oats

lightly toasted

1/2

cup

dried cranberries

1/2

cup

dark chocolate chunks or chips

1/4

cup

unsweetened coconut
Instructions
Place the rinsed chickpeas in a bowl of cold water, and gently rub them with your fingers to remove the skins. Drain off the water and skins, and place the chickpeas in the bowl of a food processor.

Add the almond milk, sweetener, peanut butter, and vanilla to the food processor with the chickpeas, and process until they are very smooth. Add extra almond milk if necessary.

Place the pecans and oats in a nonstick frying pan, over medium high heat, and toast for about 3 minutes, until they just start to smell fragrant. Toss them a few times so they toast evenly.

Add the pecans and oats to the hummus and pulse a few times to combine.

Add the cranberries, chocolate and coconut, and pulse a few more times to combine.

Serve with fresh fruit for dipping, or cinnamon pita chips. Store any leftover hummus in a covered container for 3-4 days.
Have you tried dessert hummus?
Eat well!
SaveSave
SaveSave