Simple, grocery store (or homemade if you prefer) pesto takes your humble fried eggs to an entirely new level. This 5-minute recipe for eggs cooked in pesto is a delicious and healthy breakfast, lunch, or dinner.
These pesto eggs are especially tasty piled on top of sourdough toast with sliced tomato and a sprinkle of feta cheese. Easiest. Meal. Ever.
Or you can skip the tomato slices and serve these with Stuffed Tomatoes instead. So good for brunch.
Why I Love Eggs
Eggs are one of the best and most inexpensive sources of high-quality protein available. They provide a full range of essential amino acids readily used by your body. One large egg has about 6 grams of protein for only about 70 calories. Plus, eggs are packed with vitamins and minerals, so they're good for you.
Yes, they got a bad rap years ago because they are high in cholesterol (only in the yolk), but more recent studies show eating an average amount of eggs doesn't raise your risk of heart disease. And here's another reason to include them in your diet. Some new research shows eating eggs might slow cognitive decline in older adults.
Plain fried or scrambled eggs are always a good option for a quick and easy meal. And if you have a little extra time, it's easy to whip eggs into these easy meals:
Or... if you're short on time but craving more than a simple cooked egg, make pesto eggs!
What Are Pesto Eggs?
Apparently, these eggs are all the rage on Tik Tok. I'm not on Tik Tok, so I'll have to take the internet's word for it. However, I can tell you, now that I've tried them, I'll never eat plain old fried eggs again.
Who knew pesto goes with eggs?! And who knew you could cook eggs in pesto? That's basically all you do to make these eggs. Pesto stands in for butter or oil when cooking your eggs. It also infuses your eggs with the most luscious basil and garlic flavor.
Plus, as the pesto cooks and cools, any cheese it contains gets a little crispy as it firms up. So pesto eggs have a delightful combination of flavors and textures with every bite.
Ingredients (and Variations)
My pesto eggs have a few extra add-ins to make them even more delicious and nutritious. You can use any or all of these to build a delicious egg sandwich. I've also listed out a few substitutions or variations here.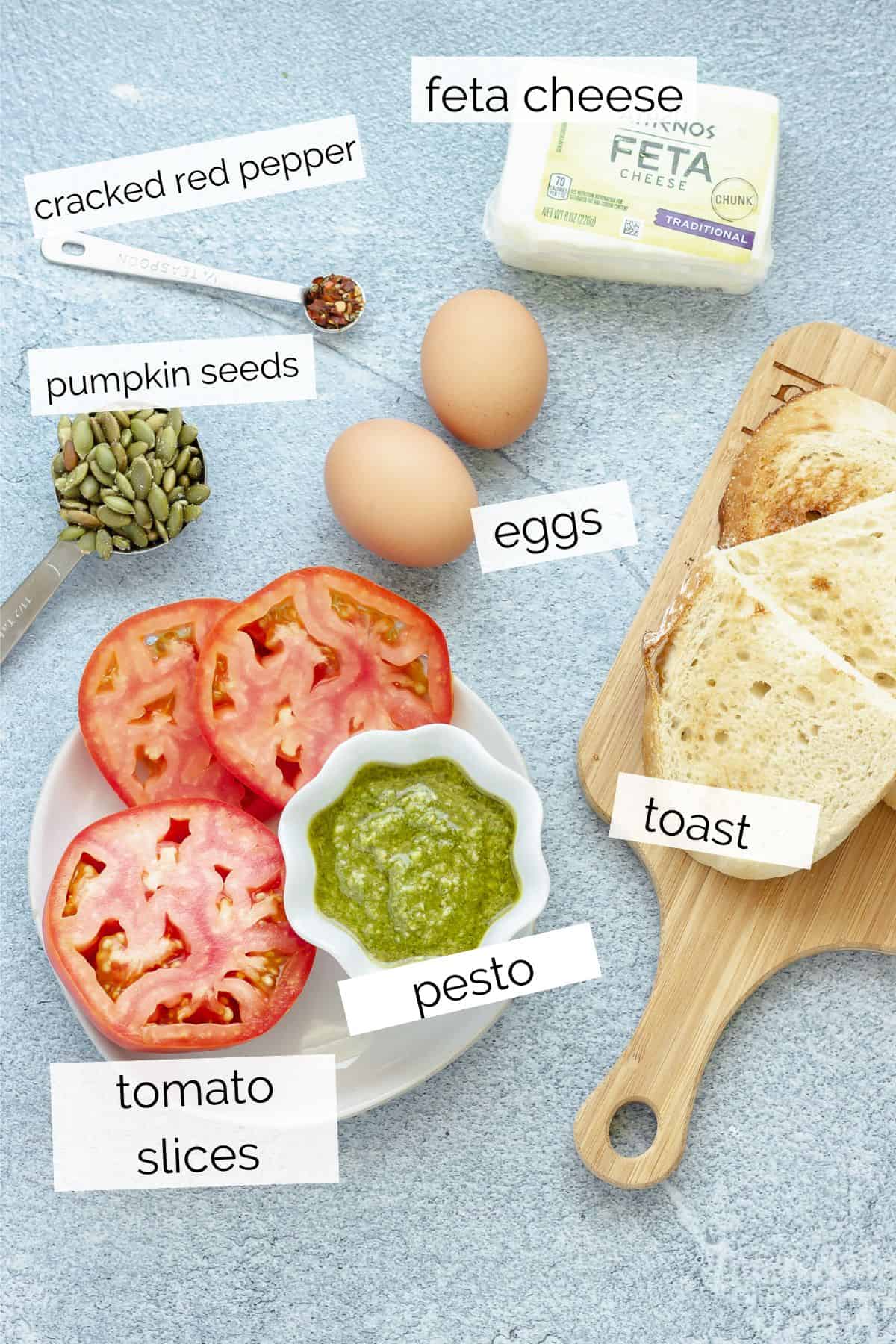 The eggs
I use whole, large hen/chicken eggs for this recipe. You can use smaller or larger eggs if you prefer. If you have access to duck, turkey, or any other eggs, feel free to use them. If your doctor has advised you to limit dietary cholesterol, you can use only egg whites or swap egg substitutes for the whole egg.
Do you prefer scrambled eggs vs. fried sunny-side up? If so, just scramble them in a small bowl before adding them to the pesto.
The pesto
My favorite pesto is Costco's Kirkland brand. But honestly, any brand works here.
If your garden is overflowing with basil or any other type of leafy greens and you want to make your own homemade pesto, just combine the following ingredients in a food processor. Freeze any leftover pesto in an ice cube tray to use in other recipes.
About 2 cups of fresh basil leaves (or any other type of dark greens such as kale or arugula), packed
2-3 garlic cloves
¼ cup of pine nuts (or walnuts, or skip the nuts)
½ cup of Parmesan or romano cheese (or skip it if you prefer non-dairy pesto)
⅓ cup olive oil
salt and pepper to taste
Or, for a bigger flavor variation, you can swap sundried tomato or artichoke pesto. These, along with regular basil pesto, are usually in the Italian foods section of the grocery store.
The cheese
I love a little salty feta cheese sprinkled in the pan as the eggs cook. I also add it to the tomato slices. It's totally optional but very tasty. If you don't like feta, try goat cheese or a few thin slices of plain fresh mozzarella or marinated bocconcini.
The seasoning
Pesto is usually pretty well seasoned and fairly salty from the Parmesan cheese, so I don't think you'll need extra salt in this recipe. However, I do add a sprinkle of cracked red pepper flakes and roasted pumpkin (or sunflower) seeds to the eggs for an extra pop of flavor.
The toast
I'm a fan of sourdough or seeded multigrain bread, so that's what I recommend if you want to serve these eggs on toast. I like to serve this like an open-face sandwich, with just one slice of bread. But you can certainly do two slices per sandwich.
Or use flatbread and turn this into a wrap. And if you prefer to limit carbs, skip the bread and lay your pesto eggs on top of a few thick tomato slices.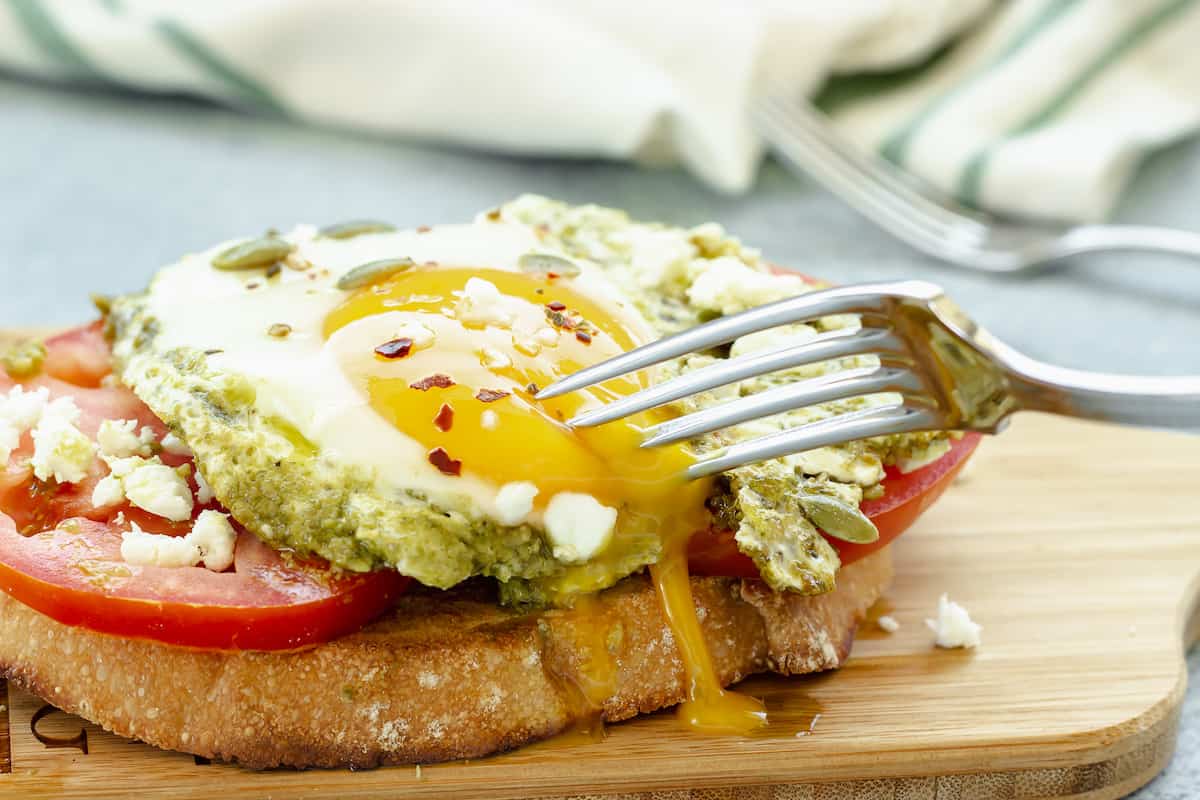 Tips for Making This Recipe
This recipe is ridiculously easy, but these tips will help make it even easier.
Take your eggs out of the refrigerator about 30 minutes before making this. Room temperature eggs will cook faster and more evenly.
Use a non-stick skillet, especially if your pesto has cheese. The melted cheese will stick to a regular skillet, making it harder to clean.
Use enough pesto to coat the pan and make a nice bed for your eggs. I use about ¼ cup of pesto per egg. You can use more or less.
If your pan is large and you're only cooking one or two eggs, it's OK to spread the pesto on only half the pan.
Heat the pesto over medium-high heat. Once it gets going, it starts sizzling quickly. Keep a close eye on it, so it doesn't burn.
Crack your eggs into a small bowl instead of directly into the pan. That way, if you accidentally get any shells, you can easily remove them
The white part of the eggs will turn white as soon as they hit the hot pesto. Eggs are cooked when the white part is no longer translucent, and the yolks are set to your liking. For a runny yolk, plan on about 3 minutes.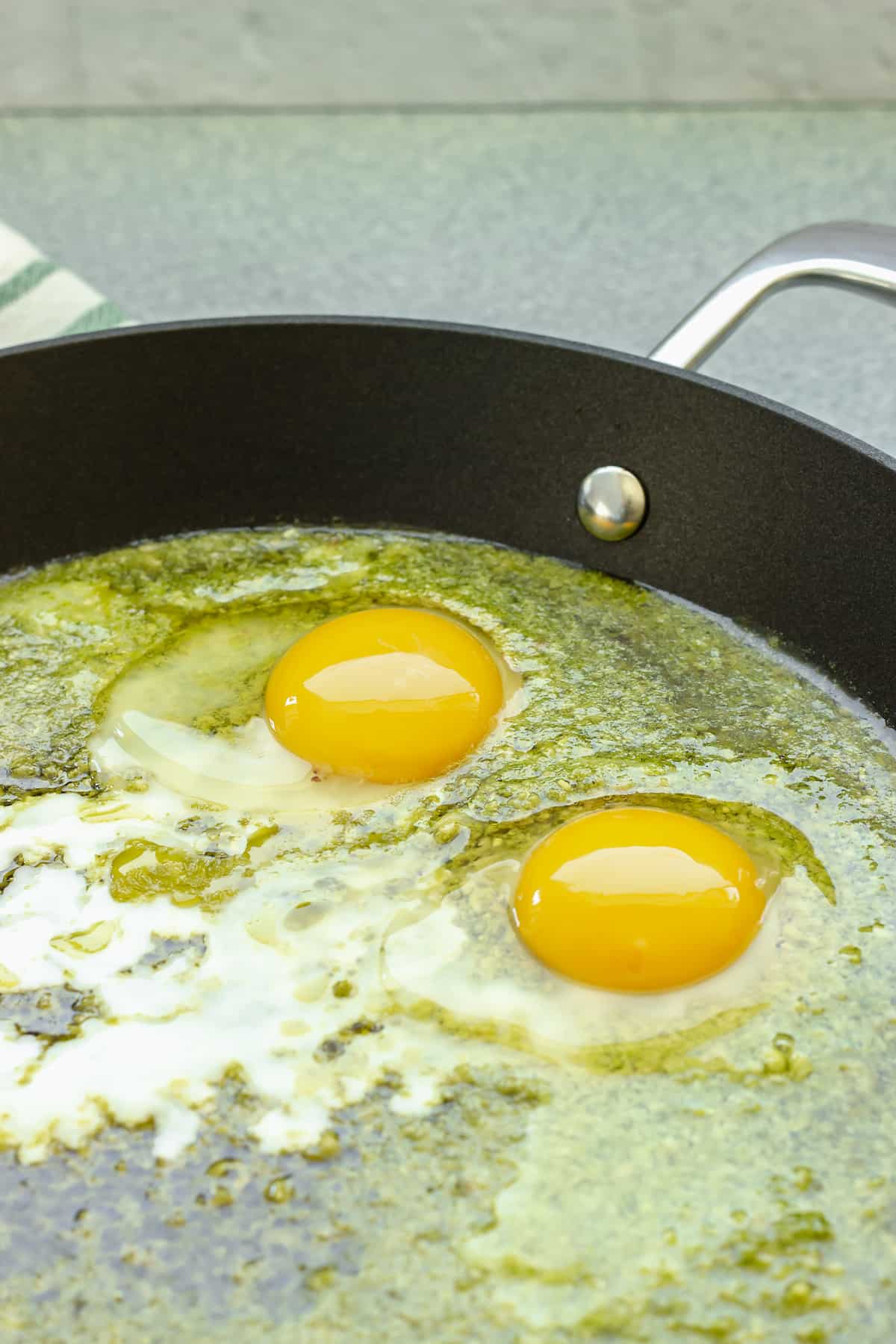 Commonly Asked Questions
Does pesto contain eggs?
No. Eggs are not an ingredient in pesto. In this recipe, eggs are added to the pesto. Traditionally pesto is made from basil, garlic, pine nuts, Parmesan cheese, and olive oil.
Are pesto eggs low carb?
If you serve these pesto eggs without the toast, they're very low carb and keto-friendly. Eggs are carb-free, and a ¼ cup serving of pesto has about 4g of carbs with 26g of fat.
What goes with pesto eggs?
Besides the tomato slices, feta cheese, and pumpkin seeds used in this recipe, pesto eggs are also delicious with prosciutto, ham, and/or mashed or sliced avocado. These eggs are also tasty in a bowl over a cooked grain like quinoa, brown basmati rice, or farro.
Can pregnant women eat soft-cooked egg yolks?
Eggs are super-nutritious for moms-to-be, but the FDA advises that the white and yolk should be cooked until firm (about 4 minutes in a covered pan).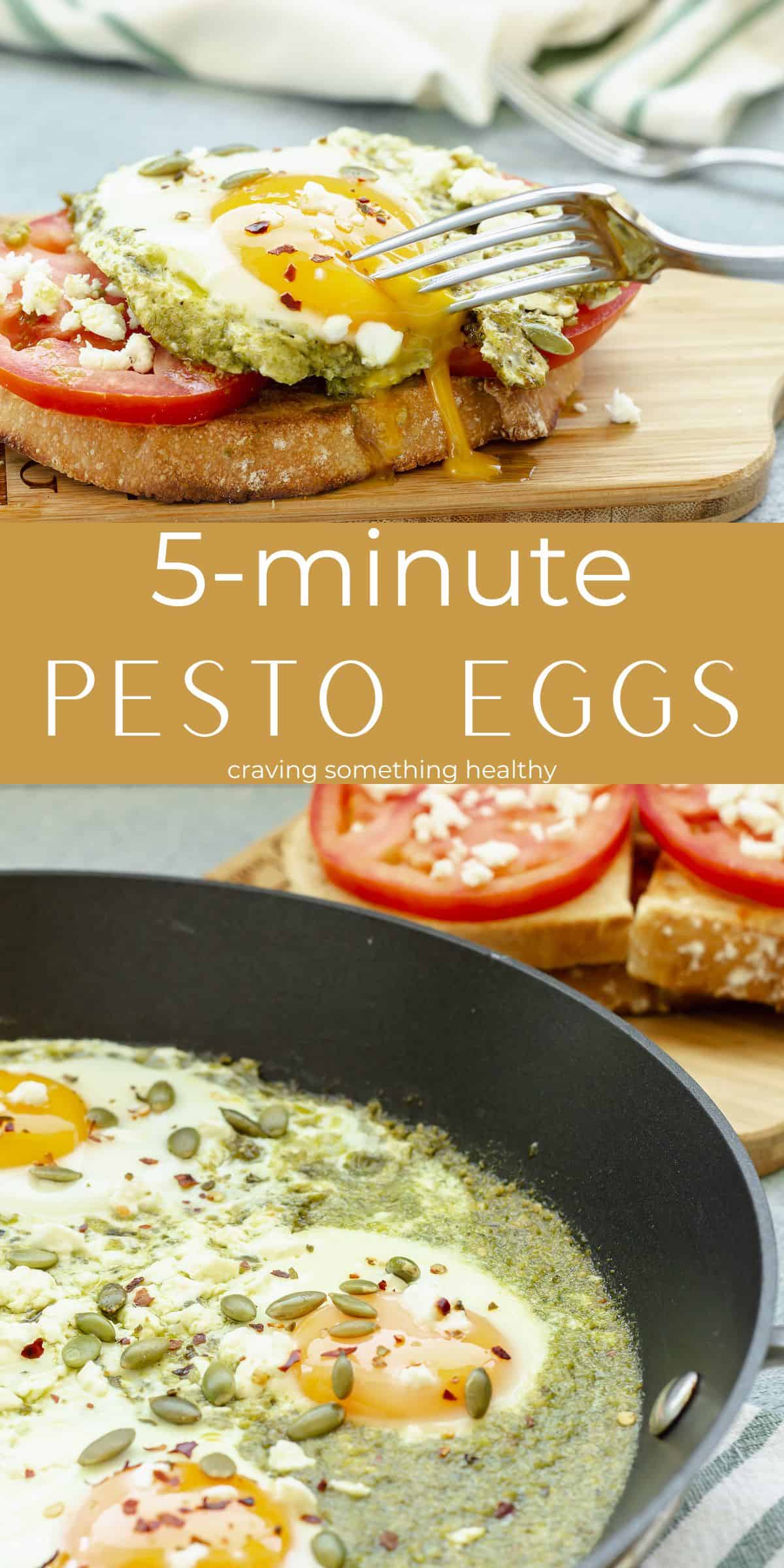 More Egg Recipes
Looking for other ways to eat eggs? Try these recipes.
Recipe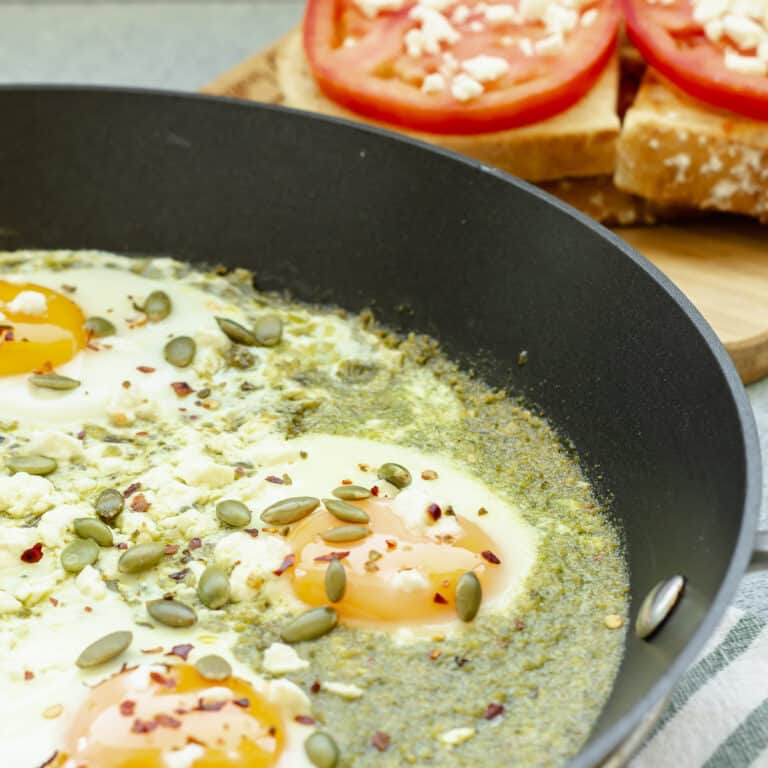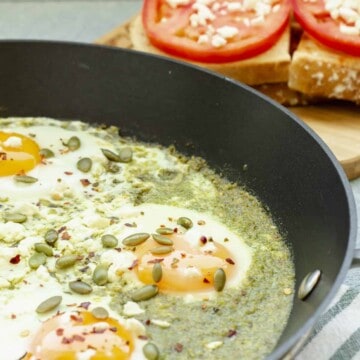 5-Minute Pesto Eggs
A fast and easy dish for breakfast or any meal of the day
Print
Pin
Ingredients
⅓

cup

prepared pesto

2

large

eggs

1

ounce

feta cheese

pinch

cracked red pepper flakes

1

teaspoon

pumpkin seeds

or sunflower

2

slices

tomato

2

slices

toast
Instructions
Heat a nonstick skillet on medium high heat. Pour the pesto into the skillet and let it cook for 1 minute or until the oil in the pesto is sizzling.

Add the eggs to the hot pesto. Sprinkle the feta cheese over the eggs. Turn the heat to medium and cover the pan. Cook for about 3 minutes or until the egg white is firm and the yolks are cooked to your liking.

Sprinkle the cracked red pepper flakes and pumpkin seeds over the cooked eggs. Let the eggs cool for about 1 minute.

Top each slice of toast with a tomato slice. Use a spatula scoop half the pesto and one egg and add it over each slice of toast. Serve immediately.
Notes
You can use a bit more or less pesto to your taste.
If you prefer scrambled eggs, scramble them in a small bowl before adding them to the pesto.
For a lower carb option, skip the bread and serve the pesto eggs on top of the tomato slices.
Nutrition
Calories:
348
kcal
|
Carbohydrates:
17
g
|
Protein:
13
g
|
Fat:
25
g
|
Saturated Fat:
6
g
|
Polyunsaturated Fat:
2
g
|
Monounsaturated Fat:
3
g
|
Trans Fat:
0.02
g
|
Cholesterol:
202
mg
|
Sodium:
751
mg
|
Potassium:
184
mg
|
Fiber:
2
g
|
Sugar:
3
g
|
Vitamin A:
1388
IU
|
Vitamin C:
4
mg
|
Calcium:
194
mg
|
Iron:
2
mg
Have you ever thought to eat pesto with eggs?
Eat well!