(Almost) Fat Free Peanut Butter
Holy. Spoonfuls. Of. Deliciousness.  Do you know about this almost fat-free peanut butter?
Raise your hand if you love peanut butter but won't allow yourself to keep it in the house because it's too high in fat and calories.  First of all, let me tell you that the fat in peanut butter is mostly heart-healthy, so it's actually a healthy food to eat. 
Whenever I say that to people, their face always lights up like a kid on Christmas morning. That's when I have to follow it up with – "BUT, all that healthy fat is still high in calories, so don't eat too much".  Anyone who's looked can tell you that a 2 tablespoon serving of peanut butter has 190 calories (ouch), and anyone who's ever measured, can tell you that 2 tablespoons is way less than anyone who likes peanut butter actually eats.
I don't even know how I stumbled on this, but I found nearly Fat Free Peanut Butter – with only 1 gram of fat
.  The brand is PB2, and it's powdered, so you mix it with water.  Or jelly.  Or a smoothie.  Or into the dressing for Thai Chicken Salad.  You get the picture. While you won't get the exact mouthfeel because it's lacking fat, you do get all the flavor of peanut butter with no artificial additives.  Two tablespoons of this stuff has only 45 calories, and – it comes in chocolate too!  I can think of a million ways to use it, and I'm going to start experimenting, so I'll keep you posted.  For starters, here's a guilt-free sweet treat:
Update: You have to try PB2 in this Chocolate Peanut Butter Banana Baked Oats recipe! You're welcome.
Eat well!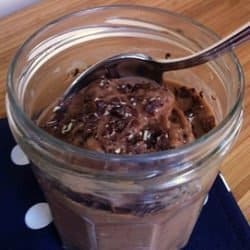 Guilt Free Chocolate, Peanut Butter and Banana "Ice Cream"
Pour this into 4 oz jam or mason jars for a perfectly portioned treat
Print
Pin
Rate
Ingredients
1

cup

fat free chocolate milk

1

banana

sliced

1/2

cup

chocolate or regular PB2 powder

or more to taste

optional: chopped bits of dark chocolate

slivered almonds, lightly toasted
Instructions
Put milk, banana and PB2 powder in a blender and blend until banana is smooth.

Pour into a container with a lid, cover, and freeze for 1-2 hours, or until mixture starts to thicken.

Stir to break up any ice crystals, and if desired add chocolate bits, nuts, or other mix-ins.

Return mixture to the freezer, and freeze until desired thickness.

This is best served slightly, but not completely frozen, so let it thaw a bit if well frozen.
Nutrition