Cool Cucumber Celery and Avocado Soup
Don't throw away that limp cucumber or celery!  Do your part for Earth Day by reducing kitchen waste, and make some cool cucumber soup. This cold summer soup is full of cucumber, celery, and avocado and it's so refreshing on a hot summer day.
Happy Earth Day friends!  In honor of earth day, this post is all about ways to reduce food waste.  While I was thinking about what to write about for this post, I sadly realized that I kind of, sort of, might be guilty of wasting some food.  And I'm pretty sure I'm not alone.
According to Grace Communications Foundation, which works to increase awareness of many different food, health, and environmental issues, we in the U.S. throw away about 40% of our food supply every year.  Wow.  I hope I'm not that bad - I don't think I am, but that statistic really made me pause.
I'm not so bad with bread (I don't buy that much, and I usually make breadcrumbs or croutons), or dairy foods (I'm addicted to lattes and Greek yogurt so it goes fast), And my friends are always happy to finish off any cheese as long as there's wine.
But produce - that's an issue for me.  I so often buy things that look so pretty in the market. I almost always have a good plan for it, but like most of you, I'm guessing, the day, and then the week, gets away from me.  
Before I know it, there are moldy herbs, limp celery, squishy avocados, and hairy carrots at the back of the produce drawer.  Sound familiar?
I love this graphic about creative ways to use up some of that produce that frequently goes to waste.


After looking at all of these great ideas, I was inspired to use up the limp celery and almost too ripe avocado that was hiding in my fridge.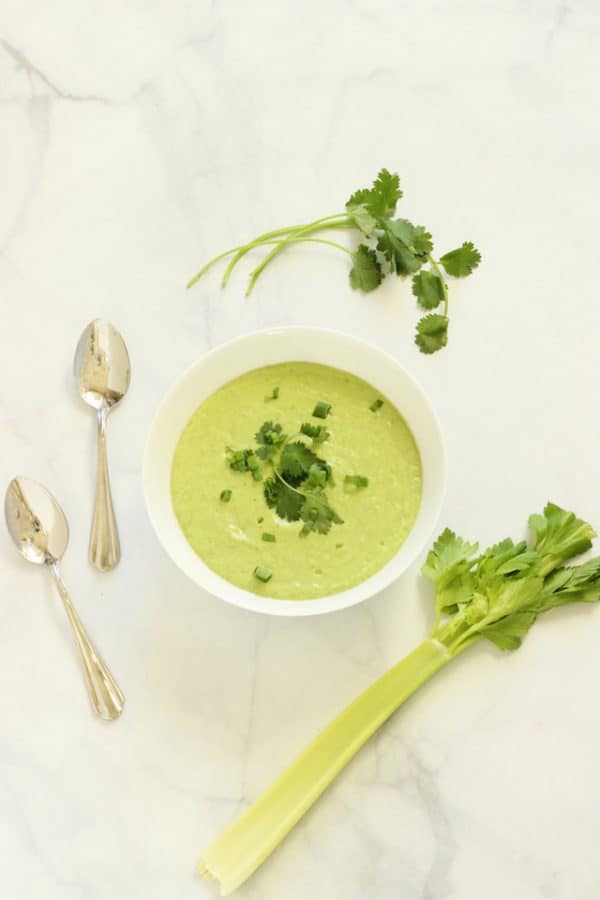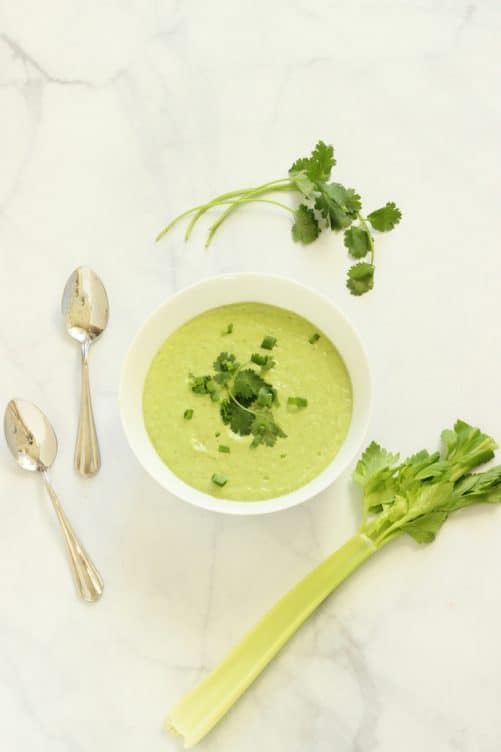 This week I happened to buy leeks because they just looked so springy, and an English cucumber, because it's just something I buy each week. So much green in my refrigerator!
This chilled cucumber soup tastes like a big, fresh salad, that you can slurp up with a spoon. And it takes just minutes to make.
Recipe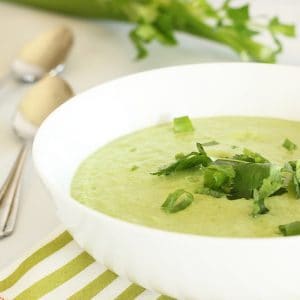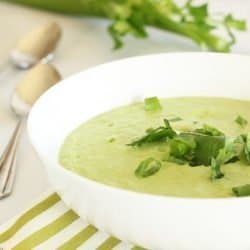 Cool Cucumber Celery and Avocado Soup
A cool refreshing summer soup
Print
Pin
Ingredients
2

tablespoons

olive oil

1

leek

light green part only, washed wall and sliced thin

3

celery stalks

diced

2

cloves

of garlic

minced

3

cups

chicken or vegetable stock

1

unpeeled English or seedless cucumber

½

cup

fresh cilantro

chopped

1

avocado

diced

¼

cup

plain Greek yogurt

optional
Instructions
Heat the olive oil in a medium-size pot on medium-high heat, and add the leeks, celery and garlic.

Saute the vegetables until tender, about 5 minutes.

Add the chicken or vegetable stock and bring to a boil. Reduce the heat and simmer for about 10 minutes or until the vegetables are soft.

Chill the soup well, and then transfer it to a blender. Add about half of the cucumber and cilantro and blend well to combine.

Add half of the avocado and Greek yogurt if using, and blend again until the soup is smooth.

Stir in the additional diced cucumber, cilantro and avocado and serve immediately.
Nutrition
Calories:
242
kcal
|
Carbohydrates:
18
g
|
Protein:
8
g
|
Fat:
17
g
|
Saturated Fat:
3
g
|
Polyunsaturated Fat:
2
g
|
Monounsaturated Fat:
11
g
|
Cholesterol:
6
mg
|
Sodium:
275
mg
|
Potassium:
625
mg
|
Fiber:
4
g
|
Sugar:
6
g
|
Vitamin A:
677
IU
|
Vitamin C:
11
mg
|
Calcium:
56
mg
|
Iron:
1
mg
Happy Earth Day friends!
Eat well!

SaveSave