How to Make a Winning Snack
Many people I talk to are under the impression that snacking is bad. They think unless you're an Olympic athlete who burns 12,000 calories a day and needs constant energy, snacks are just extra calories that lead to weight gain. Well, despite what we might think or say, snacking is actually a favorite pastime of many Americans. According to Food Navigator, at least 1 in 5 of us will graze through the day rather than eat meals.
That could be good or bad. Good because it helps keep us full all day, and less likely to overdo it at mealtime. It also keeps our metabolism running at a higher rate. It's bad though, if we're grazing and snacking on candy bars and cookies, or even "healthy food" like granola bars and some of those store made smoothies which can rack up lots of calories from sugar.
The truth is, snacking is a great way to fuel and nourish your body between meals, and eating them really does help your body to both work and feel better. Snacks can be really healthy if you plan them out ahead of time, and make sure they're balanced mini-meals. They keep us fueled up so we have more energy during the day, and that's important whether you're an athlete or you just have an important meeting to get through. I think everyone needs a snack in the middle of the afternoon, and it you have more than 5 hours between breakfast and lunch, you probably need one in the mid morning too.
Here's an example of what a healthy snack should look like:
Ideally, you want at least three different food groups on your plate– a fruit and/or a vegetable; a whole grain starch; and a protein. A little bit of healthy fat is always a good thing too.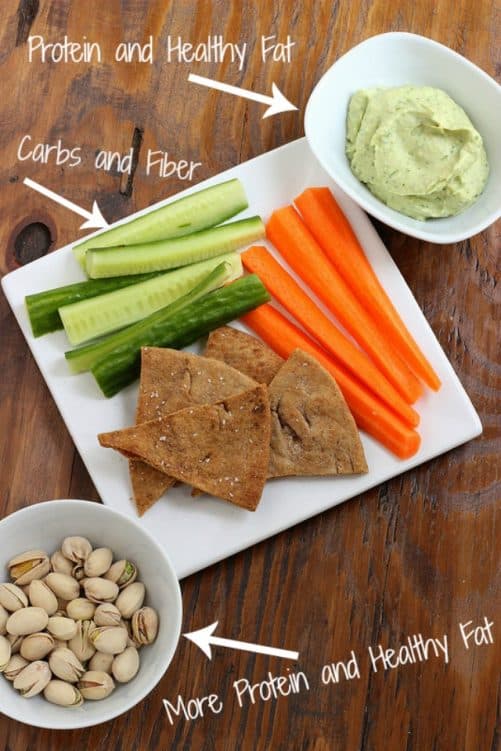 Even though it's a snack, this is a pretty substantial plate of food. I've included 2 different vegetables (about 50 calories total); some homemade baked whole wheat pita chips (about 80 calories from healthy carbs); a handful of pistachios (about 100 calories plus protein and healthy fat); and a dip I made from white beans, Greek Yogurt, and Avocado (about 100 calories plus protein, carbs and healthy fat). It's pretty low in calories, but because it's based on my 3-food groups rule, it's healthy, balanced and really filling. This kind of a snack can easily take the place of a meal if you're running late, and will fuel you for a few hours.
Other good mini-meal snacks might include grapes + cheese+ whole grain crackers, or a homemade smoothie made from berries + greens+ plain yogurt + oats or go wild and have a whole wheat tortilla + refried beans + guacamole + salsa. When you plan out your snacks, just remember to include at least 3 different foods groups.
Here's my quick and easy bean dip (in case you were wondering). Get crazy and experiment with different herbs or zip it up with some chipotle peppers in adobo or sriracha sauce. Let me know what you come up with! 🙂
Recipe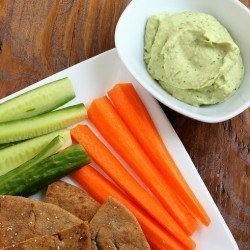 White Bean and Avocado Dip
A quick and easy snack packed with protein, complex carbs, and healthy fats
Print
Pin
Ingredients
1

head

garlic

15

ounces

white cannellini beans

drained and rinsed

1

medium

Hass avocado

½

cup

nonfat Greek Yogurt

3

tablespoons

olive oil

¼

cup

fresh herbs

any favorite mix

Kosher salt and fresh ground pepper to taste
Instructions
Preheat oven to 350 degrees.

Cut about ½ inch off the top of the head of garlic, to expose the cloves. Do not peel. Wrap lightly in foil, leaving the top open and drizzle with about 1 teaspoon olive oil. Roast garlic in the oven for about 1 hour or until cloves are tender. This can be done ahead of time and refrigerated.

Squeeze the garlic cloves from their skins and transfer to the bowl of a food processor.

Add beans, avocado and yogurt and process. While machine is running, drizzle olive oil through the spout until mixture is smooth and creamy.

Add any desired herbs or seasonings.

Add salt and pepper to taste.
Notes
This dip is a nice change from hummus, and also makes a delicious sandwich spread.

Nutrition
Calories:
164
kcal
|
Carbohydrates:
16
g
|
Protein:
6
g
|
Fat:
9
g
|
Saturated Fat:
1
g
|
Polyunsaturated Fat:
1
g
|
Monounsaturated Fat:
6
g
|
Cholesterol:
0.5
mg
|
Sodium:
10
mg
|
Potassium:
400
mg
|
Fiber:
4
g
|
Sugar:
2
g
|
Vitamin A:
195
IU
|
Vitamin C:
6
mg
|
Calcium:
51
mg
|
Iron:
2
mg
What's your favorite (healthy) snack?
Eat well!