Light Chicken Mushroom Stew
Chicken stew is much lighter than beef stew, but every bit as delicious, warm and comforting on a cold winter night.
While I do love beef stew, I hate the hours of cook time needed to tenderize the meat. Even though it's mostly hands-off time in the crock-pot or oven, it means I have to plan way ahead.  Not just as in "What am I having for dinner tomorrow night", plan ahead, but as in holy crap, "It's 10:00 am, I better start the dinner" plan ahead.  I'm good, but not usually that good.  Also, I'm not a huge fan of sautéing beef and onions at ten o'clock in the morning.  That's still early for me, and the only smell I really like in the morning is coffee.   
So I created a quick cooking chicken stew instead, and I'm really loving this lightened up, and no-serious-planning-ahead stew.  I was inspired by a recipe I pinned recently (and will be making soon), for chicken pot pie gnocchi by On Sugar Mountain.   Gnocchi and chicken pot pie.  Hmmm. Quite possibly two of my most favorite comfort foods of all time.  Love the idea of using gnocchi instead of potatoes and crust, and I also love gnocchi instead of potatoes or noodles in this stew!  I twisted it up a bit with mushrooms and thyme and I think this might be my favorite new one pot meal!
Nothing like quick cooking comfort food!
Recipe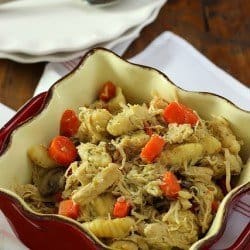 Ingredients
1

pound

boneless chicken breast

1

bay leaf

3

tablespoons

canola oil

2

large shallots

minced

1 ½

cups

sliced baby bella mushrooms

1

stalk celery

diced

4

large carrots

cut into ½-inch coins

1

teaspoon

dried thyme leaves

¼

cup

flour

¼

cup

sherry

2 ½

cups

low sodium chicken stock

1

cup

1% milk

8

ounces

fresh

frozen or packaged gnocchi (about 2 cups)

Kosher salt and fresh ground pepper
Instructions
Bring about 1 ½ cups water and bay leaf to a boil in a Dutch oven. Sprinkle chicken breasts with salt and pepper, and place chicken in water. Reduce heat to low and gently poach chicken for about 15 minutes, or until cooked through. Remove chicken and set aside. Drain water.

Place the Dutch oven over high heat, let any water evaporate, and add oil.

Saute shallots, mushrooms and celery in oil until vegetables are tender. Add carrots and sauté for another 3-5 minutes.

Add flour, and thyme, and stir to coat all vegetables well. Cook for 1 minute.

Add sherry and chicken stock and stir well to combine with flour. Bring to a boil and let sauce thicken. Reduce heat to medium and add milk.

Let sauce simmer and thicken, and meanwhile, shred cooked chicken.

Add chicken to Dutch Oven, and stir to combine.

Add gnocchi, and let simmer for 5 minutes, or until gnocchi is softened and cooked through.

Add salt and pepper and additional thyme to taste.
Notes
Use fresh or frozen gnocchi in this recipe.

What's your favorite comfort food?
Eat well!