These colorful, caramelized roasted fall vegetables are a classic, easy, healthy side dish for Thanksgiving, Christmas, or Sunday dinner.
Fresh fall vegetables, including Brussels sprouts, delicata squash, carrots, cauliflower, parsnips, and fresh cranberries, are perfectly roasted and drizzled with a balsamic glaze to bring out their natural sweetness.
Why You'll Love This Recipe
Everyone needs a fast and easy vegetable side dish recipe, whether for a weeknight, Sunday dinner, or a holiday feast. This recipe is a winner because:
It's full of variety, and you can add more or less of your gang's favorite vegetables. This recipe appeals to everyone.
Roasting is one of the best ways to cook fresh fall vegetables, especially root vegetables. They hold up beautifully to high heat, and those crispy brown spots bring out their natural sweetness.
Like other roasted vegetable recipes, this one is super nutritious. It's an easy way to eat a rainbow of color and get more veggies into your diet.
This no-fuss recipe needs only a few ingredients, but it's a real holiday show-stopper.
I always serve these roasted fall vegetables and my Mixed Vegetable Casserole and Sweet Potato Souffle for a holiday buffet. That way, there's a mix of roasted vegetables, and healthier version of everyone's favorite sweet potato casserole, and a creamy, cheesy vegetable casserole — something for everyone.
Recipe Ingredients
Roasting means you'll need minimal seasoning; the flavor really comes from the natural sugars in the vegetables. Here are the key ingredients needed to make these roasted fall vegetables.
Substitutions and variations are listed in the section below.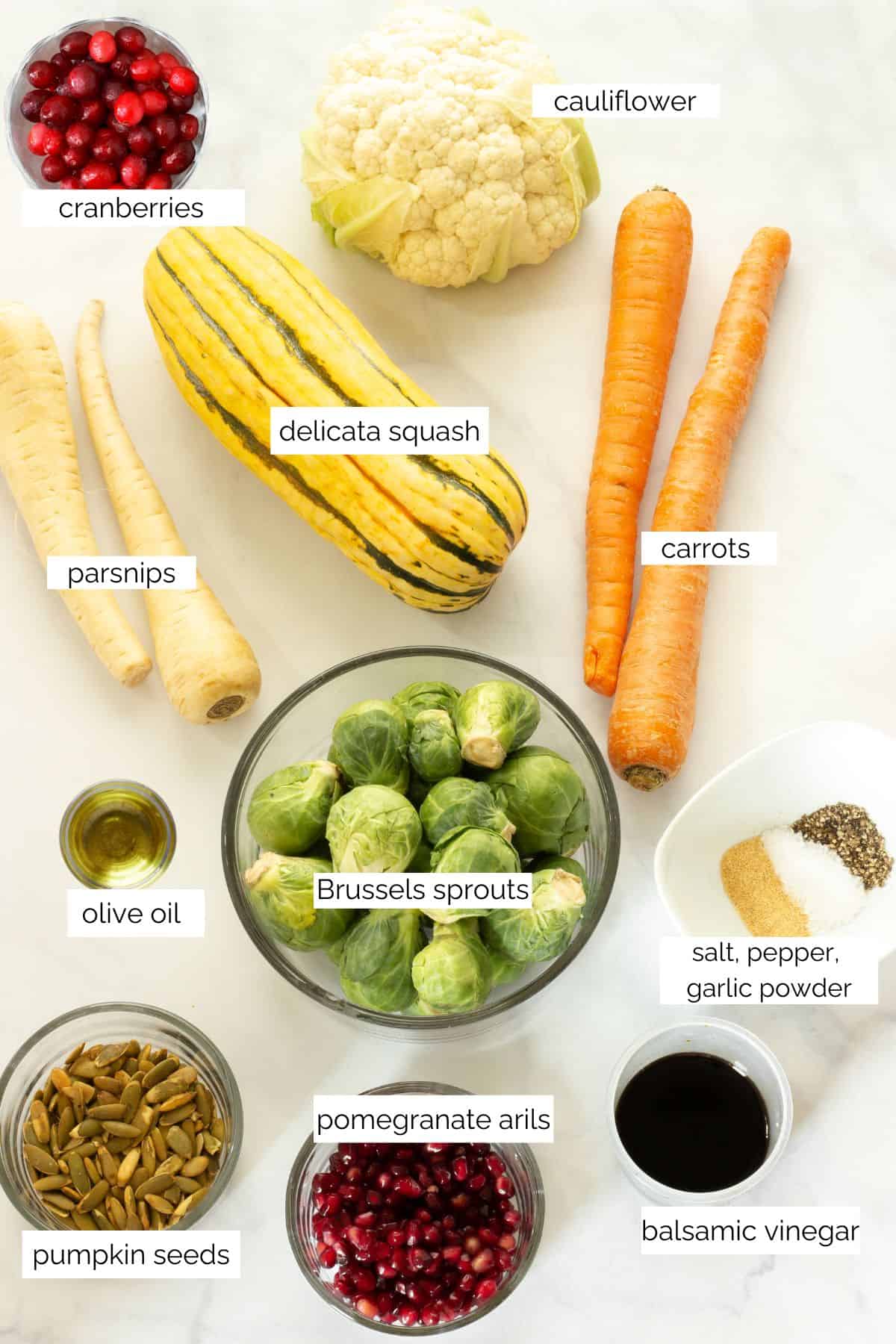 See my recipe card for the complete list of ingredients with measurements.
Fall vegetables. My personal favorites include Brussels sprouts, delicata squash, carrots, parsnips, and cauliflower. They provide lots of color, texture, and flavor variety.
Cranberries and pomegranate arils. The tartness of fresh cranberries and the sweetness of pomegranate arils balance the bitterness of cruciferous veggies like Brussels sprouts and cauliflower. These also add a pretty pop of color.
Balsamic vinegar. When cooked until thickened, this makes a delightfully sweet, tangy syrup to drizzle over the vegetables. The little bit of sweetness really complements these roasted fall vegetables.
Substitutions and Variations
Other vegetable options: Broccoli, small red or purple potatoes, butternut squash, sweet potatoes, turnips, golden beets, and radishes all work well. If you can find watermelon radishes, they'll add a gorgeous pop of color.
You can also use red beets, but I recommend roasting them on a separate pan so the color doesn't bleed into your other vegetables.
If you don't have fresh cranberries, you can use frozen cranberries if you froze a few bags from last year. Or use dried cranberries, but be aware they have sugar added.
Use bottled balsamic glaze if you don't want to make your own. Be aware that this, too, has sugar added.
Step By Step Instructions
First, prepare your vegetables. I start with the delicata squash because it takes slightly more time. Cut it in half lengthwise, and use a spoon to remove the seeds and inner stringy pulp.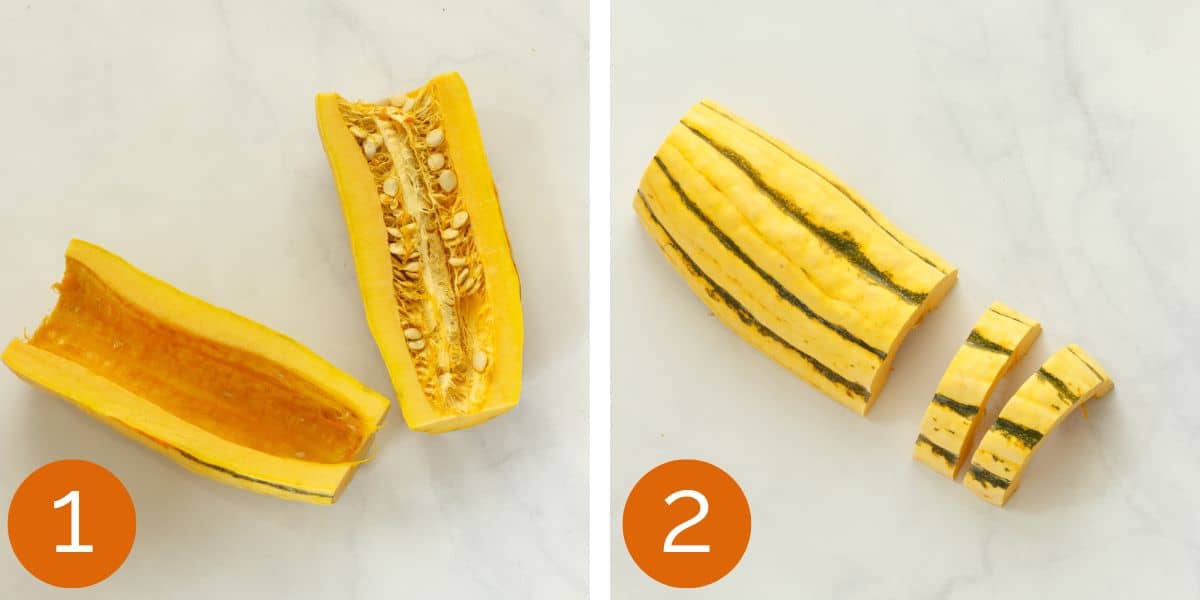 Second, cut the squash into slices about 1 ½ inches (about 4 cm) wide. You don't have to remove the outer skin from delicata squash because it softens beautifully in the oven and is delicious. As much as I love butternut squash for soup, delicata is one of my favorite squash varieties for roasting because it's so easy!
Third, cut the rest of the vegetables into similar-sized pieces. This helps everything roast evenly. I aim for 1 ½ inches (about 4 cm) on everything because they roast faster, and it's an easy size to fit into your mouth.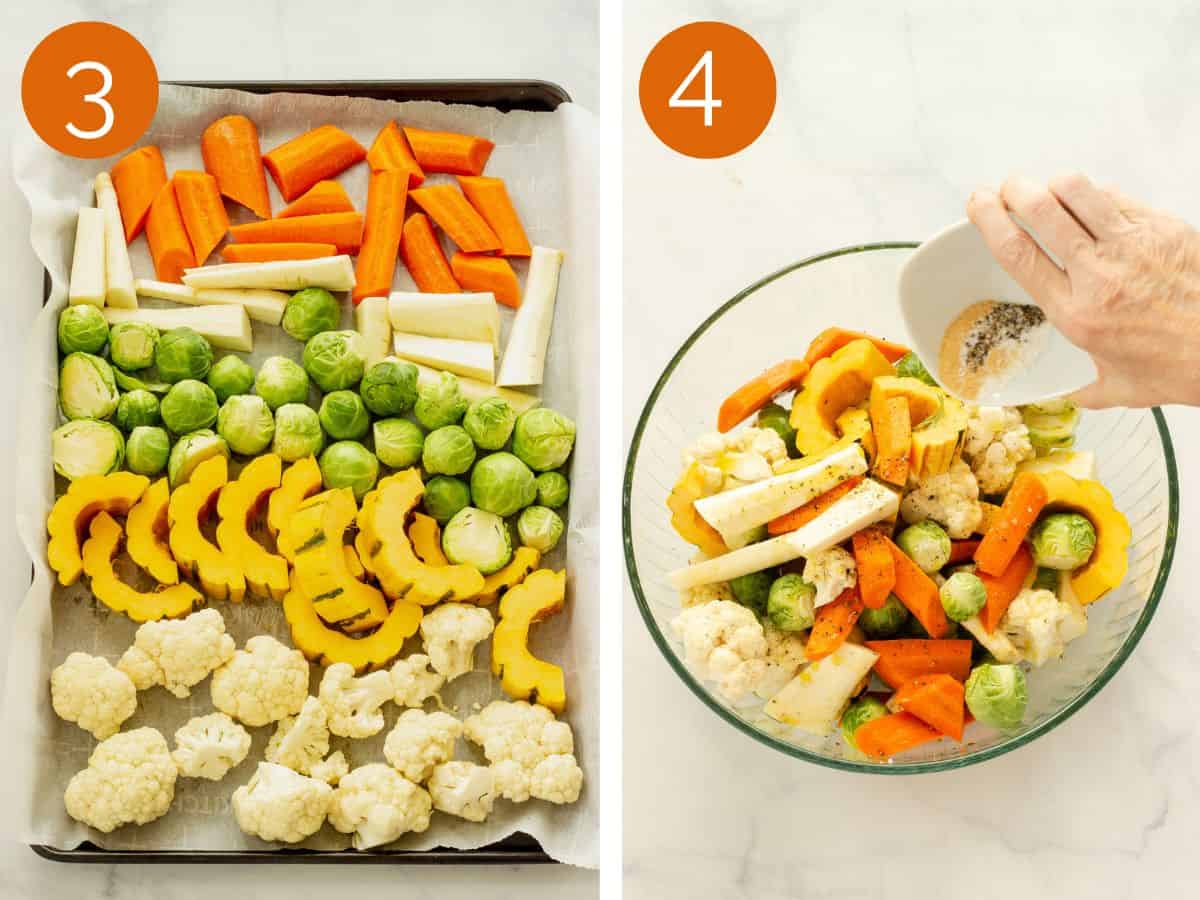 Fourth, season your vegetables. Place the vegetables and fresh or frozen cranberries in a large mixing bowl and drizzle them with olive oil. Sprinkle them with salt, pepper, and garlic powder. Use your (clean) hands to toss and season everything.
Fifth, lay the vegetables on a parchment paper-lined baking pan for easy cleanup. Make sure they're in a single layer. This recipe fits on one baking pan, but if you add more vegetables, you may need two pans. A single layer of vegetables will caramelize better. Roast the vegetables in a hot oven, 450ºF (232ºC), and flip them halfway.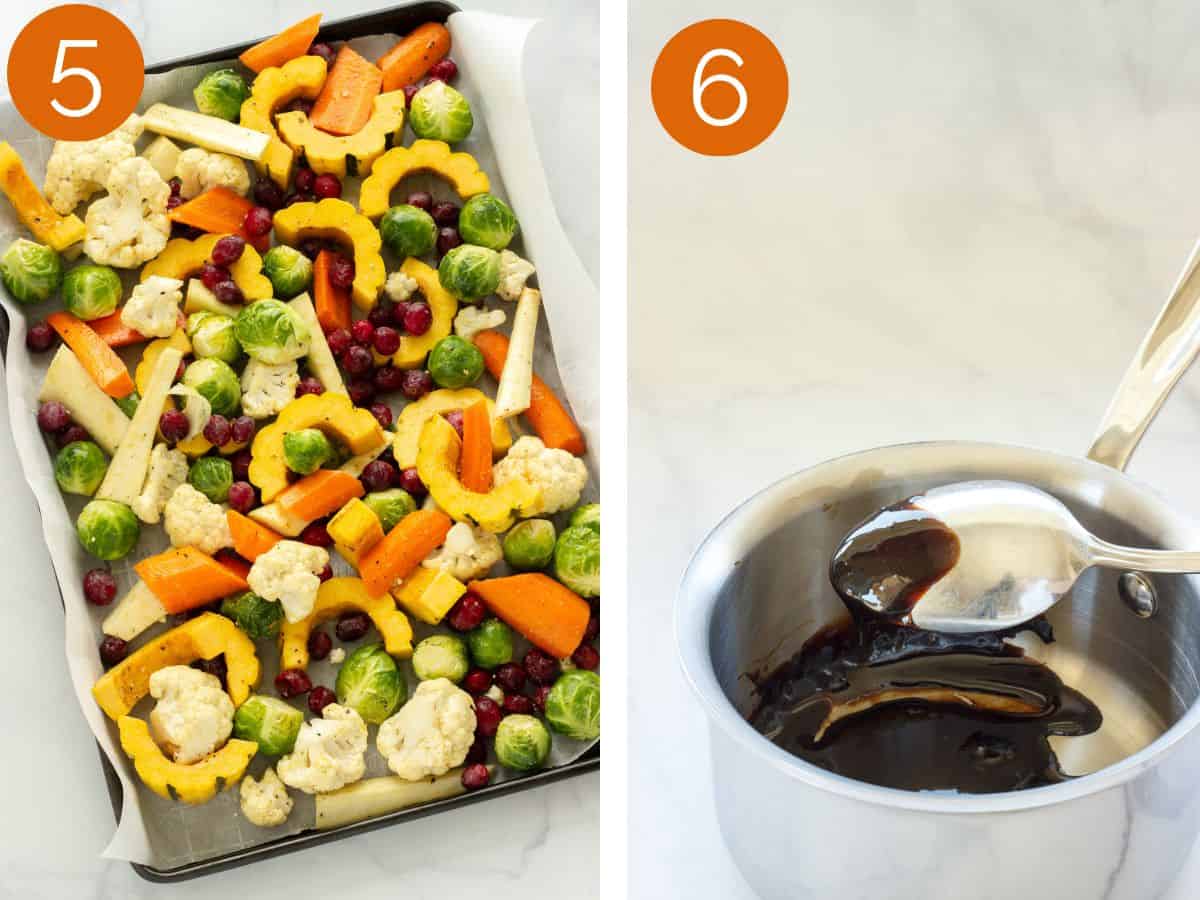 Sixth, prepare the balsamic glaze while the vegetables roast. Bring the balsamic vinegar to a boil, reduce the heat to medium-low, and let it simmer for about 3 minutes or until it thickens and coats the back of a spoon. Set it aside until the vegetables are finished.
Finally, arrange your roasted vegetables on a platter, sprinkle the pomegranate arils and pumpkin seeds, and drizzle everything with the balsamic glaze.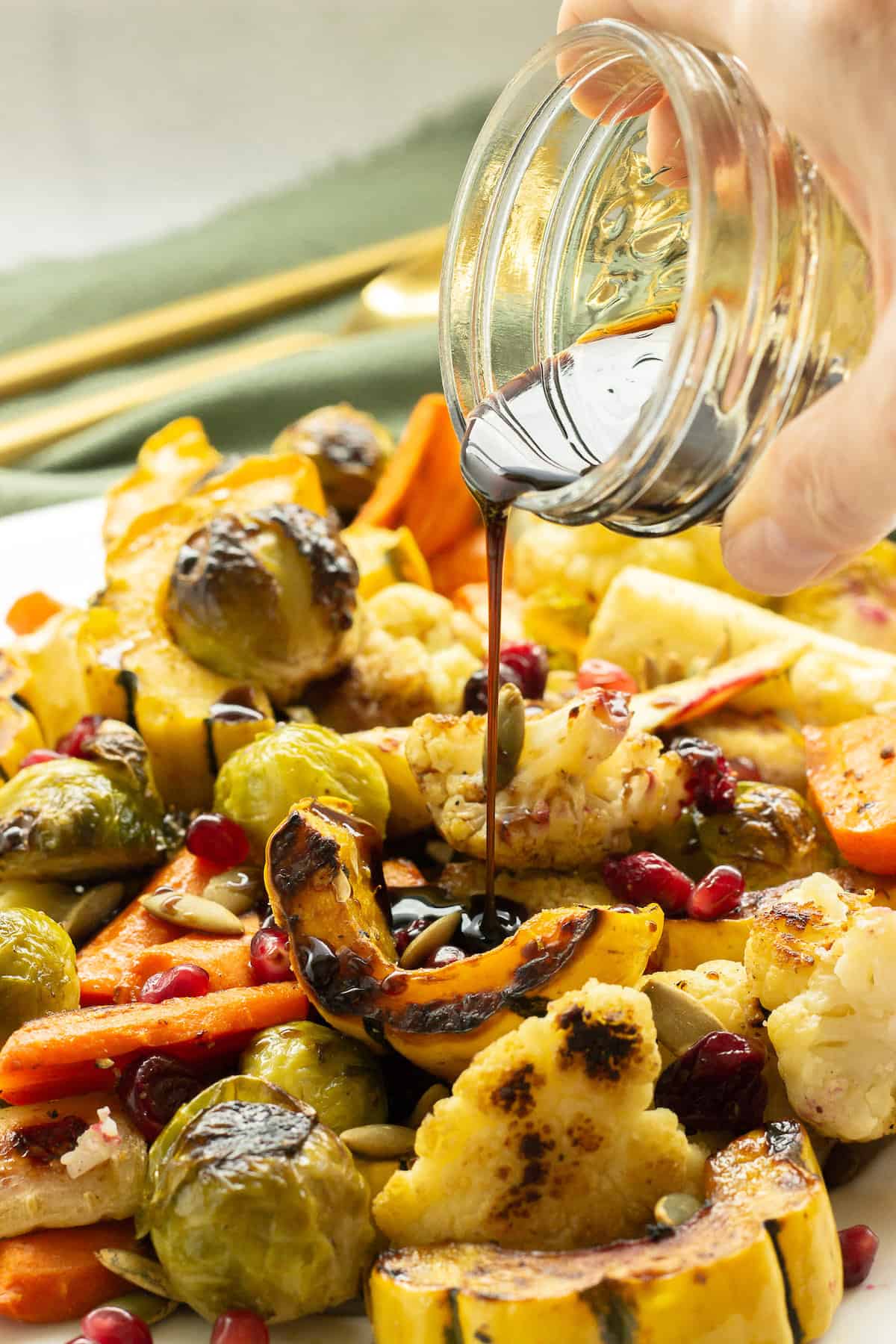 Expert Tips
You can easily double this recipe, but you must divide the vegetables over several pans. Don't stack the vegetables when roasting them because they'll steam and get soggy.
If you use carrots or parsnips, I recommend cutting any thicker ones in half lengthwise and then to size. Carrots and parsnips take longer to roast, so this cuts down on roasting time. The same goes for any extra-large Brussels sprouts. Cut them in half.
Keep a close eye on your vegetables. I recommend roasting at a very high heat to develop those brown, caramelized bits and bring out the sweetness in vegetables. However, all ovens can vary, so if your vegetables seem to be browning too fast, turn down the heat to 425ºF (218ºC).
You can double or triple the balsamic glaze and keep leftovers in a lidded jar in the refrigerator. It's delicious drizzled over grilled pear and arugula pizza (a great appetizer idea!) or my fig and arugula salad with blue cheese and prosciutto.
If you're serving these for Thanksgiving dinner, roast the vegetables while your turkey rests.
What to Eat With Roasted Fall Vegetables
These vegetables are a perfect side dish for Thanksgiving or a holiday dinner or to serve with chicken or roast beef for family dinner night.
They're also hearty enough to hold their own as a vegetarian dinner. Add some extra pumpkin seeds and a generous sprinkle of feta or goat cheese for more protein if you like. You can also serve them over cooked lentils.
If you have leftovers, use them to make this roasted vegetable and wild rice soup for a fast and easy meal.
Recipe FAQs
Can you make these roasted fall vegetables ahead of time?
Roasted vegetables taste best when they're freshly roasted. If you prepare them ahead of time, they won't be as crisp. You can, however, cut all of your vegetables a day in advance. Keep them in a covered container in the refrigerator. Toss them with the seasoning and roast them 30-40 minutes before you're ready to serve. 

Should you cover vegetables with foil while roasting them?
No. Covering them with foil will trap moisture, making your vegetables soggy. Leave them uncovered, but keep an eye on them and flip them about halfway through or as they turn brown.

Can you skip the olive oil?
You can, but I don't recommend it for two reasons. First, it helps the seasoning stick to the vegetables, and second, it helps with caramelization (browning) so the vegetables will have a better flavor. 

Other Vegetable Recipes
Looking for other vegetable recipe ideas that even non-veggie eaters will lover? Try these!
Recipe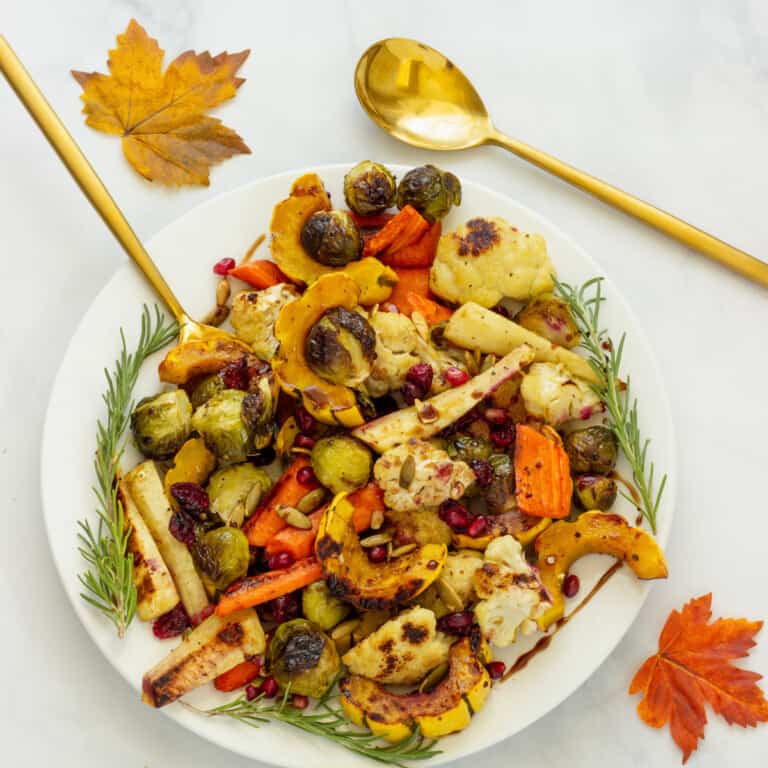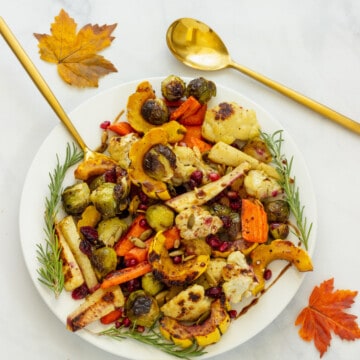 Roasted Fall Vegetables
Fall's finest vegetables are roasted until they're caramelized and sweet. Perfect for Thanksgiving!
Print
Pin
Ingredients
1

medium

delicata squash

12

ounces

Brussels sprouts

2

large

carrots

cut any thick ones in half lengthwise,

2

medium

parsnips

cut any thick pieces in half lengthwise,

1

small

cauliflower

trimmed into florets.

½

cup

fresh cranberries

or frozen

2

Tbs

olive oil

½

teaspoon

kosher salt

½

teaspoon

ground pepper

½

teaspoon

garlic powder

⅓

cup

balsamic vinegar

3

tablespoons

roasted pumpkin seeds

¼

cup

fresh pomegranate arils
Instructions
Preheat oven to 450℉ (232℃). Line a baking pan with parchment paper for easier cleanup.

To prepare your vegetables, wash and dry them well. Cut all the vegetables into even-sized pieces, about 1 ½ inches (about 4 cm). See the tips below or in the recipe post for preparing your vegetables.

Place your vegetables and the cranberries in a large mixing bowl. Drizzle everything with olive oil and sprinkle with salt, pepper, and garlic powder. Use your hands or a spatula to coat everything with the seasoning.

Transfer the vegetable mixture to the baking pan and spread it out so that everything is in a single layer.

Roast for about 15 minutes or until the vegetables turn brown and crisp in spots. Turn vegetables to cook evenly and let them roast for 10 more minutes or until they're tender and start to get brown spots on the second side..

While vegetables roast, bring the balsamic vinegar to a boil in a small saucepan. Reduce the heat and simmer the vinegar for 3-5 minutes, or until it thickens to a syrup consistency and coats the back of a spoon. Remove it from the heat and set it aside.

Arrange the vegetables on a large platter. Sprinkle the vegetables with roasted pumpkin seeds and pomegranate arils and drizzle the balsamic glaze over the vegetables before serving.
Notes
To prepare the delicata squash, cut it lengthwise and remove the seeds and pulp, but you don't have to peel it. Cut it into 1 ½-inch (4 cm) slices. 
Cut any thick carrots or parsnips in half lengthwise and then into smaller pieces. They take longer to roast, so reducing their size speeds up roasting time.
Keep a close eye on your vegetables and turn them when they start to brown. You may have to remove any smaller pieces early.
Nutrition
Calories:
141
kcal
|
Carbohydrates:
23
g
|
Protein:
4
g
|
Fat:
5
g
|
Saturated Fat:
1
g
|
Polyunsaturated Fat:
1
g
|
Monounsaturated Fat:
3
g
|
Trans Fat:
0.001
g
|
Sodium:
192
mg
|
Potassium:
713
mg
|
Fiber:
6
g
|
Sugar:
8
g
|
Vitamin A:
4106
IU
|
Vitamin C:
68
mg
|
Calcium:
67
mg
|
Iron:
2
mg