How to Save Calories on Your Thanksgiving Dinner
In just one week, Americans will be gearing up for the annual nonstop eating fest known as Thanksgiving. Hopefully, the day that's meant to celebrate all that we are thankful for, will also include some of that – in between bites of turkey, stuffing, sweet potatoes, mashed potatoes, green bean casserole, squash, apple pie, pumpkin pie, pecan pie, and anything else I might have left out.
Did you know that the average adult eats about 4,500 calories at Thanksgiving dinner? Considering most men need only about 2,200 and most women can get by on about 1,600, that's a mouthful – or a day and a half full of calories just in one meal. Here's the good news though – Even though most of us do step on the scale at some point during the Thanksgiving weekend to assess the damage, it's actually pretty impossible to gain weight from just one day of gluttony.
So let's enjoy Thanksgiving dinner!
It's when the eating feast continues all the way into January that it really starts to add up. So, if you know from experience that holiday self-control is not one of your strong suits, this year, try to work on making a few healthier swaps at the Thanksgiving table and beyond.
Here are a few ideas to help you cut a few Thanksgiving dinner calories. See if you can come up with more, and share them in the comments!
Appetizer and Drinks Swaps:
Drink champagne – a glass has about 78 calories, versus 120 in a glass of wine, or about 150 in a regular beer.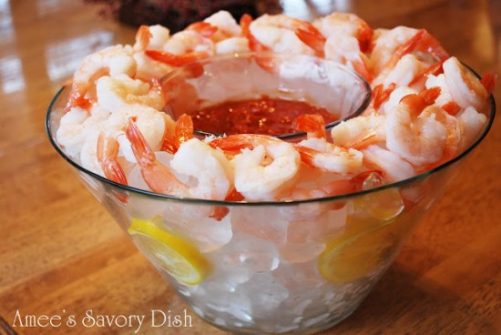 Bring shrimp cocktail. Yes, it's a pricey option, but it's worth it if it saves you lots of appetizer calories (love this lemon slices presentation from Amee's Savory Dish).
Go ahead and splurge on12 shrimp with about ¼ cup of cocktail sauce for about 180 calories. Unless you'd rather have 3 small stuffed mushrooms for 200 calories, or 2 of those little cheese cubes with 5 crackers for almost 300 calories.
Dinner Swaps: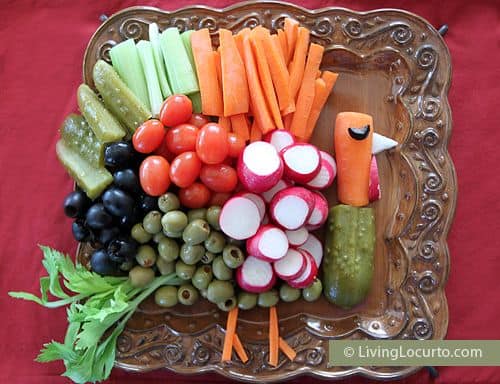 Snag a bunch of the raw vegetable crudité from the appetizer table and put it right on your dinner plate. One cup of raw veggies has about 25 calories, and it'll take up space in your stomach. How cute is this one from Living Locurto?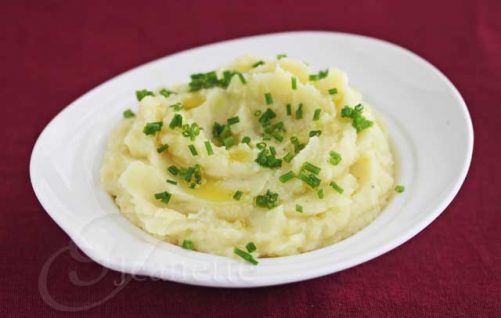 If you're making (or bringing the potatoes) mix half with pureed cauliflower. No one will guess, and they'll be extra smooth and creamy. Cauliflower has about one-quarter of the calories of mashed potatoes. These are yummy from Jeannette's Healthy Living.
Pick the side dish that you absolutely love to splurge on. Cut the portion of the others in half.
1 cup green bean casserole about 180 calories
1 cup sweet potato casserole about 300 calories
1 cup mashed potatoes about 240 calories
1 cup of acorn squash, about 115 calories
1 cup of stuffing, about 350 calories
It is Thanksgiving, after all, so go ahead and enjoy those once-a-year treats, but if you don't love it, leave it!
Dessert Swaps: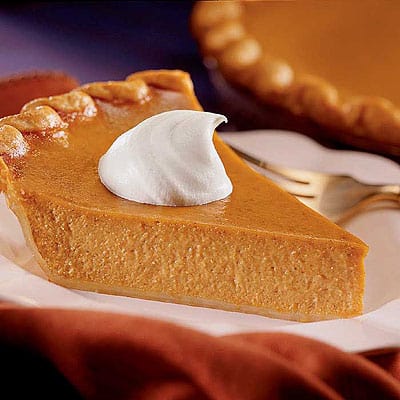 Definitely go for the pumpkin pie! It's not only traditional and delicious, but it's also the best buy for your calories:
A slice of pumpkin pie has 316 calories
apple pie has 411 calories
pecan pie weighs in at 503 calories.
Even with all of those swaps, I'm feeling pretty full. How about you? How do you control Thanksgiving dinner calories? Any tips or tricks? Please share!
Eat well!