Delicious Lower-Carb Thanksgiving Recipes
Thanksgiving dinner can be a challenge if you have diabetes or you're trying to limit carbs, but you'll never miss them with these Lower Carb Thanksgiving recipes. From appetizers to desserts, you'll find plenty of lower-carb Thanksgiving recipes that everyone will love.
What's your favorite Thanksgiving dish? Are you team turkey or team stuffing? For me, it's all about the stuffing. And mashed potatoes. Maybe some sweet potatoes for color.
Give me a heaping plate of starch, cover it with gravy, and I'm in heaven for one day a year.
I'm pretty sure I'm not alone. For most people, Thanksgiving isn't just about the turkey. It's about all of the side dishes.
Thanksgiving can be tough if you have diabetes or are trying to limit carbs — because most of the traditional side dishes are very high in carbohydrates. It's one of those days that it's just really hard to practice portion control when the table is heaped high with lots of delicious high-carb foods.
So, I think a good strategy for cutting back on carbs at the Thanksgiving table - or any day for that matter, is just to make lower-carbohydrate dishes. Luckily, there are some AH-Mazing lower-carb options for appetizers, sides, and desserts.
Yes, even mashed potatoes, stuffing, and desserts can be modified slightly to be more blood sugar friendly. So, in honor of National Diabetes Month (is it a coincidence that they have that in November?), I asked my dietitian and healthy food blogging friends to share some of their favorites, and here are.
Lower carb and diabetes-friendly appetizer, sides, and dessert recipes for your Thanksgiving table.
Appetizers
For lower-carb appetizers, stick to vegetables with dip, nuts, and a little cheese. You'll never miss the carbs with these delicious options.
Pumpkin Pie Spiced Nuts|Shaw's Simple Swaps
Whipped Lemon-Feta Labneh Dip | Craving Something Healthy
Salads and Sides
If you're trying to limit carbs on Thanksgiving, make sure you load up on these vegetables and salads. They're naturally low in carbohydrates, high in fiber, and filling.
Roasted Carrot Apple Soup| Chelsey Amer Nutrition
Pomegranate Avocado Quinoa Salad|Sharon Palmer
Slow Roasted Green Beans|Amee's Savory Dish
Bacon Fat Roasted Brussels Sprouts with Balsamic Glaze|Amee's Savory Dish
Roasted Butternut Squash with Apples|Simple and Savory
Roasted Squash with Hazelnuts and Pomegranate|Making Healthy Choices
Stuffing
There's no getting around it. Stuffing is high in carbohydrates because it's mostly bread. But these healthier versions feature healthy carbs from whole grain bread, lots of vegetables, whole chunks of fruit, and even some wild rice.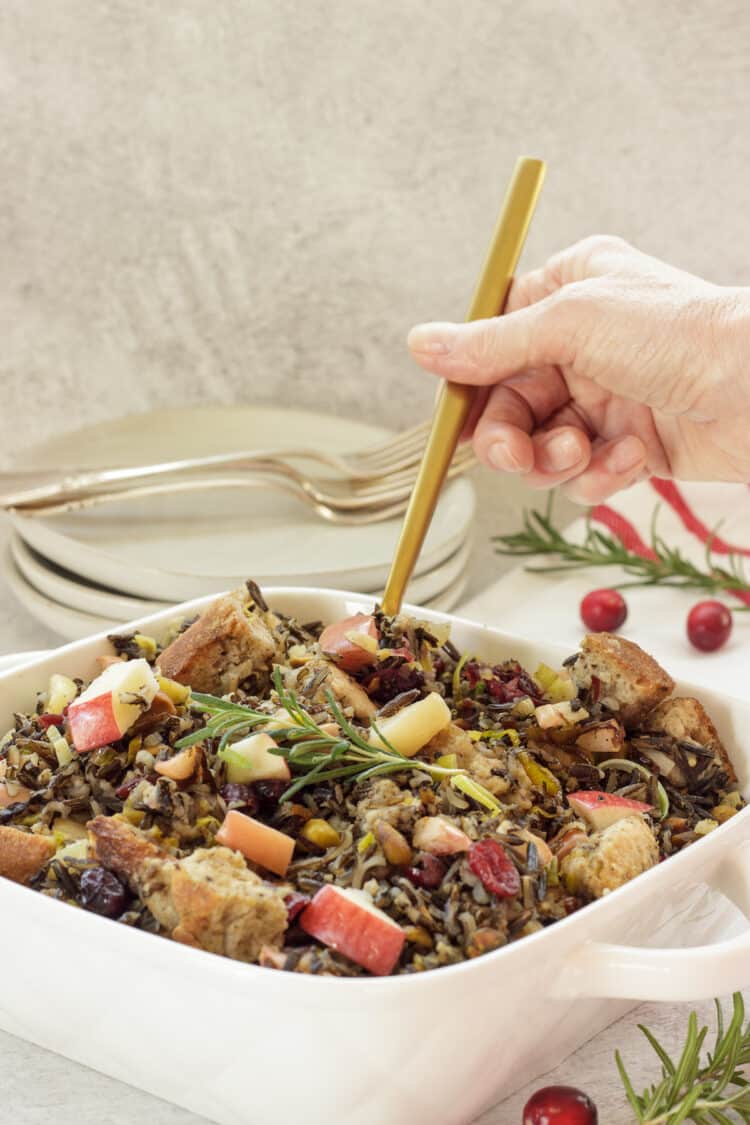 Desserts
Say "no thanks" to the pecan pie (which is nearly impossible to do well without lots of sugar), and yes, please, to these lower-carb Thanksgiving desserts.
Pumpkin Chocolate Chip Cookies|The Urban Life
Low Carb Pumpkin Protein Fudge Bites|And a Dash of Cinnamon
Wow- That was a mouthful! Try some new lower-carb recipes this year, and let me know what you think of them!
Eat well!