Mediterranean Cucumber Tomato Salad with Israeli Couscous
This fast and easy Mediterranean Cucumber Tomato Salad has just a few ingredients, but it's packed with flavor.
Whole grain Israeli (pearled) couscous makes this a cross between a pasta salad and a cucumber tomato salad. And the secret spice in the lemony dressing will have everyone asking for more!
Is there anything better than a simple salad that can feed a crowd or double as dinner? Ummm... NO! This easy cucumber tomato salad is SO much more than tomatoes and cucumbers, thanks to the addition of Israeli couscous. It's just the recipe you're looking for when you need something more than your basic green salad to bring to a cookout, buffet, or pizza night.
What is Israeli Couscous?
Many people think of couscous as a type of grain, like quinoa. But actually, couscous is closer to pasta. It's made of semolina flour and water, which is rolled into tiny balls. Couscous is traditional to a Mediterranean diet, commonly eaten in North Africa and the Middle East.
The main difference between traditional (true) couscous and Israeli couscous (also called pearled couscous) is that true couscous is very tiny and often has irregular shapes. Israeli couscous is much larger. It's a fairly modern invention, made using a machine to extrude the pasta dough. So the balls are very uniform in size and resemble tiny, cut pieces of spaghetti.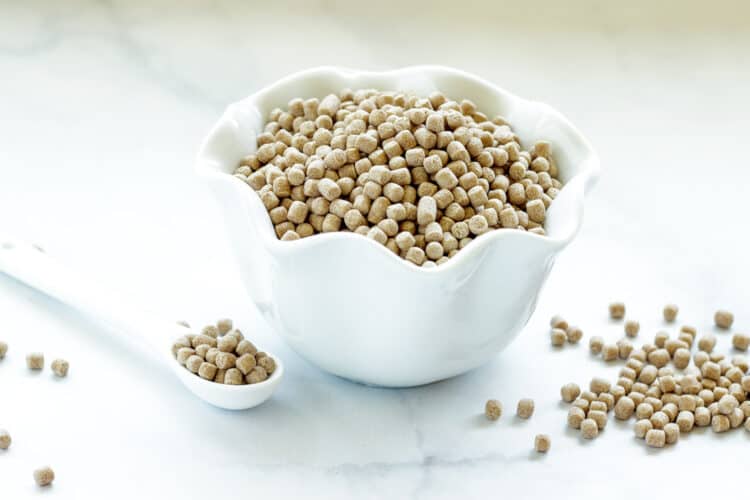 Is Israeli Couscous Healthy?
The thing I like best about Israeli couscous compared to regular couscous is that it often comes in a whole wheat version. If you find whole wheat Israeli couscous, buy it because it's very healthy! It gives this salad a nice pop of fiber, protein, vitamins, and antioxidants.
A ½ cup serving of Whole Wheat Israeli Couscous provides:
Calories: 180
Protein: 6 g
Carbs: 38 g
Fiber: 4 g
Israeli couscous is also very easy to cook, although it takes a bit longer than regular couscous. It's still quick and cooks in about 8-10 minutes. Because it's more like pasta than rice or grain, you don't really have to measure out the water (although you could). Just pour out any excess water after the couscous is cooked, and give it a rinse in a colander.
I like to add the dressing for this cucumber tomato salad to the couscous and let it sit for a bit, so the couscous absorbs the dressing and becomes full of flavor.
Recipe Variations
I use grape tomatoes, English cucumber (semi-peeled), scallions (green onions), and cooked Israeli couscous to make this salad. That's it! You can add a sprinkle of feta cheese if you like, but I love its simplicity.
The secret is in the dressing. It's not the traditional red wine vinegar with oregano or Italian spices. Instead, it's a little bit sweet and tart from apple cider vinegar, fresh lemon juice, olive oil, and my secret ingredient — allspice.
Allspice works so well in sweet or savory Mediterranean dishes. Just like couscous, it's traditional in Middle Eastern and North African recipes.
The flavor of allspice is a cross between cinnamon, cloves, and nutmeg. It's often used in baking, but trust me, it works in this salad.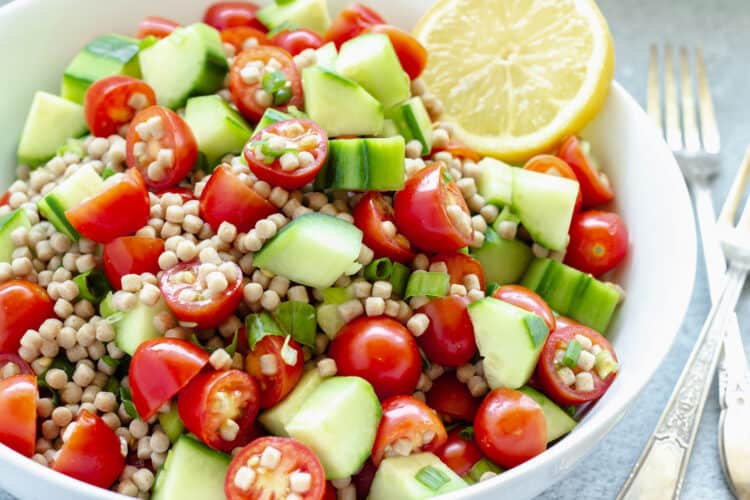 Here are some substitutions and variations for this cucumber tomato salad:
For the Israeli Couscous
If you can't find whole wheat Israeli couscous, you can use regular Israeli couscous. I don't recommend traditional couscous, because it's just too small. Instead, try orzo — or if you want a whole grain (always a good idea!) farro is a great option. You can also skip the grain and use chickpeas instead.
For the Tomatoes
I like grape tomatoes for this recipe (they're sweet, tasty, and easy to cut in half), but cherry tomatoes are great too. If you happen to have larger, fresh, summer tomatoes, by all means, use them. If they're very pulpy or watery, you might want to squeeze out the pulp and use the meaty parts.
Which cucumbers?
I prefer the long, English cucumbers because I hate seeds and English cucumbers have relatively few seeds. The skin is also very tender, so you can leave it on, or partially peel (that's what I do). Persian cucumbers are a great substitute. If you use regular cucumbers, I recommend peeling them because the skin is tough. Then, cut them in half lengthwise and scoop out the seeds.
Other things you can add
Chickpeas, feta cheese, and mint would be delicious and give this salad a Greek flavor. These would also work well with the ingredients in this salad.
Variations on the dressing
This simple dressing calls for apple cider vinegar, lemon juice, olive oil, allspice, salt and pepper. You can make it a bit sweeter with some honey. Or you can skip the allspice and use ¼ teaspoon of oregano or Italian seasoning spice blend. If you don't like apple cider vinegar, substitute red or white wine vinegar.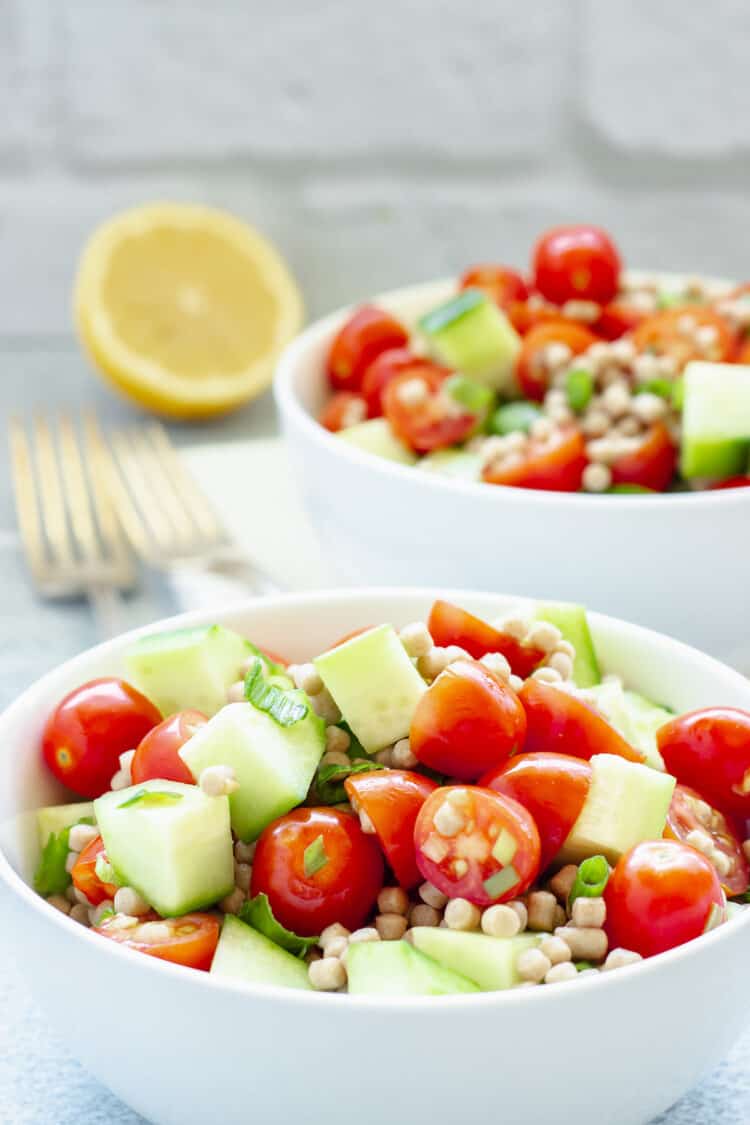 Recipe FAQs
Can you make this salad ahead of time?
You can cook the Israeli couscous, season it with the dressing, and cut up the vegetables ahead of time. But, once you combine everything, the vegetables will start to soften, so it's best assembled right before eating — or up to 30 minutes before. If you want to make a batch and eat it over a period of days, just keep the seasoned couscous and the vegetables separate. Combine them when you're ready to eat.
Is this a low carb recipe?
It's a moderate carb recipe. The tomatoes, cucumber, and onions are very low in carbs and calories. The dressing is carb-free. Whole wheat Israeli couscous does have carbs, but there's not that much per serving. And, it's high in fiber and whole grains, so it's healthy carbs.
If you want to make it keto-friendly, you can skip the couscous. Add some feta to bump up the fat.
Does this cucumber tomato salad fit into the Mediterranean diet?
Absolutely! The ingredients in this salad are all grown and eaten in Mediterranean regions of the world. However, the key thing about the Mediterranean diet is it's focus on whole foods, lots of vegetables, and simple preparation. This salad hits all the marks.
What do you serve this salad with?
It makes a perfect side dish for grilled fish or chicken. It's also a nice hearty salad to go with a pizza or sandwiches. It can also stand alone, or add some tuna, chickpeas, or feta cheese to it if you want more protein.
Don't miss these other
Mediterranean Salad Recipes
Recipe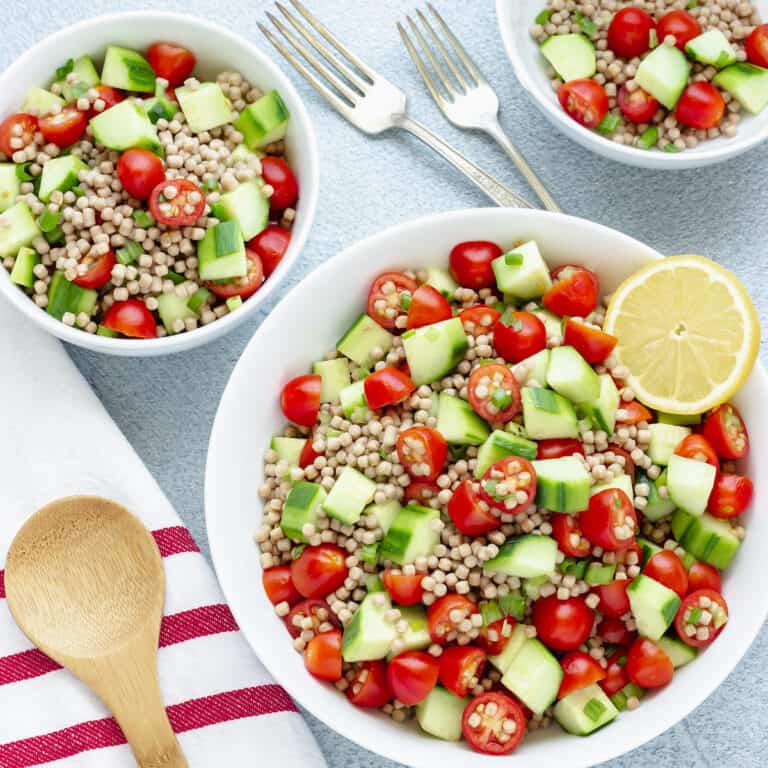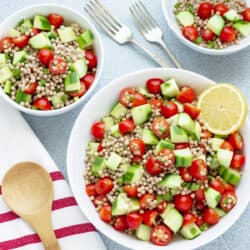 Mediterranean Cucumber Tomato Salad with Pearled Couscous
A simple but satisfying salad with a flavorful dressing.
Print
Pin
Ingredients
Dressing
¼

cup

apple cider vinegar

2

tablespoons

fresh lemon juice

3

tablespoons

olive oil

½

teaspoon

ground allspice

salt and pepper to taste
Salad
2

teaspoons

olive oil

1

cup

whole wheat Israeli couscous

2

cups

water

½

teaspoon

salt

or more to taste

1

pint

grape tomatoes

sliced in half

1

large

English cucumber

peeled optional

¼

cup

scallions

minced
Instructions
Prepare the dressing by combining the apple cider vinegar, lemon juice, olive oil, allspice in a small bowl. Season with salt and pepper to taste. Set the dressing aside.

In a medium saucepan, heat the 2 teaspoons olive oil over medium high heat. Add the couscous, toss, and toast for about 1 minute or until couscous is coated with the oil and starts to turn golden.

Add the water and salt to the pan. Bring the mixture to a boil, cover, and reduce the heat to medium-low. Cook for 8-10 minutes or until the Israeli couscous is tender. Drain the cousous in a colander and rinse with cold water.

Put the couscous in a bowl and pour the dressing over. Refrigerate until cool.

While the couscous is cooling, combine the sliced tomatoes, cucumbers, and scallions in a mixing bowl.

Add the cooled, seasoned couscous to the vegetables. Toss well to combine. Refrigerate for up to 30 minutes or serve immediately.
Nutrition
Calories:
207
kcal
|
Carbohydrates:
28
g
|
Protein:
5
g
|
Fat:
9
g
|
Saturated Fat:
1
g
|
Polyunsaturated Fat:
1
g
|
Monounsaturated Fat:
6
g
|
Sodium:
207
mg
|
Potassium:
333
mg
|
Fiber:
3
g
|
Sugar:
3
g
|
Vitamin A:
752
IU
|
Vitamin C:
15
mg
|
Calcium:
30
mg
|
Iron:
1
mg
Have you ever tried Israeli couscous? What do you think?
Eat well!