Wild Mushroom and Barley Soup
This wild mushroom soup is packed with rich, umami flavor and more immune-boosting health benefits than you can imagine. That's because mushrooms are packed with antioxidants and compounds that protect your health from head to toe.
Do you have any special ingredients that you always but to stock up, and just keep in your pantry? You know, just in case you run out and they don't make it anymore? I'm like that with Starbucks Peppermint Mocha coffee, which only comes out during the holidays, and porcini mushrooms. I could substitute another flavor for my coffee, but not those dried mushrooms.
Porcinis have such a deep, rich, earthy flavor that is so completely satisfying. They're my secret ingredient in so many soups, stews, and of course Bolognese sauce. They add that rich meatiness to recipes, so you can skip the meat, use less meat, or really enhance any meat you are using in your recipe and it really kicks up the flavor to the moon.
So guess what? My worst fears came true! I ran out, and for some reason, I haven't been able to find them anywhere. They're usually sold in small packages at Trader Joes, or sometimes next to the fresh mushrooms in the produce department - but not this year! Either everyone has discovered them, or there's a huge shortage wherever they grow.
And I've been in a bit of a panic for a while.
You see, it's cold out. And I've really been craving mushroom soup lately. I always use a mix of fresh and dried mushrooms in mine and a good portion of those dried mushrooms have to be porcinis. It's just not quite right without them.
Guess where I finally found them? Nuts.com. Yes, the website that I always though just carried nuts actually has SO. MUCH. MORE! I'm talking dried fruit, dark chocolate, baking grains, spirulina powder, and YES - mushrooms. Not only porcini mushrooms, but every kind of dried mushroom imaginable.
I love dried mushrooms for their deep, rich flavor, but they're also really beneficial as immune boosters - which is an especially good thing during cold and flu season. Some, like reishi and maitake mushrooms, are so powerful, they're frequently used as a complementary cancer therapy, because of their anti-tumor activity.
I know some people don't care for mushrooms because of the texture, so mince them up and get over that!
This Wild Mushroom Barley soup is packed with 3 types of dried mushrooms, and fresh Baby Bella mushrooms. If you can't find all of the dried mushrooms, you can substitute others, or add more fresh ones. Whatever you do though - DON'T SKIP THE PORCINIS 🙂
Recipe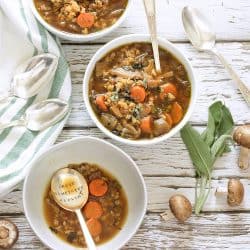 Wild Mushroom and Barley Soup
A rich and hearty soup that's full of umami flavor from dried and fresh mushrooms
Print
Pin
Ingredients
⅓

cup

mixed dried mushrooms

(porcini, shitake, maitake, black trumpet or others)

1

tablespoon

olive oil

8

ounces

fresh Baby Bella (Crimini) mushrooms

sliced

3

medium

carrots

sliced

2

stalks

celery

diced

1

medium

onion

diced

2

cloves

garlic

minced

8

cups

mushroom, vegetable or chicken stock

low sodium

½

cup

dried barley

2

teaspoons

dried thyme

sea salt

3

fresh

sage leaves

minced
Instructions
Place all of the dried mushrooms in a bowl or large measuring cup and cover with about 1 cup of hot water. Let the mushrooms sit and soften for about 15 minutes.

Heat the oil in a stockpot over medium-high heat, and add the Baby Bella mushrooms, carrots, celery, onions, and garlic. Saute the vegetables for about 10 minutes, or until they start to wilt and turn lightly golden. Reduce the heat to medium-low.

When the dried mushrooms are softened, remove them from the liquid, reserving the mushroom liquid, and put the mushrooms in a colander. Rinse the mushrooms well to remove any sand or grit.

Mince the softened dried mushrooms and add them to the vegetables in the stockpot.

Drain the mushroom stock through a coffee filter or cheesecloth and add it to the stockpot. Add the additional chicken, vegetable, or mushroom stock as well.

Turn the heat to high, and bring the soup to a boil.

Add the barley, and let the soup return to a boil. Add the dried thyme, and salt to taste. Reduce the heat to low, cover the soup, and let it simmer for about an hour, or until the barley is tender.

Add the minced sage just before serving. Taste and adjust any seasonings.
Nutrition
Calories:
122
kcal
|
Carbohydrates:
18
g
|
Protein:
7
g
|
Fat:
4
g
|
Saturated Fat:
1
g
|
Sodium:
99
mg
|
Potassium:
525
mg
|
Fiber:
3
g
|
Sugar:
3
g
|
Vitamin A:
3879
IU
|
Vitamin C:
3
mg
|
Calcium:
40
mg
|
Iron:
2
mg
Do you like mushrooms? How do you feel about dried porcini mushrooms?
Eat well!