How To Trim 1000 Calories From Thanksgiving Dinner
Ladies and gentlemen, loosen your belt buckles...   Although it may have started for some of us when we bought the Halloween candy, for most Americans, Thanksgiving marks the official start of the Holiday Feasting Season.  With the average Thanksgiving dinner weighing in at over 3,000 calories (well over a day's worth for almost everyone), and lots more eating in the weeks to come, it's no wonder most of us will roll into 2014 at least a few pounds heavier.  To help rein in holiday weight gain, do some advance planning and try to make smart choices at the dinner table.  The following suggestions can shave at least 1,000 calories off of a typical Thanksgiving dinner:
Eat a healthy breakfast and hold off the hungry horrors.  Contrary to our common sense, this is not a day to skip meals.  Arrive hungry and anything goes, but eating a balanced, healthy meal before the food comes out, makes it much easier to say NO to high fat appetizers like cheese and crackers or creamy dips, and YES to the shrimp cocktail and veggie platter.  Average savings:  400 calories.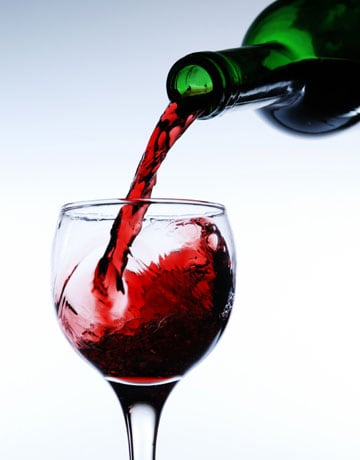 Rethink your drinks.  Calories from wine, beer, or any alcoholic drink can add up, so alternate with a glass of seltzer or diet soda.  Average savings per drink:  150 calories. 
Start with a broth or vegetable based soup.  Most are low in calories and help you to fill up faster, which means you probably won't need seconds (or thirds) on your main meal.  Average savings:  varies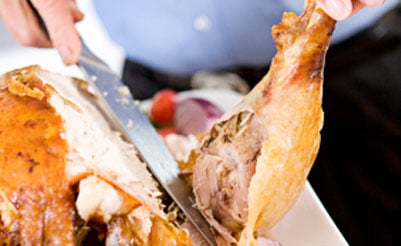 Keep it light - choose white meat over dark, and skip the skin – it's all fat.  Turkey meat is a lean protein overall, but choosing the breast without skin makes it even healthier.  Average savings: 50 calories per 4oz portion.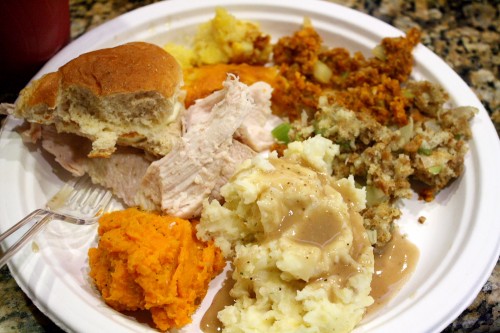 Watch the carbs!  Just one scoop please.  Mashed potatoes, stuffing and sweet potatoes contribute most of the calories to the Thanksgiving dinner plate, so cutting back just a bit on portions here can really make a difference.  Average savings:  at least 80-100 calories per ¼ cup scoop for each.
Serve your special sauce.  Make or offer to bring homemade sugar free cranberry sauce or relish, and avoid the added sugar (and calories) in regular cranberry sauce.  Average savings:  50 calories per ¼ cup serving.
Load up on veggies.  Most vegetables have only 25 calories per ½ cup serving (without added fats), not to mention they're good for you.   Try to take at least ½ plate of vegetables from both salads and cooked vegetables and you'll make your plate healthier, and fill up faster.  Average savings:  varies.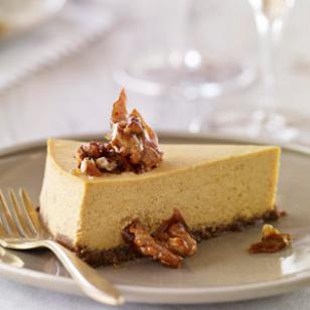 Choose your dessert wisely.  A slice of pumpkin pie (300 calories) has fewer calories than apple (400 calories), and far less than pecan (500 calories).  Or maybe just a cookie would do (50 calories), so choose wisely.   If you really love it, have it, but split it with someone.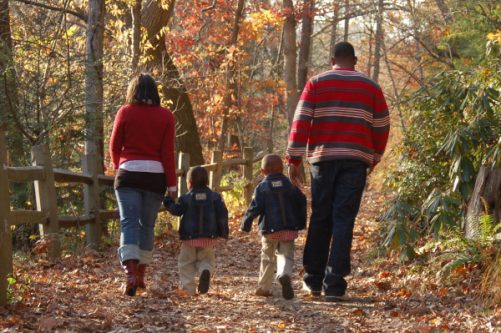 Move it!  Take a brisk walk after dinner, instead of a nap.  Average calories burned:  200 for a 20-minute walk.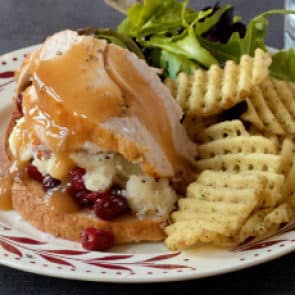 And as for the leftovers…make your late night turkey sandwich "open-face" and skip half the bread.  Average savings: 80 calories.
I think that's do-able.  How about you?  I'd love to hear how you "budget" your calories for Thanksgiving!
Eat well!